Scheepjes Summer Sock-a-Long Week 4
Is it really the last week of the Scheepjes Summer Sock-a-Long? A part of me wishes this make-a-long could go on forever! It's been such a joy to see so many knitters making socks, and I am so happy that many of those knitters are first-time sock knitters. My favourite part of the Sock-a-Long has been that everyone has been so supportive of each other in the Scheepjes Facebook Groups. Sock knitting is still challenging for first time sock knitters, even though my videos might help with that. Sometimes all you need is a fellow knitter cheering you on, and the atmosphere in the Facebook groups has just been so warm, welcoming and encouraging. Not to mention the amazing admins and moderators who go out of their way to help the members! Thanks so much to everyone, you made this Sock-a-Long an awesome experience!
But before we knit this to an end I still have some tips for you in this weeks blogpost!
Is het echt al de laatste week van de Scheepjes Summer Sock-a-Long? Ik zou wel willen dat het altijd door blijft gaan! Het is zo leuk om zoveel mensen tegelijk sokken te zien breien, en al helemaal om breiers te zien die hun allereerste sokken ooit hebben gemaakt. Mijn favoriete deel van deze Sock-a-Long was dat iedereen zo behulpzaam was en elkaar aanmoedigde in de Scheepjes Facebook groepen. Sokken breien blijft nou eenmaal een uitdaging voor nieuwe sokkenbreiers, ook al helpen mijn video's daarbij. Soms heb je even een steuntje in de rug nodig, en de sfeer in de Facebook groepen was gewoon zó gezellig, verwelkomend en inspirerend. En laten we vooral de fantastische admins en moderators van de groepen niet vergeten, die altijd voor hun leden klaar staan! Iedereen ontzettend bedankt, jullie hebben deze Sock-a-Long tot een succes gemaakt! 
Maar voordat we er een einde aan breien (haha) heb ik natuurlijk nog wat tips voor jullie in deze blogpost. Lees snel verder!
Pattern in Ravelry ShopPattern in New Leaf Webshop
Blogposts + Tips
Fixing mistakes | Fouten herstellen
Each week I try to take my inspiration for these blogposts from the Facebook groups so that they're as helpful as can be. The questions I've seen most in the past week is how to undo mistakes or how to rip out multiple rounds of knitting without starting over. Of course it would be most enjoyable if things go right the first time, but learning how to fix mistakes is a key skill in knitting.
When I first launched my Patreon page five years ago, one of the first video tutorial series that I made was 'Fix your Knits'. Specifically the videos on how to un-knit and how to rip out a larger piece of knitting would be very helpful for this Sock-a-Long, so I have decided to make those two videos public! Please do keep in mind they are from five years ago, so you'll see a very young Carmen!
Elke week neem ik mijn inspiratie voor deze blogposts van de Facebook groepen, zodat ze zo behulpzaam mogelijk zijn. De vragen die ik de afgelopen week het vaakst heb gezien is hoe je fouten kunt herstellen en hoe je een aantal toeren breiwerk kunt uithalen zonder helemaal overnieuw te beginnen. Natuurlijk is het het fijnst als het gelijk goed gaat, maar vaak gaat het niet zo. Je zult er zó veel aan hebben als je leert hoe je foutjes kunt oplossen, en als je dat onder de knie hebt ben je vervolgens ook minder bang om fouten te maken.
Toen ik vijf jaar geleden mijn Patreon pagina lanceerde was een van mijn eerste instructievideo series 'Fix your knits'. Een hele serie over het herstellen van breifouten. Twee van die video's – terugbreien en toeren uithalen – zullen het meest behulpzaam zijn voor de Sock-a-Long, dus heb ik besloten deze publiek toegankelijk te maken! Houd wel in je achterhoofd dat het video's zijn van vijf jaar geleden, dus je gaat een hele jonge Carmen zien!
How to un-knit
| Terugbreien
This video on how to un-knit – also called tinking – is very helpful for beginners. We start by learning how to un-knit the knit and purl stitch, and I'm showing you many other types of stitches as well in this video. At the end I'm also showing how to undo cast off stitches, so that might be especially helpful to watch.
Learning how to un-knit is so invaluable to learn as a knitter. After learning these skills you will feel more confident as a knitter, and less afraid of making mistakes, because you'll know how to fix them!
In deze video laat ik je zien hoe je steken kunt terugbreien. Deze video is alleen in het Engels, maar hopelijk is het duidelijk genoeg om het te volgen. Ik begin met de basissteken: recht en averecht, en later in de video laat ik ook andere steken zien. Op het laatst leer ik je hoe je afgekante steken kunt uithalen wat je misschien ook handig vindt bij het sokken breien.
Leren terugbreien is zo handig om te leren! Als je weet hoe je moet terugbreien zul je meer zelfverzekerd zijn in je breikunsten, en minder bang zijn om fouten te maken, want je kunt ze toch weer herstellen!
Undoing multiple rounds
| Meerdere toeren uithalen
Ripping back large chunks of knitting is the fixing technique I use most often. If you have been following the Scheepjes Summer Sock-a-Long you will already have heard about lifelines, which I'm also showing in this video. But sometimes you want to undo a part of your knitting where you haven't put in a lifeline. In that case, you use a circular needle to insert it into your stitches, and rip out the fabric until it stops at the needle. A very helpful trick that I use all the time.
Sometimes I want to undo a bit of knitting that isn't stockinette, for example it's ribbing or lace. In those cases, I look for the most recent knit row that I've done, and use that row to insert my needle into. And here's another trick: if you only have purl rows in your project, flip it to the wrong side because it will be knit stockinette there. Purl stitches are more difficult to pick up, so just pick it up from the wrong side.
Meerdere toeren of rijen breiwerk uithalen is een techniek die ik heel vaak gebruik. Als je de Scheepjes Summer Sock-a-Long hebt gevolgd heb je waarschijnlijk de term 'levenslijn' wel eens gehoord. Hoe je een levenslijn inbrengt zie je ook in deze video. Maar soms wil je een gedeelte van je breiwerk uithalen waar je géén levenslijn hebt ingezet. In dat geval gebruik je een rondbreinaald en pak je hier steken mee op, waarna je het breiwerk uit kunt halen. Een hele handige truc die ik vaak gebruik. 
Soms wil je een deel van je breiwerk uithalen dat geen tricotsteek is, zoals boordsteek of kantbreiwerk bijvoorbeeld. Dat is heel lastig om uit te halen, dus zoek ik naar de meest recente rij of toer van normale tricotsteek en gebruik ik die rij om het werk op te pakken. En dan nog een tip: als je een breiwerk hebt in averechte steek, keer je werk dan naar de 'verkeerde kant' om steken op te pakken. Averechte steken zijn namelijk best lastig op te pakken, maar aan de achterkant ervan heb je rechte steken! Op die kant is het veel gemakkelijker.
More questions | Meer vragen
Hopefully these tips will help you not only with your sock knitting, but with your other knitting projects as well! Please do keep sharing your Summer Sock-a-Long pictures in the Scheepjes Facebook group and on Instagram with #ScheepjesSockalong. That's also the best place to ask more sock related questions. Of course you can also reach me by commenting on this blogpost or commenting on my Youtube videos.
Here's to more sock knitting!
Hopelijk helpen deze tips niet alleen met sokkenbreien maar ook met je andere breiprojecten. Blijf je foto's voor de Summer Sock-a-Long delen in de Scheepjes Facebook groep en op Instagram met #ScheepjesSockalong. Dat is ook de beste plaats om je vragen te stellen als je deze nog hebt. Natuurlijk kun je ook hier onder deze blogpost een reactie plaatsen of bij mijn Youtube video's.
Nog heel veel sokkenbreiplezier!
What to knit next? | Je volgende breiproject?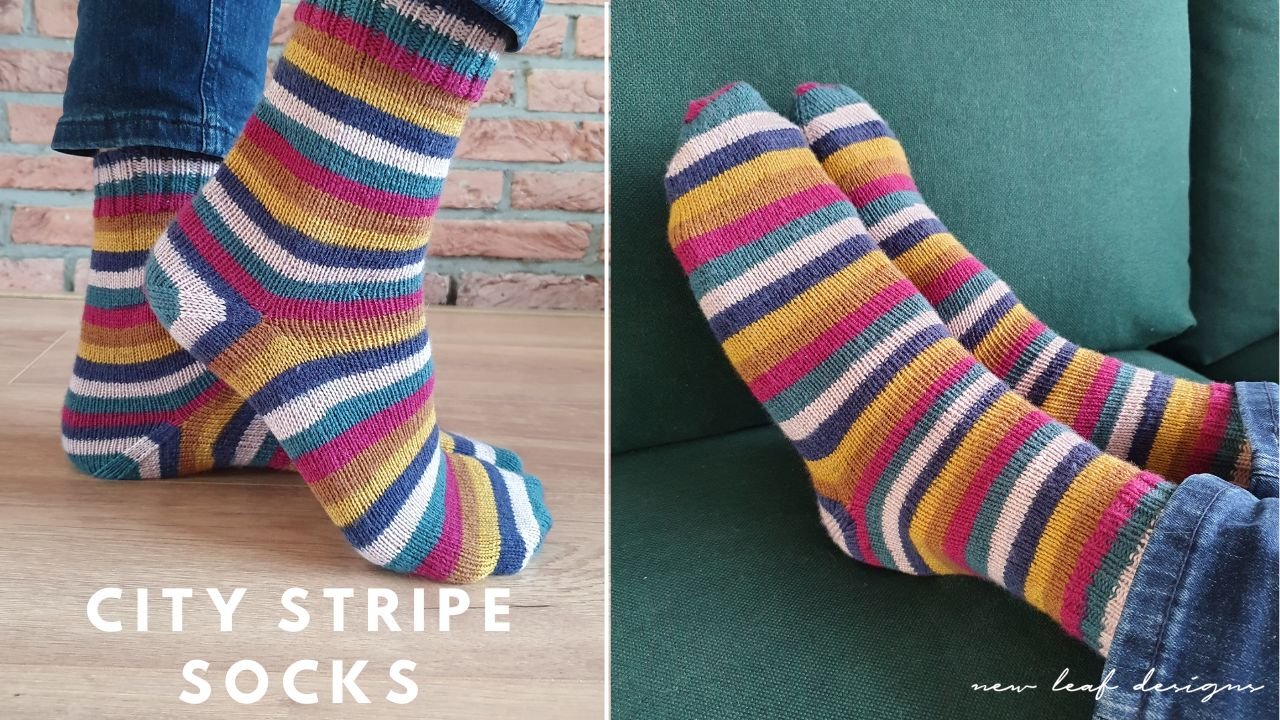 Wondering what to knit next after the Classic New Leaf Socks? I highly recommend trying out the City Stripe Socks for your next pair. It's a free pattern here on my blog, and basically uses the same toe-up recipe with one difference: an afterthought heel. I promise it's so much fun to do, and of course I have a full tutorial video there as well. You can do it! Not liking this pattern so much? I have many more fun patterns right here.
Zoek je een sokkenpatroon voor je volgende paar? De City Stripe Socks zijn een aanrader voor je volgende stap. Het is een gratis patroon hier op mijn blog, en gebruikt voornamelijk hetzelfde recept als de Classic New Leaf Socks, maar dan met een hiel-achteraf! Dat klinkt misschien eng, maar het is echt heel leuk om te breien en bovendien heb ik er weer een video bij. Niet zo'n fan van dit patroon? Kijk dan hier voor nog meer leuke sokkenpatronen.
Big news – my first book! | Mijn eerste boek!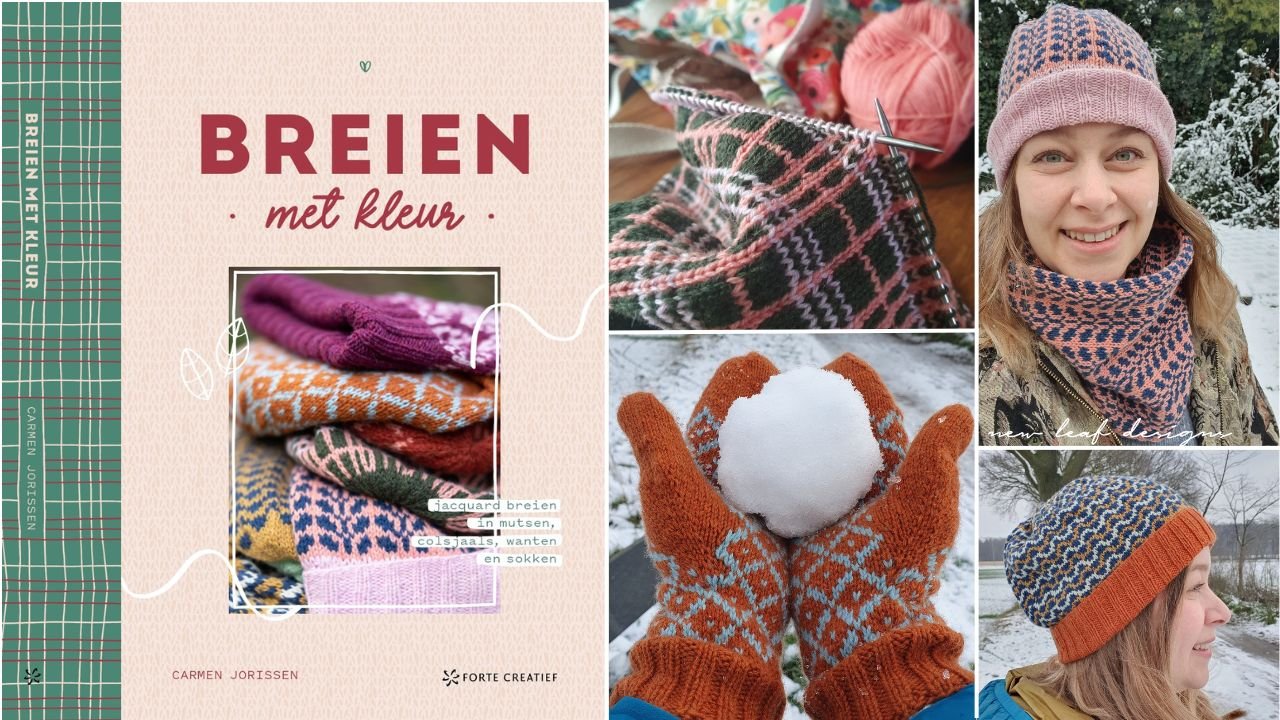 My first book is coming out on October 16th! This one will be in Dutch, but we are working on an English version as well 🙂
Mijn eerste boek – Breien met kleur – komt uit op 16 oktober! Leer breien met twee kleuren tegelijk en maak de mooiste mutsen, colsjaals, wanten en sokken.
Read more hereLees hier verder
Support me by sharing with friends!