Summer Sock-a-Long
It is finally time to announce the Summer Sock-a-Long I will be hosting together with Scheepjes! Whether you are an experienced sock knitter or sock novice, I hope you will enjoy this MAL (Make-a-Long). In this blogpost, you will find all of the information you need to get ready for the Summer Sock-a-Long.
Het is bijna tijd voor de Summer Sock-a-Long die ik deze zomer samen met Scheepjes organiseer! Of je nu al heel vaak sokken hebt gebreid of juist aan je eerste paar gaat beginnen, hoop ik dat je van deze MAL (Make-a-Long) gaat genieten. In deze blogpost kun je alle informatie vinden die je nodig hebt om je voor te bereiden.
When is the Summer Sock-a-Long?
The Summer Sock-a-Long will be running from August 9th until August 30th. During this time you will find helpful blogposts here on my website, and step by step videos on my Youtube channel. You are of course free to go at your own pace. The sock pattern will stay available on my website so there is no rush. For each week of the MAL I will be writing a new blogpost with tips, I will link them below as soon as they are available.
De Summer Sock-a-Long loopt van 9 tot en met 30 augustus, en gedurende deze tijd kun je behulpzame blogposts vinden op mijn website en instructievideo's op mijn Youtube kanaal. Je bent natuurlijk vrij om je eigen tempo te bepalen. Het sokkenpatroon blijft gewoon beschikbaar op mijn website dus je hoeft je niet te haasten. Elke week van de MAL schrijf ik een nieuwe blogpost, zodra die er zijn zal ik ze hieronder linken.
What are we making?
For the Summer Sock-a-Long I have written up my absolute favourite sock recipe and you will find it for free on my website, and as a paid PDF version in my pattern shops. Please note: the pattern is available from August 9th. The pattern is called 'Classic New Leaf Socks', I will be explaining more about the pattern details and the used techniques below.
Voor de Summer Sock-a-Long heb ik mijn favoriete sokkenpatroon opgeschreven, die je zowel op mijn website kan vinden als in mijn webshops. Let op: het patroon is vanaf 9 augustus te verkrijgen. Het patroon heet 'Classic New Leaf Socks', hieronder leg ik meer uit over de gebruikte garens en technieken. 
Scheepjes Yarn
For the Classic New Leaf Socks, I recommend using Scheepjes Metropolis and Scheepjes Downtown. The two yarns go together hand in hand and are wonderful for creating stripy socks. Find them here at your local Scheepjes retailer. Scheepjes Downtown is a selfstriping yarn, which allows you to easily knit socks with stripes without changing colours yourself. The toes, heels and cuffs are knit with Scheepjes Metropolis which is a beautiful solid coloured yarn. Both Scheepjes yarns are soft and still durable enough for socks due to the added nylon. Further along in this blogpost you will find recommended colour combinations that will make gorgeous pairs of socks!
You will need 1 ball of Scheepjes Metropolis, and 1 ball of Scheepjes Downtown for sizes EU 35-38, 2 balls of Downtown for sizes EU 39-47.
Voor de Classic New Leaf Socks raad ik aan om Scheepjes Metropolis en Scheepjes Downtown te gebruiken. De twee garens gaan hand in hand samen en creeëren zo prachtige gestreepte sokken. Vind ze hier bij jouw lokale Scheepjes winkel. Scheepjes Downtown is een zelfstrepend garen, wat betekent dat de kleur van het garen verandert terwijl je breit. De teen, hiel en boord brei je met Scheepjes Metropolis, een mooi effen garen. Beide Scheepjes garens zijn zacht maar alsnog heel sterk door de toegevoegde nylon. Verder in deze blogpost vind je mijn gekozen kleurcombinaties die heel mooi bij elkaar staan. 
Je hebt 1 bol Scheepjes Metropolis nodig, en 1 bol Scheepjes Downtown voor de maten EU 35-38, 2 bollen Downtown voor de maten EU 39-47.
Needles
My number one recommended needles are Chiaogoo Red Lace needles. For the Classic New Leaf Socks you will need 2.25mm size, and 80cm length. If you want to knit two socks at the same time, this is possible on a 80cm long needle but using a 100cm long needle will make things easier.
Mijn nummer één aanbevolen breinaalden zijn Chiaogoo Red Lace rondbreinaalden. Voor de Classic New Leaf Socks heb je 2,25mm naalden nodig, met een lengte van 80cm. Als je twee sokken tegelijk wilt breien is dat ook mogelijk op 80cm lengte, maar vind je wellicht gemakkelijker op 100cm lengte. 
Other Materials
Alongside the yarn and needles, you will also need a pair of scissors and a darning needle. I tend to use one stitch marker, but that is totally optional.
Naast het garen en de naalden heb je ook een schaar en stopnaald nodig. Vaak gebruik ik ook één steekmarkeerder maar dit is niet noodzakelijk.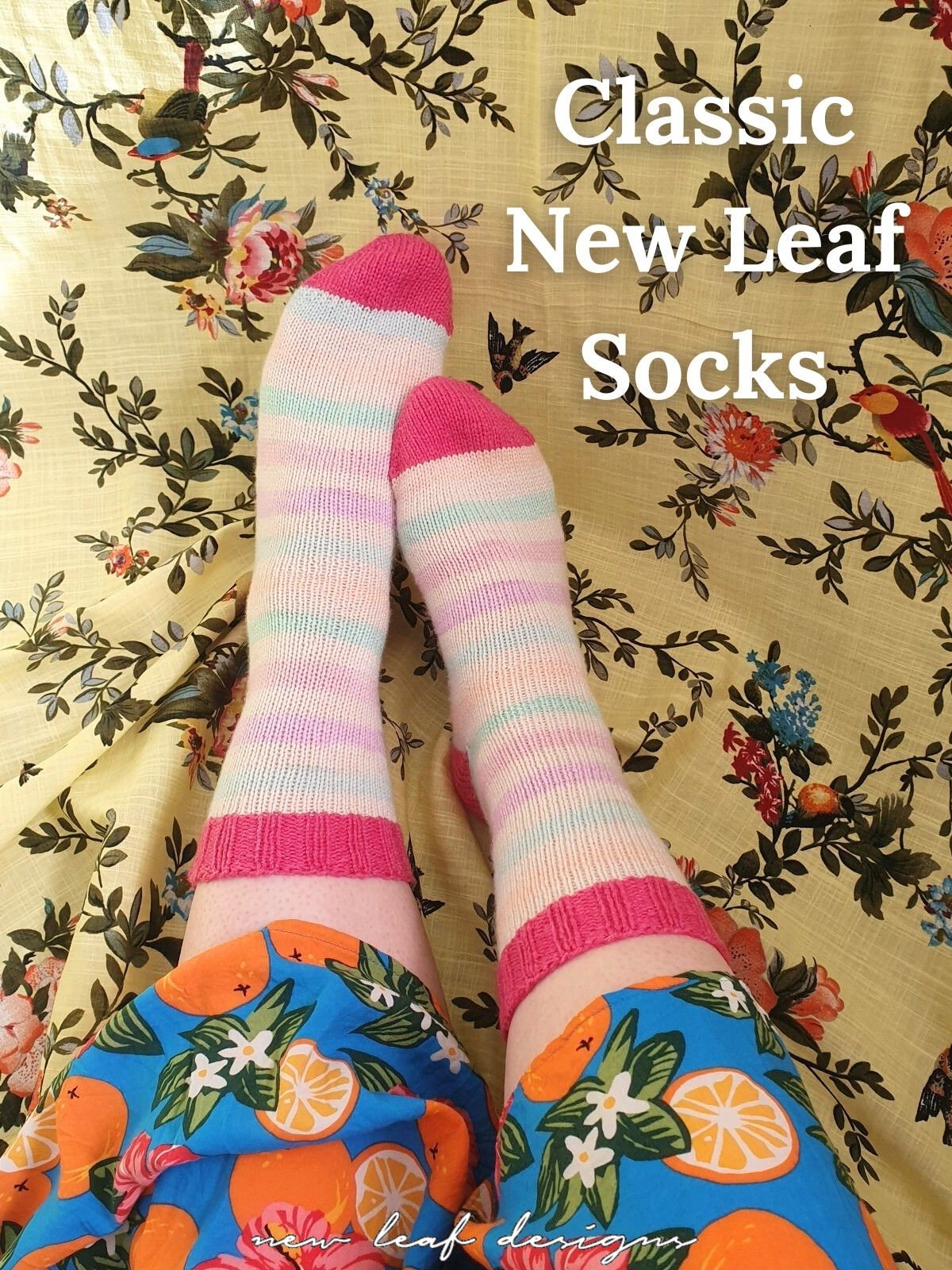 Pattern: Classic New Leaf Socks
The Classic New Leaf Socks is my all-time favourite sock recipe, and now I'm sharing it with you! The pattern will be available for free on this website including tutorial videos, from August 9th. If you'd rather have a downloadable and printable PDF, a paid version is available in my pattern shops which are linked via the buttons below. The benefit of the PDF version is that you get a separate file per language (Dutch and English), they are easy to print and advertisement free. And on top of that, you are helping me make a living out of my craft! I am always grateful for each and every pattern purchase, thank you so much for considering to purchase a PDF pattern.
De Classic New Leaf Socks zijn mijn favoriete sokken om te breien, en nu deel ik het patroon met jou! Het patroon zal gratis op mijn website staan vanaf 9 augustus, inclusief instructievideo's. Als je liever het patroon uitprint, heb ik een betaalde PDF versie in mijn webshops te vinden via de knoppen hieronder. Deze zijn niet alleen handig om te printen, maar zijn ook vrij van advertenties en bovendien gesplitst per taal. Er is dus één bestand voor het Nederlandse patroon, en één voor het Engelse patroon. Ik ben super dankbaar voor iedereen die het patroon aanschaft, want hiermee steun je mij als fulltime brei ontwerper! 
Techniques used
| Gebruikte technieken
The Classic New Leaf Socks are knit from the toe up and feature the following techniques. And yes, there will be videos!
De Classic New Leaf socks brei je van de teen naar boven en gebruiken de volgende technieken. En jazeker, er komen video's!
Judy's Magic Cast On

| Judy's Magic Opzetmethode

German Shortrow Heel

| Duitse verkorte toeren hiel

Closing the gap on either side of the heel

| Gat dichten aan weerszijden hiel

Lori's Twisty Bind Off

| Lori's Twisty Afkantmethode
Two at a time?
| Twee tegelijk?
During the Summer Sock-a-Long, I will also be teaching you how to knit two socks at the same time, also called TAAT-knitting. You will knit both socks on the same pair of circular needles. It might seem scary, but is totally doable if you have knit socks before. If you are just starting knitting socks, I definitely recommend starting with just one sock at a time first. I'll have a separate tutorial video for this!
Tijdens de Summer Sock-a-Long laat ik je ook zien hoe je twee sokken tegelijk breit op dezelfde rondbreinaald. Hier wordt in het Engels vaak naar verwezen als TAAT (two at a time). Het lijkt misschien hocus-pocus maar het is zo leuk om te doen. Als je net begint met sokken breien raad ik zeker aan om er eerst eens één tegelijk te breien, maar voor gevorderde breiers is de 'twee tegelijk' variant heel leuk. Hiervan komt er een aparte instructievideo!
Carmen's Colour Combinations
For the Sock-a-Long I have put together some summery colour combinations of Scheepjes Downtown and Metropolis. Of course please feel free to make your own combination, but I thought to give you some ideas!
Voor de Sock-a-Long heb ik wat zomerse kleurencombinaties samengesteld van Scheepjes Downtown en Metropolis. Natuurlijk sta je er vrij in om je eigen kleurenkeuzes te maken, ik hoop je hiermee te inspireren!
With Scheepjes Metropolis in 059 Montreal and Scheepjes Downtown in 413 Baker's Corner, you have a lovely pastel and bubblegum pink colour combination that reminds me of cotton candy at the carnival.
Met Scheepjes Metropolis in 059 Montreal en Scheepjes Downtown in 413 Baker's Corner heb je een heerlijke roze en pastel kleurencombinatie. Doet me denken aan suikerspinnen op de kermis!
Scheepjes Metropolis 046 Leeds and Scheepjes Downtown 412 Museum Square make for a beautiful pair, which reminds me of the lighthouse at Texel beach.
Scheepjes Metropolis 046 Leeds en Scheepjes Downtown 412 Museum Square zijn een prachtig paar, en doen me denken aan de vuurtoren op het strand van Texel. 
Looking for a more vibrant colour combination? Scheepjes Metropolis 037 Istanbul and Scheepjes Downtown 411 Gallery Central are beautifully sunny and bright.
Zijn knalkleuren echt jouw ding? Dan is deze combinatie van Scheepjes Metropolis 037 Istanbul en Scheepjes Downtown 411 Gallery Central echt iets voor jou, heerlijk zonnig en helder.
Does summer mean walks in the forest for you? Then you might like this combination of Scheepjes Metropolis 034 Alexandria and Scheepjes Downtown 403 Leafy Suburb.
Denk jij bij 'zomer' aan koele wandelingen in het bos? Dan vind je deze combinatie misschien leuk van Scheepjes Metropolis 034 Alexandria en Scheepjes Downtown 403 Leafy Suburb.
For fans of cooler colours, this combination of Scheepjes Metropolis 022 Pasay and Scheepjes Downtown 402 Morning Mist is a beauty. I see blooming lavender fields, how about you?
Deze combinatie van Scheepjes Metropolis 022 Pasay en Scheepjes Downtown 402 Morning Mist heeft prachtige koele kleuren. Ik zie er bloeiende lavendelvelden in, en jij?
Pattern Help and Sharing Pictures
Knitting socks can feel quite daunting, so we will offer you all the help you might need! The best place to ask questions about the pattern is the Scheepjes Facebook Group, so make sure you are a member of that. Together with the moderators I will be reading your questions and we will do our best to help you along. This is also a super fun place to chat with other crafters, share pictures of your socks, and see how everyone else is getting along.
I hope you have fun with the Scheepjes Sock Make-a-Long, and please do share your pictures on Facebook or Instagram with the hashtags #ScheepjesSockAlong. For posting on Instagram, tag me @newleafdesigns.nl in your photo so I can see. For Facebook, post them in the Scheepjes Facebook Group and tag me (@ Carmen New Leaf) as well. Also, I would very much appreciate it if you create a project page on Ravelry and add your photos and thoughts there. Thank you so much!!
Sokken breien kan best intimiderend zijn en vooral in het begin, dus willen we je graag alle hulp bieden die we kunnen geven. De beste plaats om patroonhulp te vragen is de Scheepjes Facebook Groep, dus zorg dat je hiervan lid bent. Samen met de groep moderators lees ik al jullie vragen en zullen we zo goed mogelijk proberen je verder te helpen. De Facebookgroep is ook een super gezellige plek om te kletsen met andere breiers, om foto's te delen van je sokken, en om te kijken hoe de rest vordert met hun projecten.
Ik wens je veel plezier met Scheepjes Sock Make-a-Long, en deel vooral je foto's op Facebook of Instagram met de hashtags #ScheepjesSockAlong. Op Instagram kun je me taggen als @newleafdesigns.nl in je foto zodat ik hem kan zien. Op Facebook plaats je in de Scheepjes Facebook Groep en tag je mij (@ Carmen New Leaf). Ik zou het ook enorm op prijs stellen als je een projectpagina aanmaakt op Ravelry en daar je foto's toevoegt. Alvast bedankt!!
You might also like:
Selfstriping socks: To Match or not To Match?
Support me by sharing with friends!