Scheepjes Summer Sock-a-Long
We just have one week to go until the start of the Summer Sock-a-Long, and I am so excited for it! The Summer Sock-a-Long that I'm hosting together with Scheepjes will be from August 9th to August 30th, and we will be knitting summery stripy socks. If you want to read more about it, go and check out my blogpost here for all the details.
We hebben nog één week te gaan tot de start van de Summer Sock-a-Long, en ik heb er zoveel zin in! De Summer Sock-a-Long organiseer ik samen met Scheepjes van 9 tot en met 30 augustus, en gedurende die tijd gaan we mooie gestreepte zomerse sokken breien. Als je meer wilt lezen over de Sock-a-Long kun je deze blogpost lezen voor alle details.
Sock-a-Long Help and Chatter
Want to ask questions about the Summer Sock-a-Long, or chat with other participants? The best place is the Scheepjes Facebook Group. Come join in the fun!
Wil je vragen stellen over de Summer Sock-a-Long, of kletsen met andere deelnemers? De beste plek is de Scheepjes Facebook Groep, kom gezellig meedoen!
Learn how to knit socks
| Sokken leren breien
Thank you so much for your enthusiastic response to this Make-a-Long! I know learning how to knit socks has been on the 'to-do' list for many knitters, and I am so happy that I can share the magic of knitting socks with you. I have prepared step by step videos – in both English and Dutch – for the Make-a-Long so it is totally suitable for knitters who have never knit socks before. If you want to get a little head start, I recommend practicing Judy's Magic Cast On at least a couple of times. I have a very handy video for that here.
Wat een enthousiaste reacties op de Sock-a-Long, bedankt iedereen! Sokken breien leren staat voor veel breiers op de 'to-do' lijst en ik ben zo blij dat ik het plezier van sokken breien met jullie mag delen. Ik heb stap voor stap video's voorbereid – in zowel Nederlands als Engels – dus deze Make-a-Long is ook geschikt voor diegenen die nog nooit sokken hebben gebreid. Als je al een beetje wilt oefenen zou ik aanraden om de 'Judy's Magic Cast On' te proberen, die zie je ook in mijn video hier. 
More advanced version
| Meer uitdaging
With the Summer Sock-a-Long I wanted to offer something to newer knitters as well as experienced sock knitters. So while the regular version of the pattern and tutorial videos is perfect for beginners, I thought of how I could have a more advanced version as well. For experienced sock knitters, I have filmed tutorials on how to knit socks two-at-a-time! This means that you knit two socks on the same circular needle.
Not only is it nice to finish two socks at the same time, it also has some other benefits. I'm sure that if you have knit multiple pairs of socks, that there has been a time where you were knitting the second sock and forgot about how exactly you knit the first one. Did you cast on 10 stitches on each needle for the toe, or was it 12? Until what point exactly did you knit the heel? Is that 15 rounds of ribbing that you are counting, or 16? To this day I am still a bit unsure of how to count ribbing, I'll admit it! When you're knitting both socks at the same time though, you don't have to write any of this down because you are knitting both socks simultaneously. A perfect solution for scatterbrained knitters 😉
Met de Summer Sock-a-Long wilde ik voor zowel de nieuwe als ervaren sokkenbreiers iets leuks bieden. De reguliere versie van het patroon en de video's is perfect voor beginners, en daarna heb ik ook een gevorderde versie voor diegenen die iets meer uitdaging zoeken. Heb je wel eens gehoord van twee sokken tegelijk breien? Je breit een compleet paar sokken op één rondbreinaald. Tijdens de Sock-a-Long heb ik daar ook stap voor stap filmpjes voor zodat je deze leuke techniek kunt proberen.
Het is niet alleen fijn om twee sokken tegelijk af te maken, het heeft ook andere voordelen. Als je al meerdere paren sokken hebt gebreid is het vast wel eens voorgekomen dat er wat tijd zit tussen het breien van de eerste sok en van de tweede sok. Tijdens de tweede sok vraag je je af: hoeveel steken had ik ook alweer opgezet? Hoe heb ik die hiel bij de eerste sok ook alweer gebreid? Tel ik daar 15 toeren boordsteek of zijn het er toch 16? Ik zal eerlijk toegeven dat toeren boordsteek tellen nog steeds niet mijn sterkste punt is. Maar als je twee sokken tegelijk breit hoef je je daar niet meer druk om te maken. Een perfecte oplossing voor verstrooide breiers 😉
More sock patterns
| Meer sokkenpatronen
Are you itching to start knitting socks right now? You're in luck, because I have many more sock patterns designed for Scheepjes yarns. Most use Scheepjes Metropolis as it's my favourite yarn, and I have also used Scheepjes Downtown and Scheepjes Our Tribe. Let me introduce the sock patterns because they have different skill levels.
Kun je niet wachten en wil je direct al een paar sokken opzetten? Gelukkig heb ik nog veel meer sokkenpatronen die ik ontworpen heb voor Scheepjes garens. De meeste patronen zijn voor Scheepjes Metropolis omdat dat mijn favoriete garen is, daarnaast gebruik ik ook Scheepjes Downtown en Scheepjes Our Tribe. Laat me de patronen even aan je voorstellen:
City Stripe Socks
If you've fallen in love with the many colours of Scheepjes Downtown, perhaps you will like the City Stripe socks! These socks can be knit top-down or toe-up, although the pattern is written toe-up. The heel is an Afterthought heel, which means you actually knit the heel after the rest of the sock is done already. Intrigued? This pattern is available for free right here. The yarn used for the sample socks is Scheepjes Downtown After Dark 400.
Als je al verliefd bent geworden op de kleuren van Scheepjes Downtown, zijn de City Stripe Socks heel leuk om te breien! Deze sokken kun je zowel van boven naar beneden als van beneden naar boven breien, maar het patroon is 'toe-up' (van de teen omhoog) geschreven. De hiel is een 'Hiel Achteraf', wat betekent dat je de hiel als allerlaatste pas breit. Heel leuk om te doen, en het patroon is gratis hier verkrijgbaar. Het garen voor de sokken op de foto is Scheepjes Downtown After Dark 400. 
The Subtle Sock Collection
These beautiful socks are designed for Scheepjes Metropolis and Scheepjes Our Tribe. The latter is a soft colour changing yarn, which offers a gorgeous background for the colourwork knitting. These socks are much more advanced than the socks we are going to be knitting during the Summer Sock-a-Long, and can be a fun challenge for the more experienced sock knitters. The construction is toe-up, with a gusset, shortrow heel and heelflap. The patterns are available individually, and as a pattern bundle at a reduced price.
Deze mooie sokken heb ik ontworpen voor Scheepjes Metropolis en Scheepjes Our Tribe. Our Tribe verandert zachtjes van kleur en is prachtig om jacquard mee te breien. Deze sokkenpatronen zijn geschikt voor de gevorderde breier en zijn een leuke uitdaging. Je breit ze van de teen naar boven, met een spie, verkorte toeren hiel en hielflap. De patronen zijn los verkrijgbaar maar ook als bundel met een voordelige prijs.
The Woodsy Socks
Have you always wanted to knit knee-high socks? I highly recommend knitting them with a lace pattern such as the Woodsy Socks, as it will go by much quicker! Lace is of course basically 'adding holes', which means that you're getting a lot more fabric per hour of knitting. The first time I knit lace socks I was amazed at how quickly I finished them.
The Woodsy Socks are knit toe up and have a gusset, shortrow heel and heelflap. They are a very similar construction to the colourwork socks mentioned above, so this is a brilliant stepping stone to those patterns. Of course you don't have to knit them to knee-height, the pattern is easy enough to knit until mid-calf length as well.
The sample socks are knit in Scheepjes Metropolis 066 Copenhagen. Find the links to both stores below.
Heb je altijd al kniehoge sokken willen breien? Ik raad aan om ze te breien met een kantpatroontje zoals bij de Woodsy Socks, want dan gaan ze veel sneller! Kantbreien is natuurlijk eigenlijk 'gaatjes toevoegen', wat betekent dat je veel meer centimeters kan breien in dezelfde tijd. De eerste keer dat ik kanten sokken breide stond ik er echt van versteld hoe snel het ging.
De Woodsy Socks brei je ook van beneden naar boven met een spie, verkorte toeren hiel en hielflap. Ze hebben een vergelijkbare constructie als de jacquard sokken hierboven, maar zijn een stuk makkelijker zonder het jacquard. En natuurlijk hoef je ze niet zo lang te breien, het patroon vertelt je ook hoe je de sokken korter maakt. 
De sokken van de foto breide ik met Scheepjes Metropolis 066 Copenhagen. Vind het patroon via de knoppen hieronder.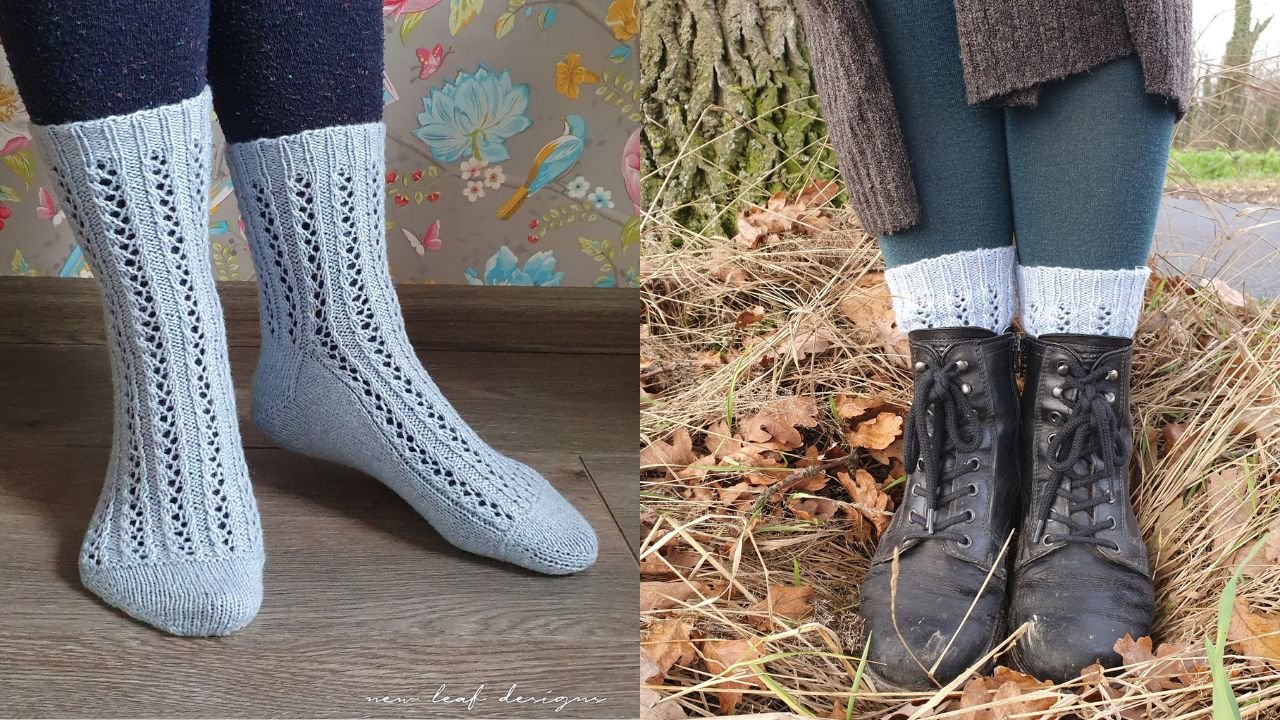 Cottage Dream Socks
The Cottage Dream socks are so cute, and totally fit the cottagecore trend. I love layering them over tights to add a little extra interest to an outfit. They have the same construction as the Woodsy socks, just a different lace pattern. As you can see more clearly in the photos here, the lace pattern is not continued over the sole of the foot which gives a very comfortable fit.
The sample is knit in Scheepjes Metropolis 015 Ulsan. Find the pattern via the buttons below.
De Cottage Dream sokken zijn zo schattig! Helemaal volgens de cottagecore trend. Ik vind het leuk om ze over maillots heen te dragen als toevoeging aan een outfit. Ze hebben dezelfde constructie als de Woodsy Socks, alleen een ander kantpatroon. Je kunt het in deze foto's beter zien dat je het kantpatroon niet op de zool breit, zo zitten ze wat comfortabeler.
De sokken van de foto heb ik gebreid met Scheepjes Metropolis 015 Ulsan. Vind het patroon via de knoppen hieronder.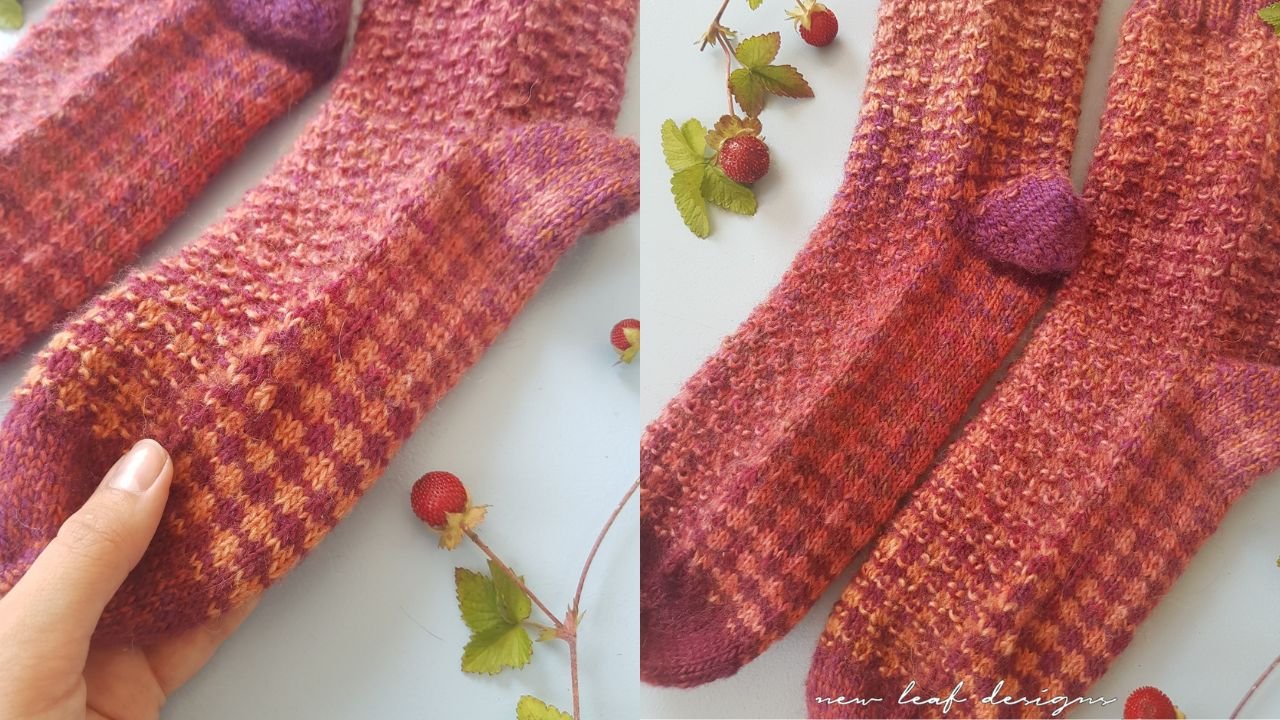 Wild Strawberry Socks
Have you ever heard of Bohus Stickning? It's a Swedish knitting tradition where colourwork is paired with purl stitches. This makes for a very interesting texture and little pops of colour here and there. The little 'purl bumps' reminded me of seeds on strawberries, hence the name. The purl stitches are omitted on the sole of the socks making them more comfortable to wear. The construction of these socks are toe-up with a German shortrow heel.
The yarn used for the sample is Scheepjes Our Tribe in the colourways Jellina Creations and Haak Maar Raak, but will look beautiful in many different combinations! Find the pattern via the buttons below.
Heb je ooit gehoord van Bohus Stickning? Het is een Zweedse breitechniek waarbij jacquard breien wordt gecombineerd met averechte steken. Zo krijg je een hele leuke textuur en kleine stipjes kleur hier en daar. De bolletjes van de averechte steken deden me denken aan de pitjes op aardbeien, vandaar de naam Wild Strawberry Socks. Op de zool heb ik het textuurpatroon weggelaten voor draagcomfort. Je breit deze sokken ook vanaf de teen omhoog met een Duitse verkorte toeren hiel.
Het garen wat ik gebruikt heb is Scheepjes Our Tribe in de kleuren Jellina Creations en Haak Maar Raak, maar zal er prachtig uitzien in veel verschillende combinaties! Vind het patroon via de knoppen hieronder.
Fancy Fair Isle Socks
Up for a challenge? The Fancy Fair Isle Socks are my most challenging sock pattern to date, as it not only features colourwork but also uses four colours. You will only be working with two colours at a time, but four balls of yarn will be attached to your project so you will need to familiarize yourself with yarn management. Tip: put each skein in their own container, whether that's a mug or a tupperware container. I also highly recommend using the inner strand of each yarn, so that they stay put instead of rolling everywhere.
The colours used for these samples are: Scheepjes Metropolis 057 Milan, 051 Marrakech, 047 Dubai, 048 Sydney. Find the pattern via the buttons below.
Houd je wel van een uitdaging? De Fancy Fair Isle Socks zijn misschien wel mijn moeilijkste sokkenpatroon omdat het niet alleen jacquard breien is, maar ook vier kleuren gebruikt. Je breit alsnog met maximaal twee kleuren tegelijkertijd, maar je hebt vier bollen aan je werk zitten. Tip: stop elke bol in zijn eigen bakje. Drinkbekers zijn hier ook handig voor. Ik raad ook aan om de binnenste draad te gebruiken, dan rollen ze niet overal naartoe. 
De kleuren die ik gebruikt heb voor deze sokken zijn Scheepjes Metropolis 057 Milan, 051 Marrakech, 047 Dubai en 048 Sydney. Vind het patroon via de knoppen hieronder.
Support me by sharing with friends!