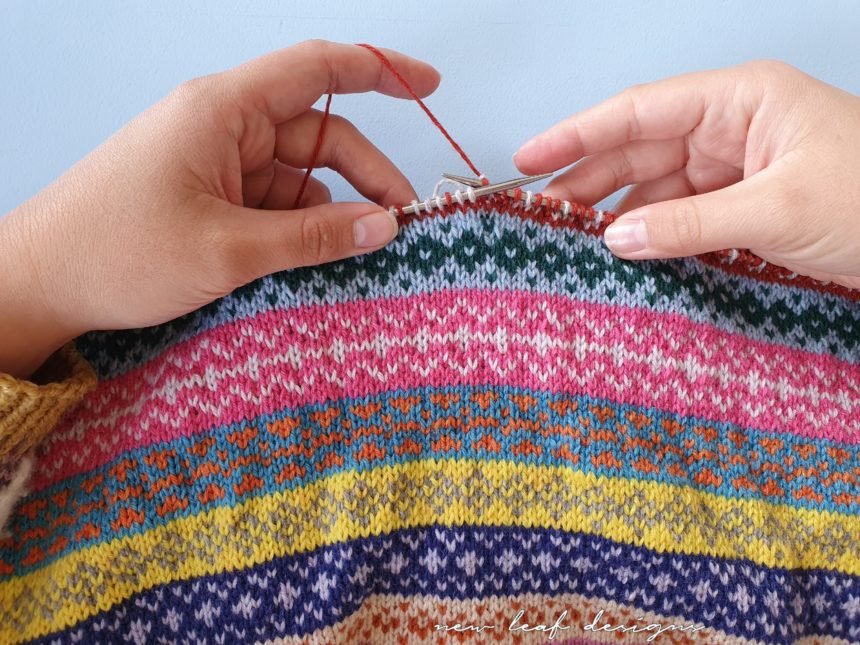 How to start knitting stranded colourwork
It is no secret that I love to knit stranded colourwork, and in this blogpost I'm giving you some tips and tricks for how to get started. I have designed quite a few colourwork knitting patterns, but what is the best order to knit them if you are just starting out?
Colourwork classes
If you have never knit stranded colourwork before, I highly recommend following my Colourwork Confidence Masterclass. This Masterclass covers everything from beginner to advanced colourwork patterns, and is divided in six chapters with a combined length of 2.5 hours. During this Masterclass, you will get the hang of stranded colourwork, and you'll be knitting with confidence in no time! Subscribe to my Patreon page to unlock this Masterclass as well as many others. Want a little more info first about what's included? Then click here.
Your colourwork stepping stones
Stranded colourwork can be quite daunting, especially with all of the beautiful and intricate knitting patterns out there. What is the best pattern to start with? Luckily for you, you can find the perfect stepping stones in my New Leaf Designs knitting pattern library!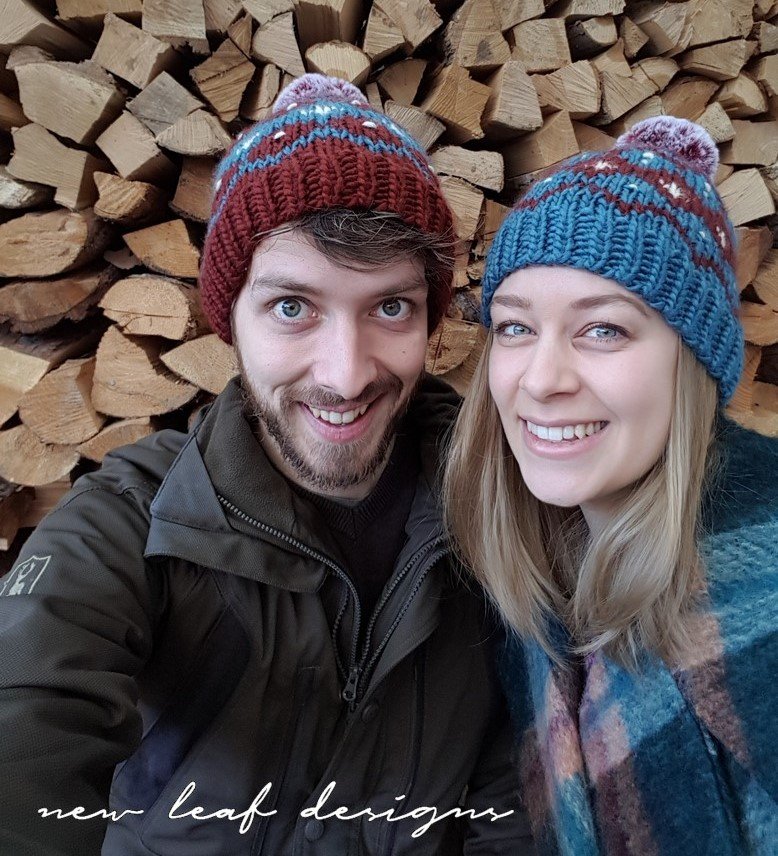 Finn Hat
The perfect beginner pattern for stranded colourwork is the Finn Hat. I've recently taught a workshop for colourwork beginners featuring this hat, and it was so great to see how everyone progressed during the workshop! The Finn Hat is made with Scheepjes Namaste or Scheepjes Chunky Monkey, the bulky yarn makes this project go by so fast! Find the free knitting pattern via the button below. You can also find a paid PDF version – easy to print – right here.
Home Hat
Your next step is the Home Hat. This project might intimidate you because I used a lot of colours, but you can also knit this pattern with just three colours of yarn. The yarn I used is Scheepjes Metropolis, my favourite yarn! What makes this pattern more advanced than the Finn Hat is that the yarn is thinner, and because there are more colourwork charts. All of the charts have a repeat of maximum 8 stitches, which still makes for an easy knit. Find the free pattern via the button below, and the paid PDF version right here.
Around the World Sweater
I know what you're thinking: "A colourwork sweater? I can't possibly knit that!", but the Around the World sweater is actually surprisingly easy. All colourwork charts have a repeat of just 4 stitches, which makes it easy to memorize and you will never have to wrap your floats. What makes this pattern more advanced, is that you need to knit shortrows and divide for the sleeves. All of these techniques and more are explained in my Sweater KAL Tutorial Series, where I'm knitting this exact sweater together with you! For the free sweater pattern, click the button below.
The Subtle Sock Collection
When you are ready for a more advanced knit, I highly recommend my Subtle Sock Collection. I love wearing these socks, they are very warm and fit perfectly because of the gussets. These socks are knit toe-up and feature a German shortrow heel as well as a heelflap and gusset. This is an advanced pattern because it features increases for the gusset alongside the stranded colourwork, which can be challenging. If you have never knit socks before, I recommend following the pattern without doing any colourwork first, so you get a hang of the construction.
Get the Subtle Sock Collection E-book via the button below, or find the patterns separately in my shop.
Happy knitting! If you want to share pictures of what you're making, or if you have questions about the patterns, the best place to post these is in the New Leaf Designs Facebook Group. It's also very much appreciated if you create a Ravelry project page if you make any of my designs. Thank you!
Support me by sharing with friends!