The Home Hat
Stranded colourwork might be my favourite knitting technique ever, and the Home Hat is a great first project for it. If you would like to practice your colourwork knitting, or if you've never done it before and want to learn how, you can find my Colourwork Confidence Masterclass right here. I've designed the Home Hat for Scheepjes Metropolis, a wonderful soft and sturdy yarn that you can use for almost anything. The Home Hat pattern is a great stashbuster too if you have some leftover bits and bobs you want to use up. Soon you'll be knitting hats for everyone you know!
Kleurwerk inbreien is ontzettend leuk, en veel gemakkelijker dan dat het misschien lijkt. Dit patroon voor een gebreide muts is een goed patroon om mee te beginnen als je nog nooit kleurwerk hebt gebreid, en is natuurlijk ook leuk als je er wél al mee bekend bent! Als je kleurwerk breien wilt oefenen of als je het nog helemaal nooit hebt geprobeerd en je wilt het graag leren, dan kun je mijn Colourwork Confidence Masterclass hier vinden.  De Home Hat heb ik ontworpen voor Scheepjes Metropolis, een geweldig garen dat zacht aanvoelt en ook erg stevig is. Voor dit patroon heb je maar een beetje garen nodig, restjes zijn vaak al genoeg. Voor je het weet ben je mutsen aan het breien voor iedereen die je kent!
PDF version
Are you looking for an ad-free, easy to print pattern? Head on over to my Ravelry shop or New Leaf Webshop to purchase the PDF version of this pattern. Easy, clear and compact, with PDFs separated by language. And you get to support a small business, woohoo! Want to support me even more? Consider becoming a member of my Inner Circle on Patreon for even more benefits and exclusive tutorial videos. Thank you!
Heb je liever een gemakkelijk te printen patroon zonder advertenties? In mijn Ravelry shop of mijn New Leaf Webshop kun je de PDF versie van dit patroon kopen. Gemakkelijk, duidelijk, en je hebt alles in één plek. Er is een aparte PDF per taal dus je hoeft niet meer langs het Engels te scrollen. En je steunt mij als ontwerper, joepie! Wil je me nóg meer steunen? Denk er dan eens over om lid te worden van mijn Inner Circle op Patreon, voor nog meer leuke voordelen en exclusieve tutorial video's. Dankjewel!
Yarn
| Garen
For the Home Hat, use at least three colours of fingering weight yarn (around 400m/100g). I recommend using Scheepjes Metropolis (50g/200m; 75% Merino extra fine, 25% Nylon).
Get your Scheepjes Metropolis yarn via Scheepjes retailers, or my affiliate links below. Purchasing via affiliate links doesn't cost you anything extra but the shopkeeper will reward me with a small percentage. Thank you for considering!
Voor de Home Hat gebruik je ten minste drie kleuren garen in sokkengewicht (rond 400m/100g). Ik raad aan om Scheepjes Metropolis (50g/200m; 75% extrafijne merino, 25% nylon) te gebruiken.
Scheepjes Metropolis kun je kopen bij deze winkels, of via mijn affiliate link hieronder. Kopen via een affiliate link kost niets extra, maar de winkelier beloont mij met een klein percentage van jouw aankoop als bedankje. Alle beetjes helpen, en ik stel het erg op prijs!
Wool Warehouse (UK) Caro's Atelier (NL)
Other Materials
| Overige Materialen
Recommended needle size for either circular needles or DPNs (double pointed needles):
2.25mm (US1) for brim
3.25mm (US3) for colourwork
optional: 3mm (US2.5) for crown
Aanbevolen maat rondbreinaalden of DPNs (dubbelpuntige naalden):
2,25 mm voor rand
3,25 mm voor kleurwerk
optioneel: 3 mm voor kruin
Abbreviations
| Afkortingen
CO cast on
k Knit
k2tog Knit two sts together through the front loops from left to right
kfb Knit into front and back strand of the same st
p Purl
RS Right side
ssk Slip slip knit: slip two sts knitwise one by one, put back on left needle, knit together through back loops
st(s) Stitch(es)
WS Wrong side
[ ] stitch count at end of round is shown between square brackets
2afh.1r haal twee stn één voor één recht af, steek linkernaald van links naar rechts in de stn en brei ze recht samen (1 s geminderd)
2r.sbr twee stn recht samenbreien
AK achterkant
av averecht
GK goede kant
r recht
rva recht voor achter: brei zowel in de voorste als achterste lus recht (1 s gemeerderd)
s/stn steek/steken
[ ] het aantal steken in een rij
Repeat Formats | Herhalingen
*……; rep from * to end Work the instructions after * and then repeat until the end of the round.
*……; herh van * tot eind Brei de instructies na * en herhaal deze tot het eind van de rij.
Gauge
| Stekenverhouding
30 sts and 31 rounds = 10 cm in stockinette colourwork in the round. I got this gauge on 3.25mm needles, you might need a different needle size.
30 stn en 31 toeren = 10 cm kleurwerk in het rond. Deze stekenverhouding kreeg ik met 3,25 mm naalden, wellicht heb jij een andere maat naalden nodig.
Sizes
| Maten
There are three adult sizes available for the Home Hat. The medium size will fit most adults, albeit more snug for some and more slouchy for others. The small size is likely to fit children too.
Dit patroon bevat instructies voor drie volwassen maten. De medium maat zal de meeste mensen passen, al is het bij de een wat strakker en bij de ander wat losser. Perfect als je voor anderen breit en je weet hun exacte maat niet. De kleine maat zal waarschijnlijk kinderen ook passen.
Size Small
Size Medium
Size Large
To fit head circumference

Voor hoofdomtrek

55cm and smaller

55cm en kleiner

approx. 58-60cm

ong. 58-60cm

63cm and up

63cm en groter
Colourways
| Kleurstellingen
I've knit two samples for this design. One uses 8 colours, the other uses 5 colours. I recommend using at least 3 or 4 colours, but you are free to make your own colour choices. The colour names and numbers all correspond to Scheepjes Metropolis yarns.
Voor dit ontwerp heb ik twee samples gebreid. De een gebruikt 8 kleuren en de ander 5. Ik stel voor om minimaal 3 of 4 kleuren te gebruiken, maar je staat er uiteraard vrij in om deze keuze te maken. De kleurnamen en nummers corresponderen allemaal met Scheepjes Metropolis garens.
Colourway 1 Yarns A-H (Kleurstelling 1 Garens A-H): Johannesburg 054, Glasgow 002, Marseille 019, Taipei 006, Depok 026, Bogotá 050, Almaty 056, Karachi 016
Colourway 2 Yarns A-E (Kleurstelling 2 Garens A-E): 005 Medan, 011 Boston, 077 Quebec, 074 Tripoli, 075 Mexico City
Pattern Notes
| Patroon notities
This hat is knit in the round, from brim to crown. After the ribbing, there's one increase round before starting with the colourwork section. I've included the full colourwork charts for both of the samples I knit, feel free to mix and match the colourwork patterns as you see fit.
In the last couple rows of the chart you'll find some decreases in-pattern. After finishing the chart, there are several more decrease rounds towards the crown.
In-chart decreases: please note that where you see a decrease in the chart, indicated by a left- or rightleaning slanted line, you'll see the 'No Stitch' symbol in rows above that decrease. The 'No Stitch' symbol occurs where previously there was a stitch, but now it is decreased away. So whenever you come to a 'No Stitch' box, don't overthink it, simply go to the next box to be worked.
There are three sizes in this pattern, Small, Medium and Large. Different instructions for the three sizes will be shown as Small (Medium) Large.
Deze muts brei je in het rond van de rand naar de kruin. Na het boord brei je één meerdertoer voordat je begint met kleurwerk breien. Voor beide samples heb ik de volledige kleurwerk schema's toegevoegd. Voel je vrij om de patronen te mix en matchen voor jouw unieke muts.
In de laatste paar rijen van het schema zie je minderingen ín het patroon. Na het schema volgen er nog een aantal mindertoeren naar de kruin toe.
Minderingen in het schema: let op dat waar je een mindering ziet in het schema (symbool is een schuine lijn), je erboven een 'no stitch' symbool ziet. Daar is dus letterlijk 'geen steek'. In de rij eronder was er een steek, maar na de mindering is deze weg. Denk niet teveel na over dit 'geen steek' vakje, ga gewoon door met het volgende vakje.
De verschillende maten in dit patroon worden aangeduid als: Small (Medium) Large.
Colourwork charts
| Kleurwerk schema's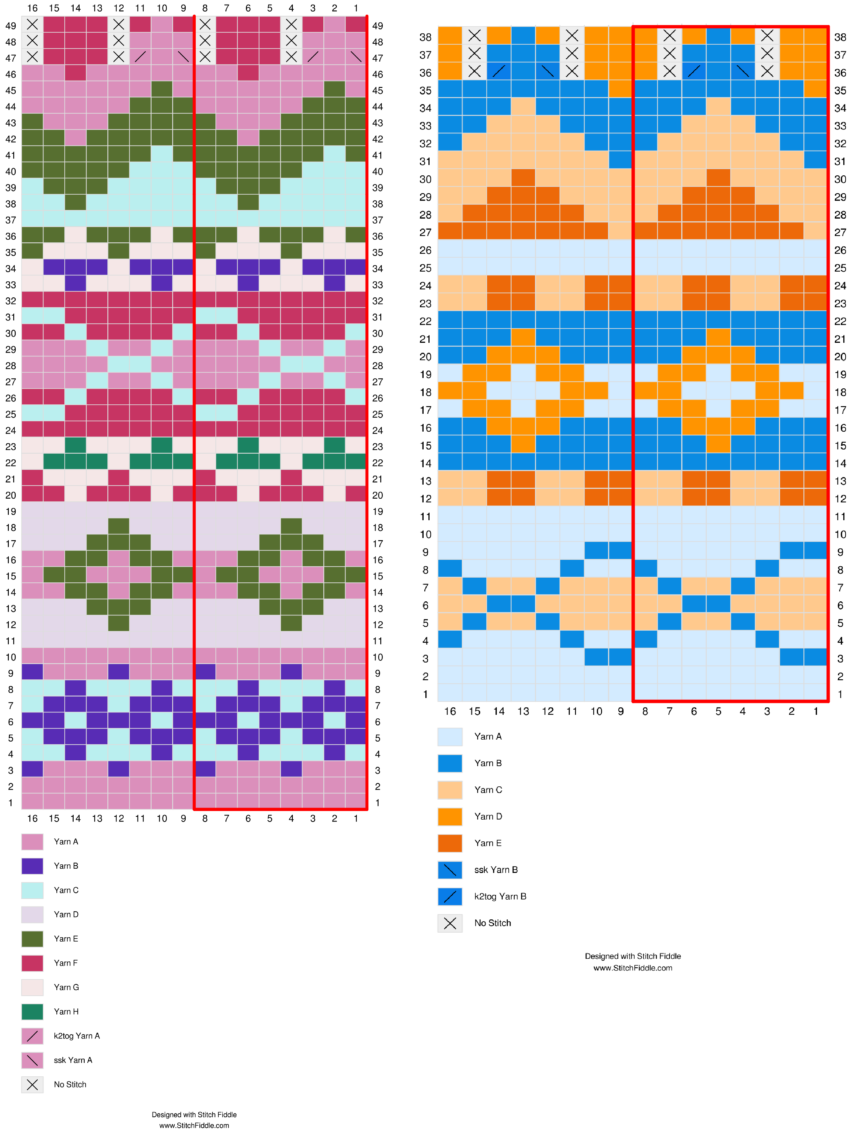 Read the charts from right to left, one box equals one stitch. The red outline marks the repeat.
NOTE: for Colourway 2 (on the right), the original sample has 2 more rounds of Yarn A before Row 1 of the chart.
Lees de schema's van rechts naar links, elk vakje is één steek. De herhaling is rood omlijnd.
LET OP: voor Kleurstelling 2 (rechts) heeft de originele sample nog 2 toeren met Garen A vóór Rij 1 van het schema.
Pattern (English)
Start with 2.25mm (US 1) needles for a snug brim. If you want to knit your hat exactly like one of the sample hats, I used Yarn H for the brim for Colourway 1, and Yarn D for Colourway 2.
CO 108 (120) 132 sts with the German Twisted Cast On. Video here: https://www.youtube.com/watch?v=2OSnArMcxeM
Knit 38 (38) 38 rounds of 2×2 ribbing (k2, p2).
Increase round: *k2, kfb; rep from * to end. [144 (160) 176 sts]
Switch to 3.25mm (US3) needles for the colourwork section.
Please view both charts for the hat samples in the 'Colourwork Charts' section. The colourwork charts are made up of several smaller charts, feel free to put them in the order you like. If we look at the chart for the first colourway, you can divide it into smaller charts: Row 2-10, Row 11-19, Row 20-23, Row 24-32, Row 33-37, and from Row 38 to the crown decreases.
You can knit your hats from the chart as it is, you can take out one of the colourwork charts, you can knit it in a different order, pick your favourite and repeat it, you have SO many options! I get that it might be overwhelming at first though, so you might enjoy it more to knit the chart exactly as-is.
For Colourway 2, please note that there's 2 rounds I didn't include in the chart. Before the chart starts, I knit an additional 2 rounds of Yarn A. So in truth, the chart for Colourway 2 would be 40 rounds in total.
In the last part of both colourwork charts, you'll see that one decrease round is incorporated in the colourwork, taking you from 144 (160) 176 sts to: 108 (120) 132 sts.
After you finish the chart, continue below:
Optional: switch to 3mm (US2.5) needles since you're not knitting colourwork anymore.
Crown Round 1 (dec): *k2, k2tog; rep from * to end. [81 (90) 99 sts] Crown Rounds 2-4: k to end.
Crown Round 5 (dec): *k1, k2tog; rep from * to end. [54 (60) 66 sts] Crown Rounds 6-8: k to end.
Crown Round 9: *k2tog, rep from * to end. [27 (30) 33 sts] Crown Round 10: k to end.
Crown Round 11: *k2tog; rep from * to end. PLEASE NOTE: for Sizes Small and Large, you have an odd stitch count so you will end with a k1. [14 (15) 17 sts].
Cut your yarn leaving a tail, weave the tail through all sts and pull tight.
Patroon (Nederlands)
Begin met 2,25 mm naalden voor de rand. Als je een van mijn samples exact wilt nabreien, gebruik je voor Kleurstelling 1 Garen H, en voor Kleurenstelling 2 Garen D.
Zet 108 (120) 132 stn met de German Twisted Cast On. Vind de video hier: https://www.youtube.com/watch?v=2OSnArMcxeM
Brei 38 (38) 38 toeren 2×2 boordsteek (2r, 2av).
Meerdertoer: *2r, rva; herh vanaf * tot eind. [144 (160) 176 stn]
Wissel naar 3,25 mm naalden voor het kleurwerk.
Vind de schema's voor beide samples onder het 'Kleurwerk Schema's' kopje. De schema's bestaan uit verschillende kleinere kleurwerk patroontjes. Het linkerschema bestaat bijvoorbeeld uit de volgende: Rij 2-10, Rij 11-19, Rij 20-23, Rij 24-32, Rij 33-37, en van Rij 38 tot aan de minderingen.
Je kunt je muts precies breien volgens het schema, of geef er je eigen draai aan. Kies een patroontje en herhaal die voor de hele muts, brei ze in een andere volgorde, haal er één patroontje uit en brei de rest, je hebt zó veel keuzes! Als je nog nieuw bent met kleurbreien is dat misschien wat teveel, dan is het wellicht fijner om het schema gewoon te breien zoals het er staat.
Let op bij Kleurstelling 2, er zijn 2 toeren die ik niet in het schema heb opgenomen. Vóórdat het schema begint heb ik bij het originele sample nog 2 toeren in Garen A gebreid.
Bovenin beide schema's zie je dat er een mindertoer in het schema is verwerkt. Van 144 (160) 176 stn ga je dan naar 108 (120) 132 stn.
Ga na het schema zo verder:
Optioneel: wissel naar 3 mm naalden omdat je nu geen kleurwerk meer breit.
Kruin Toer 1 (mind): *2r, 2r.sbr; herh vanaf * tot eind. [81 (90) 99 stn]
Kruin Toeren 2-4: brei alle stn r.
Kruin Toer 5 (mind): *k1, 2r.sbr; herh vanaf * tot eind. [54 (60) 66 stn]
Kruin Toeren 6-8: brei alle stn r.
Kruin Toer 9: *2r.sbr, herh vanaf * tot eind. [27 (30) 33 stn]
Kruin Toer 10: brei alle stn r.
Kruin Toer 11: *2r.sbr; herh vanaf * tot eind. LET OP: Voor maten Small en Large heb je een oneven stn aantal dus eindig je met een '1r'. [14 (15) 17 stn].
Knip je garen af en laat een draadeinde over, weef dit met een naald door alle stn en trek strak.
Finishing
| Afwerking
Weave in all ends. To block your hat, soak it briefly in woolwash and squeeze out the excess water with a towel. If you lay a hat flat to dry, it will get a fold-line in the fabric which is very difficult to get out. To avoid this you can take a balloon, inflate it halfway, insert into the hat, and inflate fully until the colourwork stitches are nicely stretched. Be sure to not inflate the balloon too much or the ribbing will stretch too much.
If you don't have a balloon, you can also put the hat over an upside-down bowl and balance the bowl on a tall glass or perhaps a big soda bottle. Make sure the bowl fits into the hat completely, so that the ribbing is not stretched by the bowl.
Werk alle eindjes weg. Was je muts kort met wolwasmiddel (met de hand) en knijp overtollig water eruit met een handdoek. Leg de muts NIET plat om te drogen want dan krijg je er een vouwlijn in. In plaats daarvan kun je een muts laten drogen met een ballon erin. Blaas een ballon voor de helft op, doe hem in de muts en blaas dan op zodat de kleurwerk steken mooi uitgerekt worden (niet té veel natuurlijk). Let op dat je het boord niet teveel uitrekt.
In plaats van een ballon kun je ook bijvoorbeeld een vaas/fles pakken en daar een kom ondersteboven op balanceren. Daar kun je de muts ook overheen leggen.
Share your work
Ta-dah, your hat is finished! Be sure to share your photos with the tags #homehat and #newleafdesigns. Creating a project page on Ravelry is also very much appreciated as it will allow people to see more versions of this hat pattern. Thank you so much!
Ta-daa, je muts is klaar! Ik zou het superleuk vinden als je foto's van je muts deelt met de hashtags #homehat en #newleafdesigns. En ik stel het nóg meer op prijs als je ook een projectpagina maakt op Ravelry, dan kunnen mensen namelijk de muts zien in veel meer versies dan alleen de twee die ik heb gemaakt. Alvast bedankt!
Shop more patterns here Shop andere patronen hier
You might also like
Colourwork Confidence Masterclass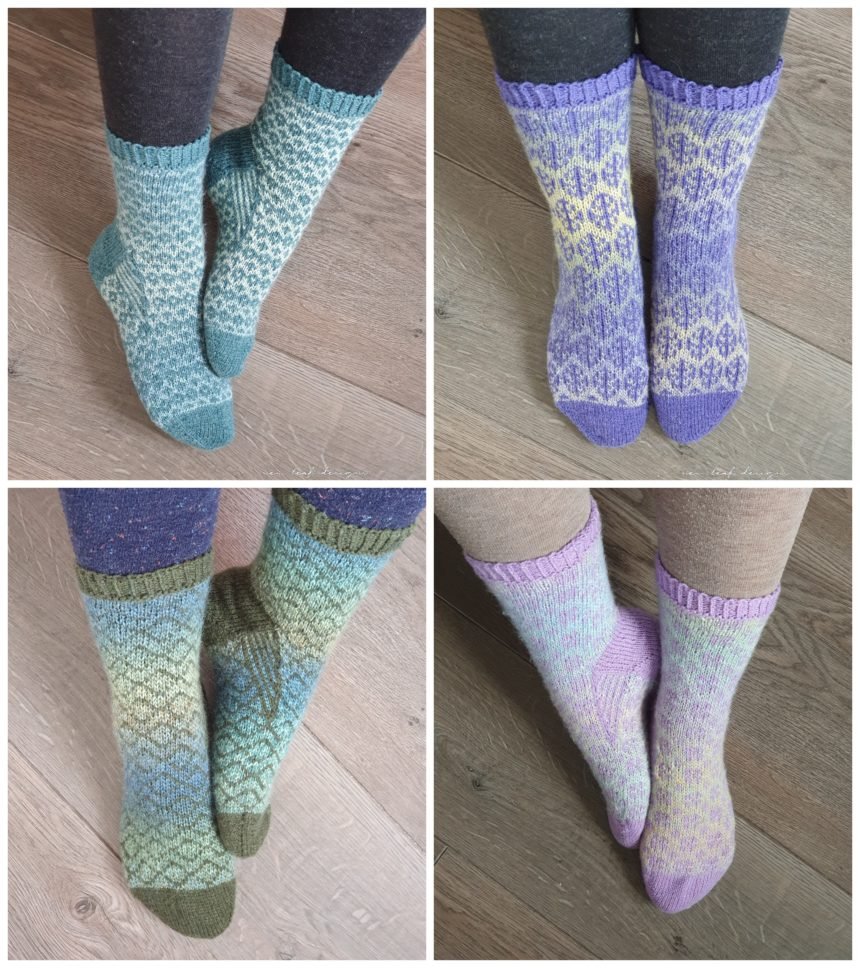 Support me by sharing with friends!