My last ever skeins of handdyed yarn!
Yep, you read that right. The LAST CHANCE EVER to get your hands on some of my own handdyed yarns. I will no longer be dyeing yarns for sale, simply because I would like to focus my attention on designing and teaching. So tomorrow, I'm having a last-chance sale on Instagram so YOU can snag one of my very last handdyed yarns. Find the details of the sale below.
Naturally dyed
My yarns are all naturally dyed, so I'm using dye materials like birch, dock, walnut, avocado, cochineal, madder root, onion skins, and a few other things. All of those ingredients except cochineal are plant-based/vegan. Cochineal is dried beetles also used sometimes in lipstick and food colouring.
When
Thursday November 19th starting at 1pm CET
Where
I created a separate Instagram account for this: @newleafdesignsyarn.
How
How the sale works: I will post pictures of my yarn here on this Instagram account. If you want to buy the yarn in the picture, comment with SOLD and the amount of skeins (I will specify how many I have of that colour). If there are multiple colours in one picture, please also specify colour.
If you are the first to have commented with SOLD, I will DM you for payment and shipping details.
Payment is via PayPal or Tikkie to make it as easy as possible.
Pricing & Shipping
Each of my yarns are priced the same: €27,99 per skein. If you buy 3 or more skeins, they are €25 each.
For this sale, I am lowering the shipping costs:
🇳🇱 Netherlands – free shipping!
🇪🇺 Rest of Europe – €10 with track&trace
🇺🇸 USA – €20 without (!) track&trace. If you would like your package to be trackable, it will be €29 for shipping.
At this moment I can't tell how many days/weeks it will take for your order to arrive. For Europe usually within 1 week, for USA it might take 4 weeks.
Yarn Bases
Visit my Instagram page for a picture of each base.
Sportweight Merino – 100% merino, 300m/100g.
Very bouncy and soft! Perfect for sweaters. Please note that this yarn may pill easily, it's a side effect from the softness.
Sturdy Sportweight – 80% wool, 20% ramie*, 300m/100g. Very hard-wearing, little less soft. My fave!!
DK Wool Ramie – 50% wool, 50% ramie*, 250m/100g. Very cotton-like feel due half of the content being plant-based. Lovely texture because it's a 2-ply, would be amazing to crochet. (pictured above in the gradient picture)
Mohair Silk – 72% kid mohair, 28% silk, 420m/50g. Delightful fluffy mohair!
Thick n Thin Wool – 100% wool, 105m/100g. Thick and thin yarn, VERY limited numbers, really fun to weave with.
Natural Sock – 60% wool, 20% ramie*, 20% silk, 425m/100g. If you're looking for a totally natural sockyarn, this is it! The silk gives it a pretty sheen and because of the ramie content it feels a bit like cotton. Perfect for summer socks.
DK Rustic Wool 100% wool, 220m/100g. 2-ply rustic yarn, perfect for punchneedle.
BFL Sock 75% Bluefaced Leicester, 25% nylon, 395m/100g. This high twist yarn is perfect for socks and shawls!
*Ramie = plant fiber, also known as nature's nylon.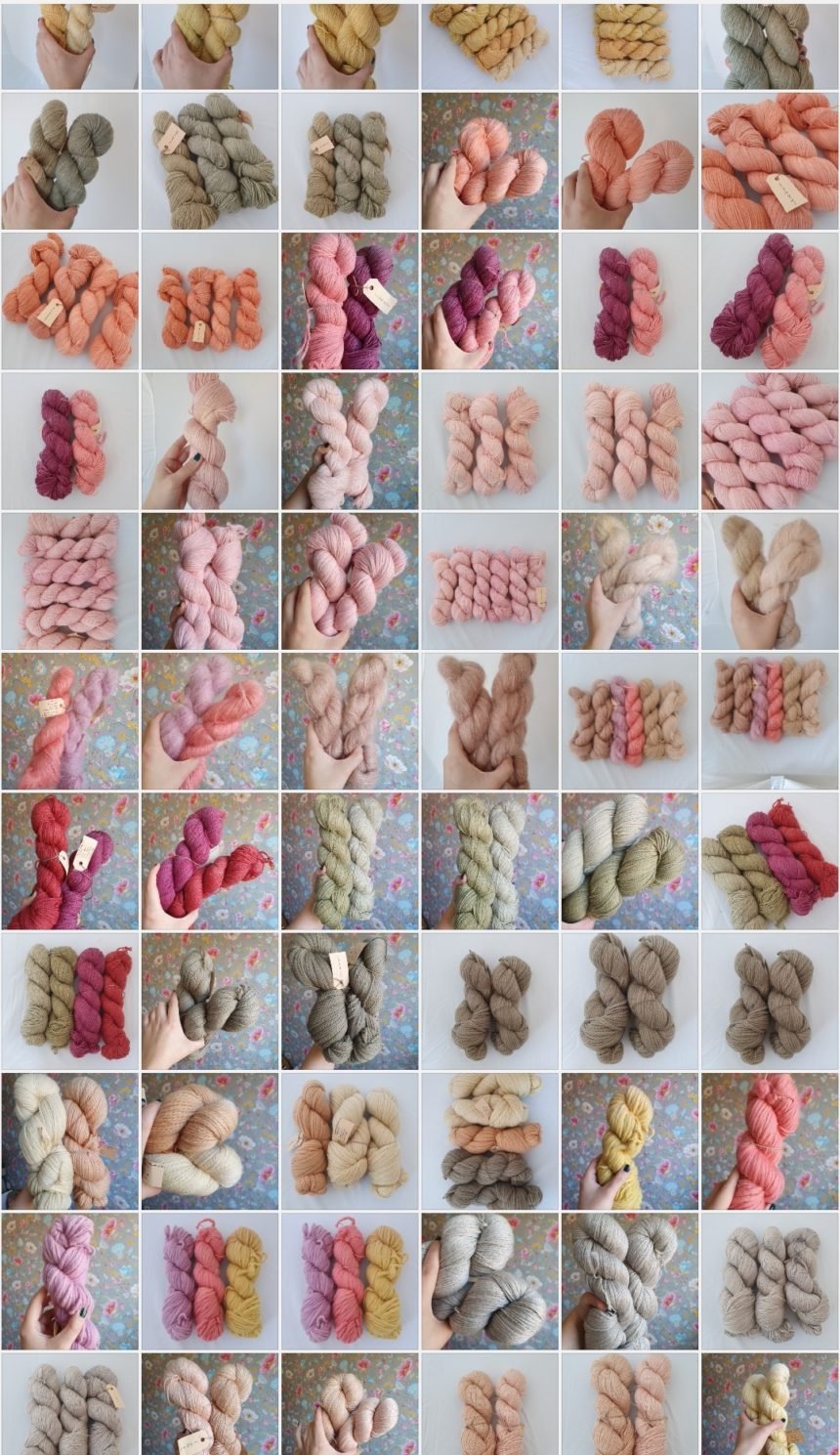 Support me by sharing with friends!