Hello lovely people! I have something really exciting for you today. The past couple of months I have been working very hard behind the scenes to create patterns and tutorial videos for the Colourwork Confidence Masterclass!
What is the Colourwork Confidence Masterclass?
This is a tutorial series on colourwork knitting, which you will know has been my passion for the past 2 years. I LOVE colourwork knitting and I want to spread this joy! It's so fun to knit and really addictive. If you have knit my Striped and Stranded socks, you'll know!
During this Masterclass, you'll get the hang of colourwork, and you'll be knitting with confidence in no time!
For me, colourwork knitting is so addictive! Because you're seeing the pattern emerge bit by bit, you'll be knitting just-one-more-row all the way until you cast off! I want you to experience this as well, because it's just so much fun.
Sure, it'll be a little tricky at first, but that's where I come in!
What will I be learning during the Colourwork Confidence Masterclass?
We'll kick off with a chapter on choosing the right materials for your project. I'll break down which yarns are best suited for colourwork, and we'll be discussing which colours to use.
After that, we'll dig right in with a colourwork swatch that you'll be able to use as a mug cozy, boot cuff, armwarmer, you name it. I made my swatches a little longer and I'm now using them as legwarmers!
I will show you several ways to hold your yarns to make colourwork as easy as possible for you.
I don't have my laptop with me all the time, will I be able to print the instructions?
YES! The Colourwork Confidence Masterclass will not only consist of videos to help you on your colourwork journey, but I'll also provide Course Material PDFs you can print out. All of the information, patterns, tips and tricks will be in there. When things get a little tricky, that's when you can easily check the video for help.
What materials do I need for this Masterclass?
You'll need some yarn, of course! Preferably animal fiber: virgin wool, merino, blue faced leicester, etc. It's no problem if the yarn contains nylon or a little bit of plant fiber (cotton, bamboo, ramie), but make sure at least 70% is animal fiber. Make sure the yarn is non-superwash, otherwise it'll be a little bit more difficult to use.
In the Colourwork Confidence Masterclass I'm using sockweight/fingering yarns and 2.25mm (US 1) + 2.5mm (US 1.5) needles. You can also use thicker yarns, but keep in mind you will need thicker needles as well.
The first video of the Masterclass is all about yarn and colour choosing, so if you don't have your materials ready, don't worry! I'll be guiding you even more throughout the videos.
Well, sign me up! When does it start?
The first video will be published next week Saturday, November 2nd. Make sure to become a patron on my Patreon page to be able to watch the videos and download the PDFs.
At which Patreon tier level do I get access to the videos?
The Masterclass will be available for Jonagold, Golden Delicious, and Elstar patrons.
Jonagold Patrons (and higher tiers) will learn the following skills:
Choosing colours so that your colourwork pattern is actually visible
Holding your yarns for colourwork – 3 different ways
Knitting continental style
Knitting throwing style
Several different colourwork patterns
How to catch floats – 2 ways
Golden Delicious Patrons (and higher tiers) will also receive the following bonuses:
Knitting corrugated rib (colourwork rib)
Tips and tricks for weaving in ends
Elstar patrons will also receive the following bonuses:
Three-colour colourwork
Fixing mistakes in colourwork
My newest (paid-for) hat pattern: the Striped and Stranded hat, for FREE
Extra videos on knitting the Striped and Stranded hat
How to block colourwork hats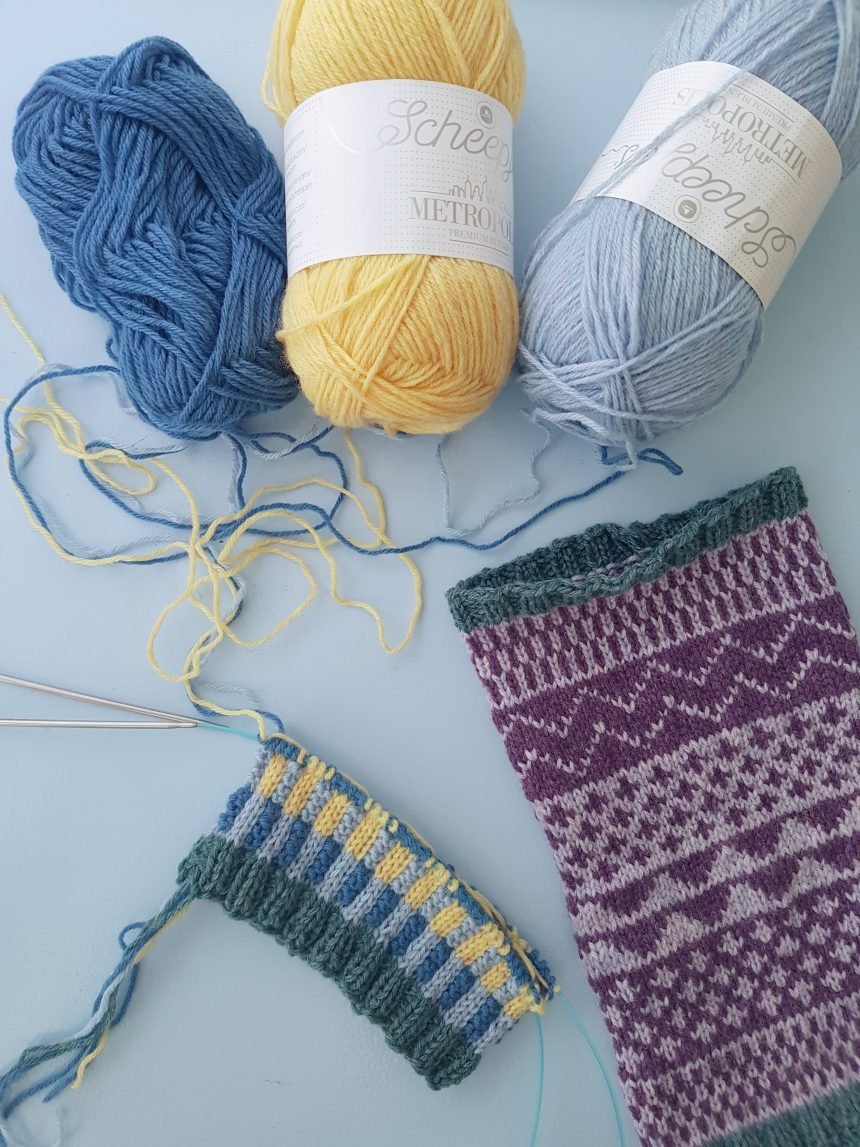 If you become a patron for the Colourwork Masterclass, you'll also automatically gain access to all existing patron-only content and tutorial videos, so what are you waiting for?
Check out my Patreon page and become a patron!
If you have any questions at all, post them below or send me an email at hello@newleafdesigns.nl and I'll be happy to answer them for you.
Happy knitting!
x Carmen
Support me by sharing with friends!