Knit & Purl Colourwork Masterclass
The Knit and Purl Colourwork Masterclass is available now on my Patreon page! My Patreon page is where you can subscribe for exclusive tutorial videos, starting at €5 per month.
In this Masterclass, you will learn to knit stranded colourwork back and forth to create flat pieces. This opens up a whole new range of colourwork patterns you can try! Even if you don't plan to knit a flat piece of colourwork, following this Masterclass will also improve your colourwork tension that will benefit your in-the-round colourwork knits.
Skills needed for this Masterclass
The Knit and Purl Colourwork Masterclass is already pretty advanced, so you will already need to have some skills in your knitting toolbelt. All of the techniques you need, such as basic colourwork skills, continental and English knitting styles, are covered in my other Patreon videos. All of these videos are available at the €5/month subscription, plus a whole library of other tutorial videos. For only €5, you could watch so many videos in just your first month!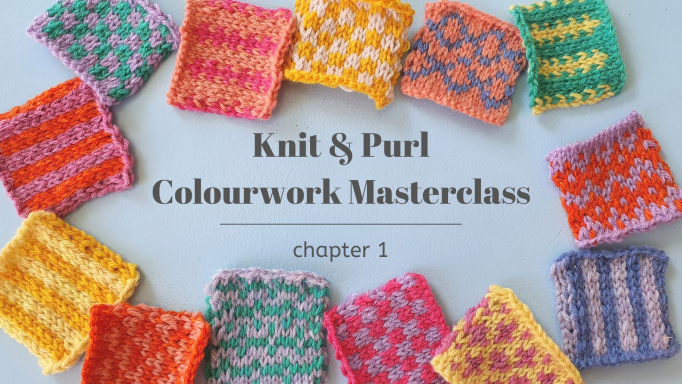 The Masterclass is divided in 8 chapters, and I will post a new chapter each Wednesday and Friday. The first chapter was just published today, and the last chapter will be published on July 27th.
In each chapter we will knit a new colourwork pattern, packaged in a cute little square so you get instant gratification. No complicated cast ons or rounds of ribbing, but instantly getting to the fun part: knitting colourwork! I'm planning to make some cute potholders with the squares I have, or perhaps I'll get another idea along the way. You could make them into a sweater if you want!
And just think about all the fun patterns you can knit afterwards, I'll be writing up a separate blogpost with some examples. So what are you waiting for? For LESS than the price of one of my patterns, you can join me on Patreon for a whole month to follow this Masterclass. Go ahead, you know you want to 😉 Hope to see you there!
Support me by sharing with friends!