Knitting Colourwork Flat
Have you heard about my newest tutorial series: the Knit & Purl Colourwork Masterclass? In this Masterclass, you learn how to knit colourwork back and forth to create flat pieces. Even though you can knit lots of colourwork patterns in the round, having this skill in your toolbelt opens up a whole new range of patterns!
Find pattern inspiration below, and let me know which one is your favourite. Want to learn this technique? Subscribe to my Patreon page for only €5 per month and get access to the tutorial videos:
Pattern Inspiration
Copenhagen Building Blocks – Jake Henzler
Do you remember when this pattern first came out? It was so popular, and many people have knit one of these blankets since. This is the perfect pattern to try after the Masterclass, as the colourwork is easy to remember, but so effective! Find the pattern here.
Anna Cardigan
If you would rather knit a garment, the Anna Cardigan by Martin Storey is a fun pattern to try. The cardigan is knit in pieces and then seamed, which I know doesn't sound fun, but it does make for the best fitting garments! Find the pattern here.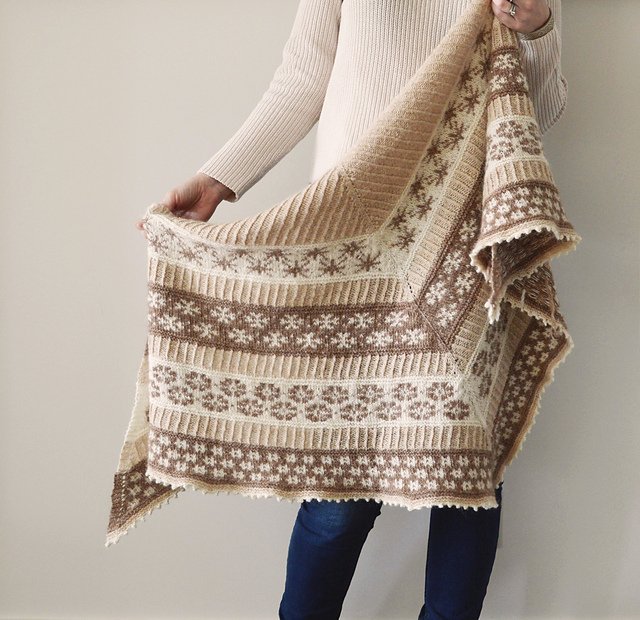 Maddala Shawl
The Maddala Shawl by Inese Isang is a beautiful design that you could knit in so many colours, but as the sample shows it also looks beautiful in a neutral colour scheme. So cosy for the colder months! Find the pattern here.
Advent Kalender Blanket by Annah Legg
Do you have lots of yarn scraps of roughly the same thickness? This blanket pattern would be the perfect way to use up those leftovers! Annah has designed lots of blanket square patterns (not just the ones pictured here) so there are many to choose from. Get the pattern here.
Nachtschatten
Meet the pattern that stopped me in my tracks a couple of years ago. Isn't it beautiful! I knew I would some day learn to knit colourwork back and forth, so I saved this pattern all that time. It's designed by Wollmuschi who also have lots of other beautiful patterns. Get the pattern here.
Lionheart Shawl
The Lionheart Shawl by Gabrielle Vézina is such a gorgeous design, and perfect if you like colourwork but don't want to do it for the entirety of the pattern. If you get bored with a project easily, this is a great one to try as there are lots of colour changes and different techniques. Find the pattern here.
Scout Shawl
Talking about shawls, of COURSE I need to mention the Scout Shawl by Florence Spurling. My jaw dropped when I first saw pictures of this design, it's so different to everything else I've seen. I love it when a designer isn't afraid to use difficult techniques. This shawl does not only feature flat colourwork, but also intarsia. To be fair, intarsia isn't that difficult, but I just know the combination of these techniques would scare people off. To me, that makes it even more interesting! Be sure to take a look at other photos of the shawl too, it's just so pretty! Find the pattern here.
Chestnut Cardigan by Marie Wallin
And now for the queen of colourwork – Marie Wallin. I have been drooling over her designs for so long, and can't actually believe I have yet to cast one on. I suppose I've been feeling a little intimidated, with all of the colours and – yes – frequent use of knitting colourwork flat. I think I finally have the confidence to tackle one of Marie's designs! Her sweater designs are ofted in the round, and although her cardigan designs can be re-worked to knit with steek stitches, I really prefer the structure of flat pieces. Having seams in your garment makes it sturdier, and less likely to sag, droop, or otherwise get out of shape. Plus, they are absolutely gorgeous. Get the Chestnut pattern here.
Folk Fairisle Cushion
Of course I couldn't just pick one of Marie Wallin's patterns, so here's a cushion design as well. Perhaps a little less intimidating than a full garment. This cushion has a fun modular construction, you knit a stripe and then pick up sts on the side to knit the next stripe. Find the pattern here.
Want to add another pattern to this list? Leave a comment below 🙂
Support me by sharing with friends!