Get the perfect gift for the crafter in your life
It's that time of year again! If you're on the lookout for some gifts for the festive season, you're in the right place. I have compiled the ultimate Holiday Crafter Gift Guide! Don't we all know a crafty person who seems to have it all? I mean, don't get me wrong.. yarn is always welcome! But sometimes having an abundant stash of yarn might add to the pressure, and wouldn't it be a shame if the gift recipient never came around to use your gift? Although… if you're wanting to gift some yarn, I have botanically handdyed yarn still in stock 😉
This year, I try to focus on gifts that the recipients will actually use. However tempting, I try to stay away from 'funny' gifts that may be used once or twice, or not at all. Instead, I'm giving you a list of products crafters will LOVE and cherish <3
All products come with a link to Habbedash, which is a one-woman owned business. Shopping at small businesses spreads so much holiday cheer! Imagine someone doing a happy dance with each sale, however small! All of these products are available from the same retailer as Scheepjes yarns, so if you have a Scheepjes store around, they might be able to get these products for you!
Cohana, for the crafter who has it all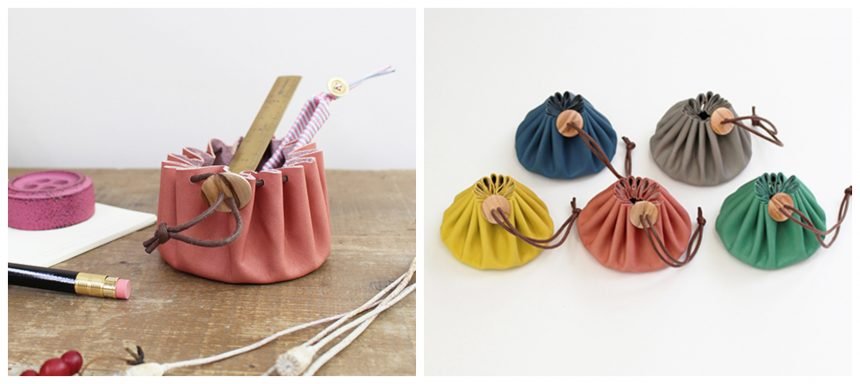 Cohana Himeji Pouch
This leather pouch is perfect for storing tiny notions such as stitch markers and measuring tape. Each pouch measures 9cm (almost 4 inches) in diameter and they come in five different colours. No chemicals are used to soften the leather, only natural ingredients.
The pouches are created by Yoshikawa Leather, a tannery from Tatsuno (Japan). Each pouch comes with a leather drawstring and a wooden button. The bottom of each pouch is fortified, giving it its typical shape.
Get your Himeji leather pouch here!
Cohana mini Seki scissors
I purchased one of these mini scissors last year and I have to say, they are my favourite pair of scissors to date! They are supertiny which means they fit into any project bag (or one of those Himeji pouches), they have a tiny leather case which means the blades are protected, and that little tassel is just the cutest finishing touch. They come in 5 colours and there's a special Christmas colourway as well.
Just LOOK how tiny they are!! If you ask me, every crafter needs one of these! I always try to keep a pair of scissors in each project bag so I never have to go on the hunt for scissors 😉
Get these cutie pie scissors here 
Cohana Yuzen measuring tape
Cohana also have these beautiful measuring tapes. The casing is made from Yuzen Leather, and coloured using Yuzen dyeing, a technique also used to create traditional kimono's. Yuzen dye makes the rough texture of leather more prominent, creating a unique look and feel compared to regular covers. The cover is hand-sewn over the tape measure.
I've got one of the yellow ones, and have been using it happily for several years! I love the feel of the soft leather. Each measuring tape is 150cm long. The tape is beige and black two-toned on one side, and white with black marks on the other side (only centimeters, not inches!).
Get your Cohana Yuzen measuring tape here
Cohana Pencil Case and Mini Notebook
If you're a knitwear or crochet designer, or shopping for one, these notebooks with matching colouring pencil cases are perfect! I use them to draw colourwork charts in, but of course you can use them for any kind of drawing. I love that all the products in the Cohana range match together so well, and my green set happens to match my Moleskine journal too!
Get your Cohana Stationary here
Crochet hook sets
Clover Amour Hook Set
I'm lucky enough to own two crochet hook sets, but the first one I owned was the Clover Amour set. They are nice and soft to the touch which makes it very comfortable to crochet with. For me, 'ergonomic' hooks such as Furls are usually way too wide to fit in my hand, and the Clover hooks are just the perfect size.
Get your Clover Amour Set here
Miss Neriss matching stitch marker set
If you're getting someone a Clover Amour hook set, or if you know the recipient already has a set, be sure to get them these matching stitch markers! They're made by my friend Nerissa, I've got a set and I love them. It's so smart! Let me explain it just a little bit: with crochet projects, I sometimes not keep my hook with my work-in-progress. When I return to the project, it's always a gamble which hook size I was using. But not with these stitch markers! Pop a matching one on your project and you'll never have to guess which hook you were using again 🙂 And if you're super organized and keep your hook with your project anyway, it still looks nice to have a matching stitch marker! Or use it as a progress keeper, I find that really motivating.
Get your stitch marker set here (no affiliate link, just a fan!)
Tulip Etimo Rose hook set
A couple years ago I was treated to this lovely hook set from Tulip. Even though I already had all of the sizes with my Clover hook set, I found it really handy to have a second set. Usually you do find yourself hovering towards the same needle sizes, so it's nice to have multiples of those. And then I haven't even mentioned the beautiful needle case yet! As opposed to the Clover hooks, the Tulip hooks come in a beautiful pink needle case, which in addition to the crochet hooks also includes a tiny pair of scissors and two tapestry needles. If you can afford it, go for it!! Tulip hooks are my favourite hooks to this day!
Get your Tulip Etimo Rose hook set here
Knitpro goodies
Knitpro Rainbow Blockers
If you're a non-crafter looking for a gift to please the crafter in your life, you may never even have heard of blocking pins! Usually they come as singular pins in a box, and are used to stretch out knitting or crochet projects on foam blocking mats. However, it's much easier and quicker to have these blocking pin sets. I'm so happy to finally have a set of my own, and just look at this beautiful rainbow coloured set!
Get your Rainbow blocker set here 
Knitpro Smartstix
Knitpro have launched a new needle set: Knitpro SmartStix. And what makes these needles so smart, you may ask? Well! Good question 😉 The needles and cords have markings on them of 2 centimeters each, thus making it really handy to measure your knitting progress (or gauge!) while you're knitting. Be sure to watch my video to see me talking about this in more detail.
The SmartStix come as interchangeable needles (where you can get the cords and the needle tips separately) and also as fixed circular needles. I'm really happy with my Knitpro Interchangeable Set though, because then you will always have the right pair of needles. 10mm needle tips, 40cm cord? Or 4mm needle tips, 100cm cord? You can mix and match the perfect pair for your project.
Get your Knitpro Smartstix Interchangeable Set here
Namaste Maker's Backpack
Oh my goodness you guys. I literally squealed when I saw this backpack at bloggers days! It's a proper back pack / project bag!! It holds SO MUCH yarn, your tablet/laptop, and anything you might need on your travels or maybe your day-to-day work commute. Be sure to watch my video to see this bag in all it's glory.
It comes in 5 different colours (blush, teal, wine-red, grey and black), it has a built-in YARN FEEDER (!!), has an outside bottle pocket on each side, comes with a darning needle and tiny notebook, and as I said, just ALL the pockets you could ever wish for.
If your budget allows it, GET ONE! These are going to sell like hotcakes, I can tell you that!
Get your Namaste Maker's Backpack here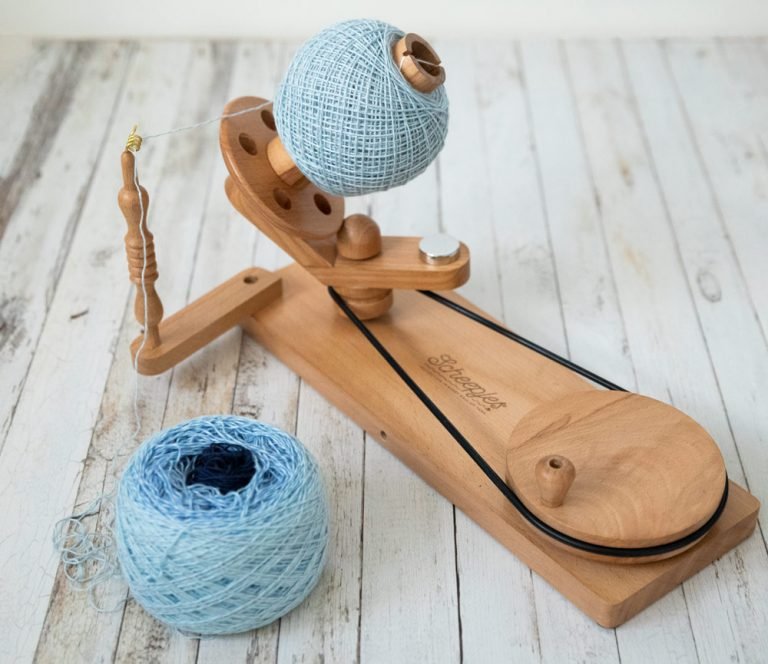 Wooden yarn winder
Believe me when I say, a yarn winder will change your life! Whether you use them to wind skeins of yarn into balls together with a yarn swift, or for turning sloppy wounded balls into perfectly wound balls again. You've probably worked with a center-pull ball at least once in your crafty life, know when you've used more than half of it and it starts to fall apart? Well! That's the perfect time for rewinding what's left into a brand new ball.
And we haven't even discussed how gorgeous this ball winder is. I'm still using my plastic one from Knitpro (which to be fair, does the job quite well!), but I'd love to have one of these wooden Scheepjes yarn winders on my desk, oh my..
Get your wooden yarn winder here
I hope you enjoyed this round-up of perfect holiday gifts for the crafter in your life! Now tell me, what's on your wish list? Is it perhaps any of the above? Or something different? Please let me know in the comments!
You might also like
Colourwork Confidence Masterclass
Crafter Gift Guide 2015
*This blogpost contains affiliate links to Habbedash, a female owned business! Purchasing via affiliate links will NOT cost you anything extra, but the shopkeeper does give me a small percentage of the sale in return if you do choose to make a purchase. Remember to shop small this holiday season, thank you in advance for your consideration!
Support me by sharing with friends!