Als een maker kun je altijd wel een leuk cadeautje voor iemand vinden. Je haakt een set pannenlappen, knutselt een leuke sleutelhanger in elkaar, of je breit zelfs een paar sokken. Maar als mensen een cadeau voor jou moeten uitzoeken, is het wat lastiger. Probeer maar eens een machinaal geproduceerde sjaal aan een breister cadeau te doen! Ook als ze weten dat je bijvoorbeeld nieuwe wolletjes wilt hebben blijft het moeilijk, want er is zoveel keus! Vandaag heb ik een lijstje voor jullie gemaakt met leuke cadeau-ideetjes, van crafters, vóór crafters.
When you're a maker, thinking of gifts for others often comes easy. You crochet some potholders, make a cute keychain or even knit a pair of socks. But if you're the one people are picking gifts for, it's usually not that easy. Just try to give a machine-knit scarf to a knitter! Even if they know you like to receive yarn, it's still hard because of all the options. So, today I have a little gift guide for crafters!
Natuurlijk is cadeautip nummer 1: garen! Maar dan niet zomaar een bol wol, maar mooie handgeverfde wol. In dit winkeltje vind je allerlei moois.
Of course this list has to include yarn! And not just any yarn.. but gorgeous handdyed yarns!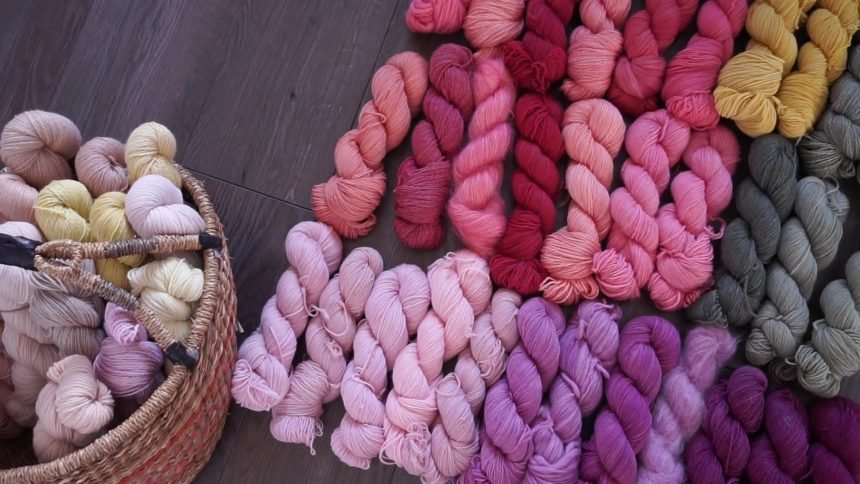 Shop my own naturally handdyed yarns here.
Shop mijn eigen handgeverfde garens hier. 
Deze kettingen vind ik echt geweldig!! Iedereen mag weten dat je een crafter bent, nietwaar? Ze zijn er in verschillende kleuren en materialen.
I love these necklaces!! Everybody should know you're a maker, right? They come in different colours and materials.
Deze mini origami kraanvogel is echt té schattig voor woorden. En er zijn ook oorbellen van! Neem hier eens een kijkje.
This tiny origami crane is just too cute. And there are earrings too! Take a look here.
Dit stempeltje is hét perfecte kleinigheidje voor elke crafter. Leuk om post mee te versieren!
This stamp is the perfect small gift for any crafter. Cute, whimsical and fun to decorate orders with!
Een zogeheten project bag is ook altijd leuk! Zoals deze mooie met gepersonaliseerde kaart erop van Girl and Bird.
A project bag is always a winner! Take a look at these beautiful ones with personalised maps by Girl and Bird.
Heb jij zelf nog leuke cadeautips, of heb je al leuke dingen op je eigen verlanglijstje staan? Deel het hieronder!
Do you have any gift buying tips of your own, or do you have something very special on your wishlist? Please share below!
Support me by sharing with friends!