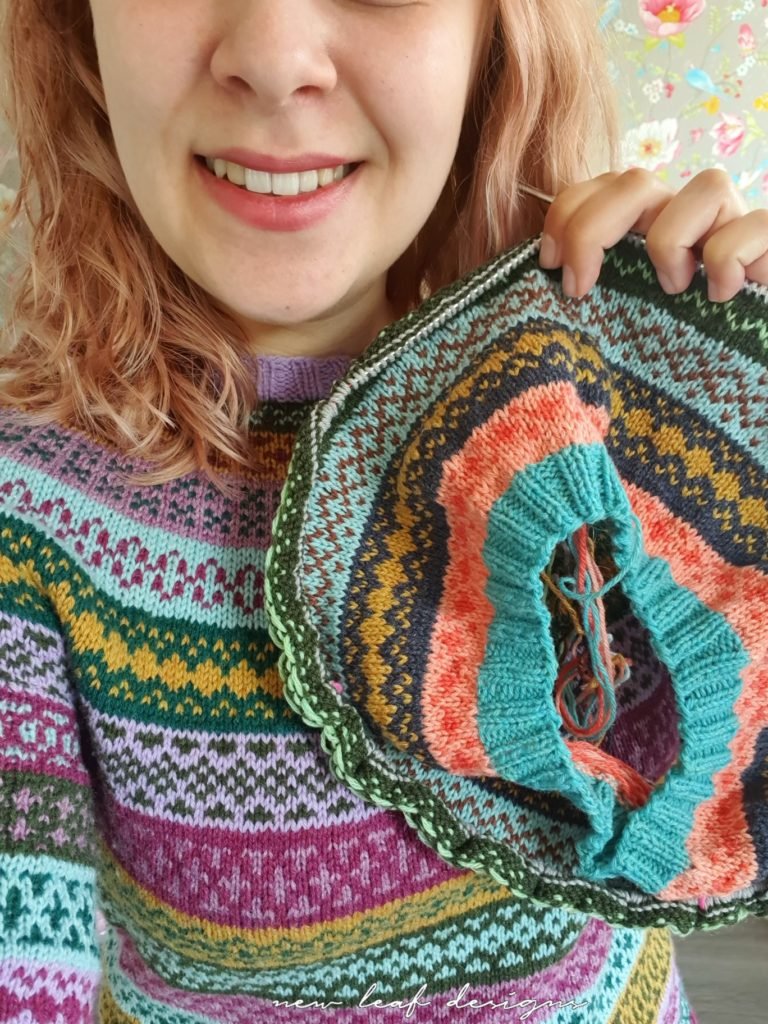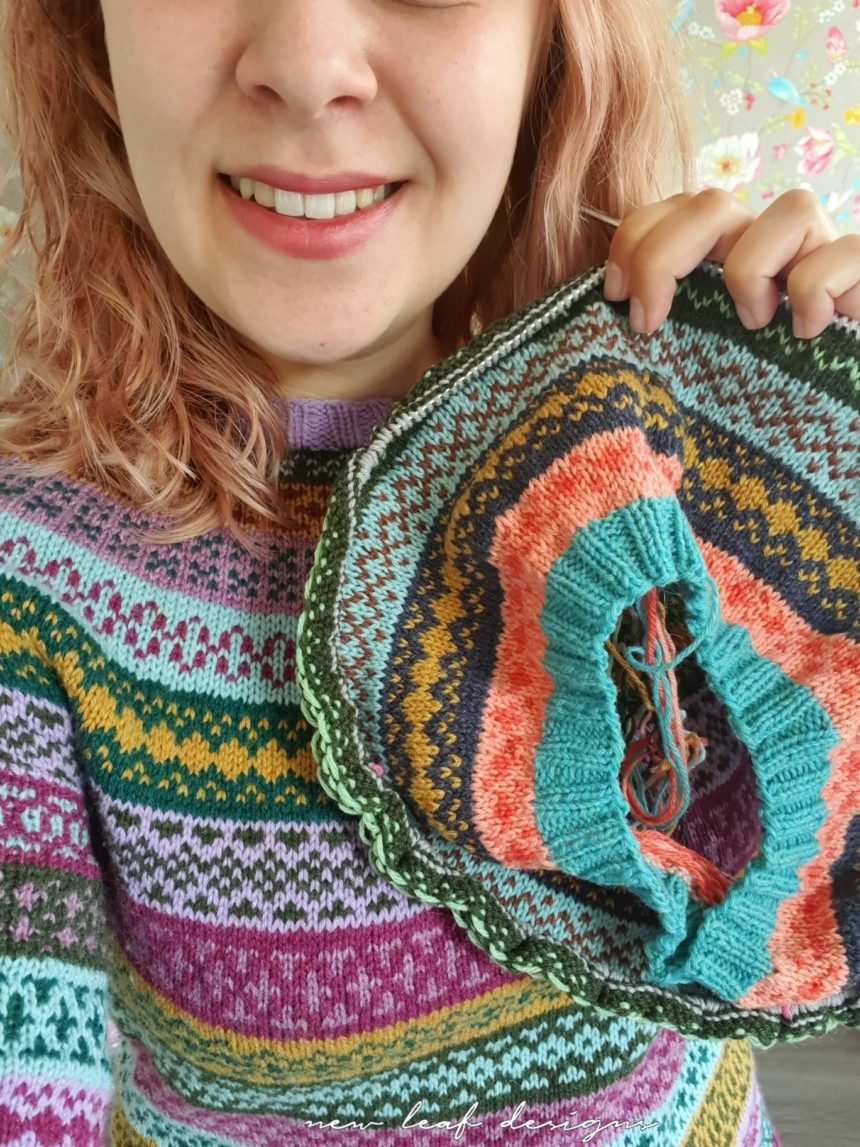 Sweater Tutorial Series
Ooh, what's this? Do my eyes deceive me? Nope, they do not! I am hosting a sweater KAL for the Around the World sweater, and it kicks off today! I have recorded full step-by-step tutorial videos for this pattern to guide you through making your first sweater. Casting on, increasing, knitting shortrows, splitting for the sleeves, you got nothing to worry about with these tutorial videos.
Where can I find the tutorial videos?
The tutorial videos will be posted exclusively on my Patreon page, which means you need a subscription to watch them. Jonagold, Golden Delicious, and Elstar patrons will all gain access to the tutorial videos. Golden Delicious and Elstar patrons will even get the PDF version of the pattern as a free download! The pattern can also be found here on my blog, but the PDF is easier to read and print, and includes more colourwork charts.
What skill level do I need?
To knit this sweater, you need to know how to knit and purl. I also advise experience with colourwork knitting. If you don't have any colourwork knitting experience, you can find the Colourwork Confidence Masterclass on my Patreon page as well. You can view the Masterclass with the same subscription you need for the Sweater Tutorial Series, no need to pay extra! So if you haven't knit colourwork before, I recommend starting with those videos first.
Techniques you will learn in the Tutorial Series
In the Around the World Sweater Tutorial Series, I will show you how to:
Choose contrasting colours for colourwork
Cast on using the Long Tail cast on technique
Knit in the round using Magic Loop technique and long circular needles
Knit the 'Make 1' increase, a near invisible increase that is a valuable skill to learn
Knit shortrows to adjust the fit of your sweater
Knit colourwork (the tutorial series includes a quick refresher, for a full series please watch the Colourwork Confidence Masterclass)
Set aside stitches for the sleeves
Pick up stitches for the sleeves
Bind off in several ways to get the perfect stretchy edge
Materials Needed
Scheepjes Metropolis (75% Merino extra fine, 25% nylon; 200m/50g)
For bust sizes 32;34;36;38(40;42;44;46)48;50;52;54 (56;58;60;62) inch you need: 8;8;9;9(10;10;11;11)11;12;13;13(13;14;14;14) balls*
meterage: 1485;1585;1690;1790(1895;1945;2045;2150) 2200;2300;2405;2455(2560;2660;2710;2760)
yardage: 1624;1733;1848;1958(2072;2127;2236;2351) 2406;2515;2630;2685(2800;2909;2964;3018)
For my second sweater I am using the Scheepjes Metropolis colour pack with 10 gram minis in 80 colours! Super fun to combine and the perfect gift for any knitter. The PDF version of the sweater pattern includes a suggested colour pairing list to make it easier on you.
Get your Scheepjes Metropolis yarns via your local retailer, or perhaps consider shopping via one of the affiliate links below:
Wool Warehouse (UK) Caro's Atelier (NL)
80cm long circular knitting needles in the following sizes:
3mm for the main body – or other size to obtain gauge
2.25mm for the ribbing
Other materials:
Scissors
Darning needle
4 stitch markers; one of these should look different from the other three to be easily recognizeable as the 'beginning of the round' (BOR) marker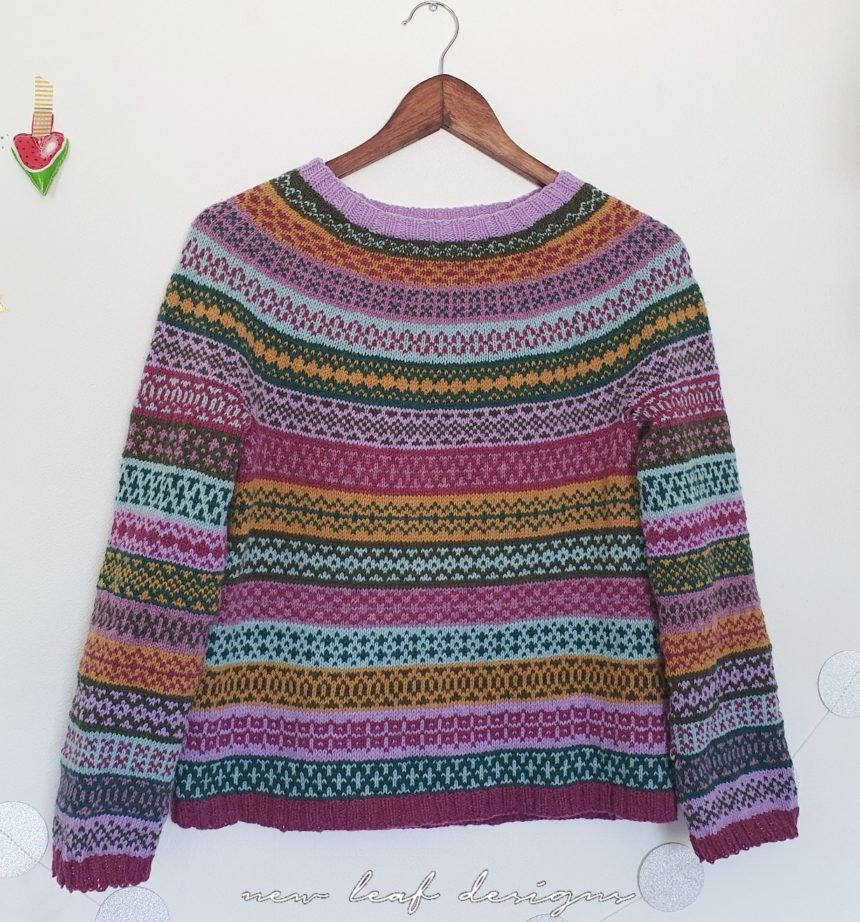 Where can I get the sweater pattern?
The Around the World sweater pattern is a free pattern here on my blog – English version at the top, Dutch version at the bottom. I also have a paid PDF version available: in my Ravelry shop and in my own New Leaf webshop.
Why have a paid version of a free pattern? Well, the PDF is easy to print and has all the information per language in 1 file. It also includes even more colourwork patterns for you to knit in your sweater. With the PDF, you also get a full colour pairing list for the Scheepjes Metropolis yarns. Very handy if you're using the Metropolis mini pack, but you can also use the list as a guide if you want to create your own custom sweater by ordering a couple of the colour pairs. And lastly, by purchasing the PDF you support an independent female-owned business – me! I genuinely do a happy dance each time I receive an order. Pattern sales are the biggest source of income for me and I appreciate each and every purchase. Thank you for considering!
Support me by sharing with friends!