New Leaf Scrap-a-long
A new Make-a-long is starting in my Facebook group this Sunday! A Make-a-long is where crafters from all around the world knit or crochet a project together. Usually the Make-a-long (MAL for short) revolves around a specific project, or there is a theme such as 'stripy projects', 'gift projects', etc. For this Make-a-long, the theme is 'scrappy', and will be known as the New Leaf Scrap-a-long!
The Scrap-a-long will run from February 14th to April 1st, and there will be prizes available to win! If you want to read more about the Scrap-a-long and which projects are eligible to enter, head on over to my free Facebook Group.
What is a 'scrappy' project?
A scrappy project, also called 'stashbuster' or 'leftovers' project, is a crochet or knitting project where you aim to use up multiple bits and pieces of leftover yarns. If you have been knitting or crocheting for a while, you will probably have an assortment of yarn scraps. For a scrappy project, you take those leftover yarns and use them together!
Scrappy Socks
A big stashbuster favourite among knitters is making scrappy socks. I'm working on a scrappy pair right now, with leftovers from my Around the World Sweater. For most scrappy projects, you want to make sure that the yarns you are using are all (roughly) the same weight and thickness. For scrappy socks, it's best if you're only working with scraps of sock yarn. Sure, you can use a scrap of acrylic in there, just know that it won't wear as well as sockyarn with nylon content.
My favourite sock yarn – and also the yarn I'm using for this scrappy pair – is Scheepjes Metropolis yarn. It's 75% merino, 25% nylon, and it's soft and sturdy at the same time. I use it for WAY more than just socks, I've also knit sweaters and hats with this yarn!
Get your Scheepjes Metropolis yarn here: (affiliate links)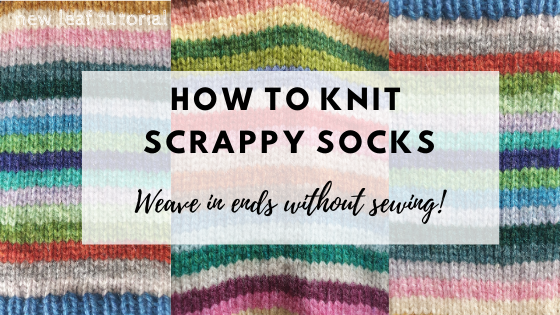 But what about all those ends?
You might be thinking, wow.. that's gonna be a lot of ends to sew in. Well, actually! I've come up with a way of weaving in your ends while knitting, without having to use a sewing needle. The tutorial video for this is already up on my Patreon page, available for Jonagold, Golden Delicious, and Elstar tier patrons.
Scrappy Sock knitting pattern
The PDF pattern for the scrappy sock pictured above is coming very soon, and will also include pictures of the very same weaving-in-ends technique. Keep an eye out for it, it's only a few days away!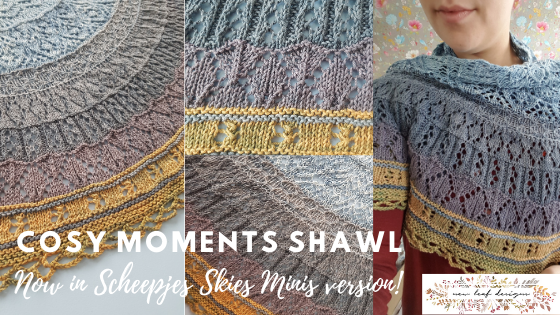 Cosy Moments Shawl – Scrappy version!
For the Scrap-a-Long, I'm also releasing a new version of the Cosy Moments Shawl pattern! This version was originally designed for the Scheepjes Skies Light Mini skein set, but you can certainly also knit a version using up oddments from your stash! This version has less lace repeats than the original version, so you can use one colour per lace section. The Scheepjes Skies Light minis each weigh 28 grams, so if you want to substitute it with yarn from your stash, make sure you have at least 28 grams of fingering weight yarn for each of the eight sections.
The Cosy Moments Shawl Minis version is available in English and Dutch, there is a separate PDF per language.
If you have already bought the Cosy Moments Shawl PDF pattern, you will automatically get an update with this new version. If you haven't yet, find the pattern here:
Scrappy Crochet Projects
Of course the New Leaf Scrap-a-long isn't just for knitters! Even though I consider myself more of a knitter than a crocheter, I do have some fun crochet projects that could very well be turned into scrappy projects. Think of that huge stash of cotton yarns that you could be using up!
The Rainbow Sea Waves Blanket is one of my most recent crochet patterns and uses one new colour for every row! You only need 10 grams for each row, so round up all your cotton scraps and start this fun blanket.
If you would rather purchase the Scheepjes Catona colour pack so you can make the exact same version as on the picture, there are still some colour packs left at Caro's Atelier (affiliate link).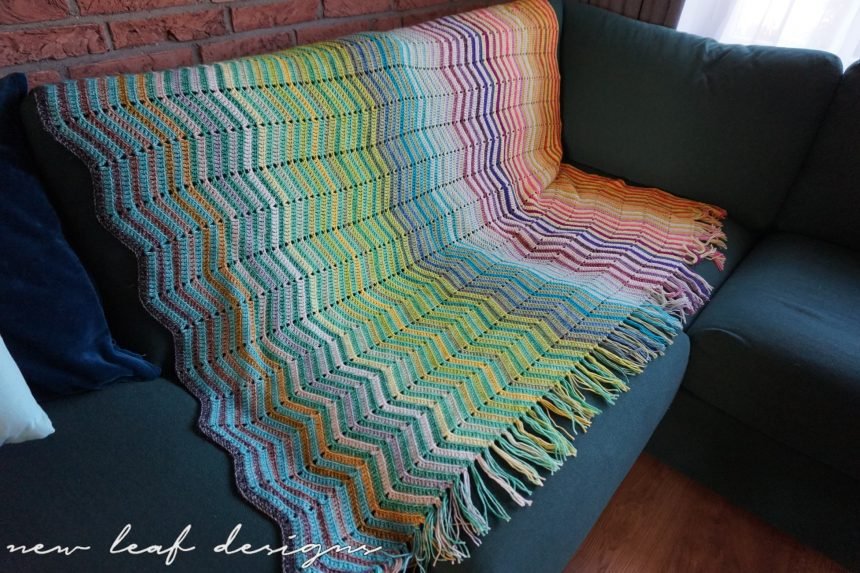 The Chevrainbow Blanket is another super popular crochet pattern of mine, and great for using up scraps! I used Scheepjes Stonewashed for this blanket, which is a cotton and acrylic blend yarn. If you have a lot of acrylic yarn leftovers, this is the pattern for you!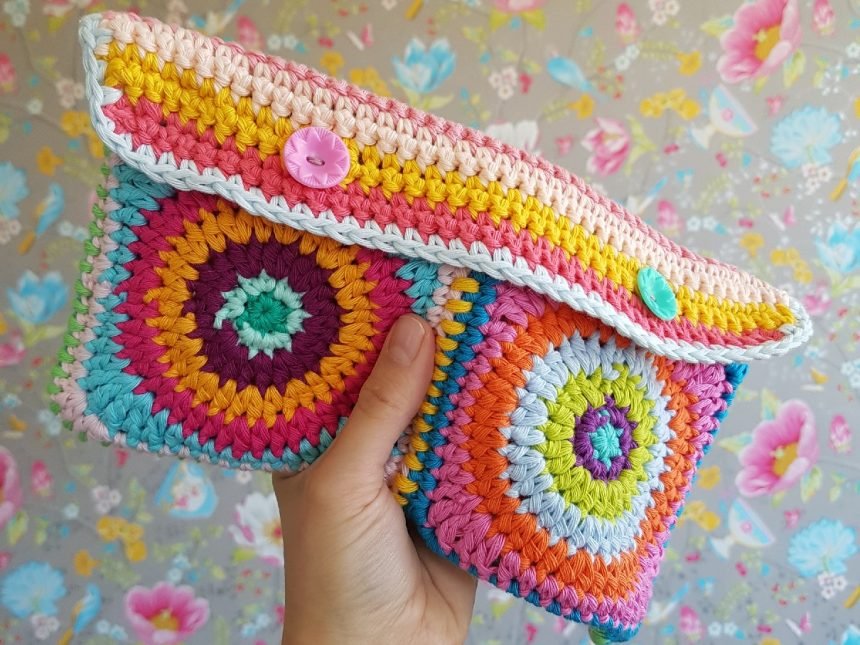 If you don't have that many scraps, or if a big project like a blanket just isn't for you, you might like the Rainbow Sprinkles Purse! This purse is a super easy and quick make. I used Scheepjes Cahlista for the original version, which is a DK weight cotton yarn. You can also use thinner cotton yarn or acrylic, just know that your purse might end up bigger or smaller. You can also use the base square pattern for something else! Think cushion covers, a cute curtain or even a top!
Support me by sharing with friends!