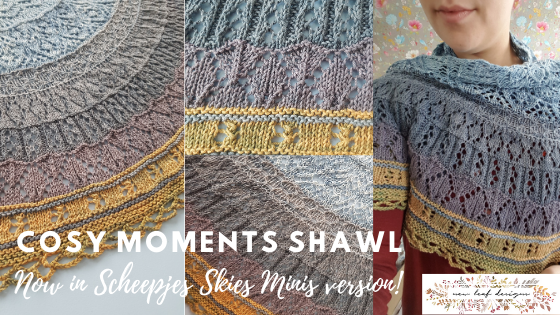 New version of the Cosy Moments Shawl
Get the Cosy Moments Shawl PDF pattern including this new version via my stores:
Shop the PDF version here Purchase on Ravelry
Exciting news! I have released a new version of the Cosy Moments Shawl pattern! This version was originally designed for the Scheepjes Skies Light Mini skein set, but you can certainly also knit a version using up oddments from your stash! This version has less lace repeats than the original version, so you can use one colour per lace section. The Scheepjes Skies Light minis each weigh 28 grams, so if you want to substitute it with yarn from your stash, make sure you have at least 28 grams of fingering weight yarn for each of the eight sections.
One set of Scheepjes Skies minis is enough to knit the entire shawl! Get your Scheepjes Skies Mini skein sets from these affiliate links* right here:
Wool Warehouse (UK) Caro's Atelier (NL)
*What are affiliate links? Whenever you buy via an affiliate link, the shopkeeper will reward me with a small percentage of your purchase. You don't have to pay anything extra. If you like my designs and want to support what I do, purchasing yarns via affiliate links really helps! Thank you so much for considering.
Written in two languages
The Cosy Moments Shawl Minis version is available in English and Dutch, there is a separate PDF per language.
I have bought the pattern before, how does this work?
If you have already bought the Cosy Moments Shawl PDF pattern, you have received an update with this new version. If you bought it on Ravelry, check the PDF in your library. If you have bought it via my webshop, you will have received an email with a new downloadlink, to the emailaddress you used to purchase the pattern. If you haven't bought the pattern yet, you can find it in my pattern stores:
How is this version different?
The Skies Minis version of the Cosy Moments Shawl is designed specifically so you can knit it with the mini skein set. That means I needed to shorten some of the lace repeats so you won't run out of yarn. This also means the Skies minis version is a bit smaller: 129cm wide and 56cm deep. The original, made with Scheepjes Whirl, is 135cm wide and 60cm deep. So it's really not much of a size difference! The thickness of Scheepjes Skies Light makes up for the shorter lace repeats.
Have you made a Cosy Moments Shawl? Be sure to share your pictures on your Ravelry project pages if you use Ravelry, or on Instagram with the tag #cosymomentsshawl. You can also become a member of my Facebook community and share your makes there!
You might also like
Podcast episode 83 – where I finished my Cosy Moments Shawl in Scheepjes Whirl!
Scrappy Socks pattern – no weaving in ends!
Support me by sharing with friends!