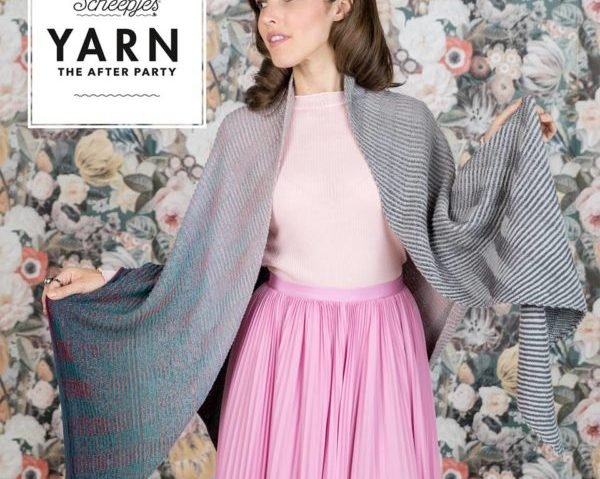 Have you heard about the latest craze? Well, even if you have already, let me tell you all about it! My wonderful friend Tammy from Canadutch has designed two gorgeous shawls, one of which is the Read Between the Lines shawl, shown above. Isn't it beautiful?? It uses 2 cakes of Scheepjes Whirl yarn at the same time, and it is truly magical to see the colours shifting, especially because Tammy uses a very clever technique in her design: illusion knitting and crochet!
While one side shows a stripy fabric, the other one – the illusion side – shows broad stripes of colour when looked at from a particular angle. Isn't it magical? It sure gives a whole new dimension to shawl knitting.
Since there was such a high demand for a similar crochet pattern, Tammy was so clever to work out the same illusion effect for a crochet version! On the picture above you see the 'always-on' side, the illusion happens in the back. But even this side is beautiful and shows off the colours really well.
And why am I telling you all of this? Well, first of all, such stunning designs deserve a shout-out! But secondly, there's a Make-A-Long kicking off TODAY for both shawls. No matter if you are making the knit or crochet version, you can make along with many others in the Scheepjes Facebook groups. View here for the international group, and here for the Dutch group. There are so many people joining in already and showing their chosen colour combinations, and it's really tempting to join in as well!
If you'd like to get your own set of Scheepjes Whirls, you're not too late to join! If you're looking for online retailers who carry the yarn, please consider shopping via below affiliate links:
Wool Warehouse (UK, ships worldwide)
Caro's Atelier (NL)
Some online stores give the pattern for free with the purchase of two Whirls. If yours don't or if you're lucky enough to already have some Whirls in your possession, you can find the patterns for purchase here: RBTL (knit) and CBTL (crochet).
With so many gorgeous colourways out there, tell me: What's your flavour?
Support me by sharing with friends!