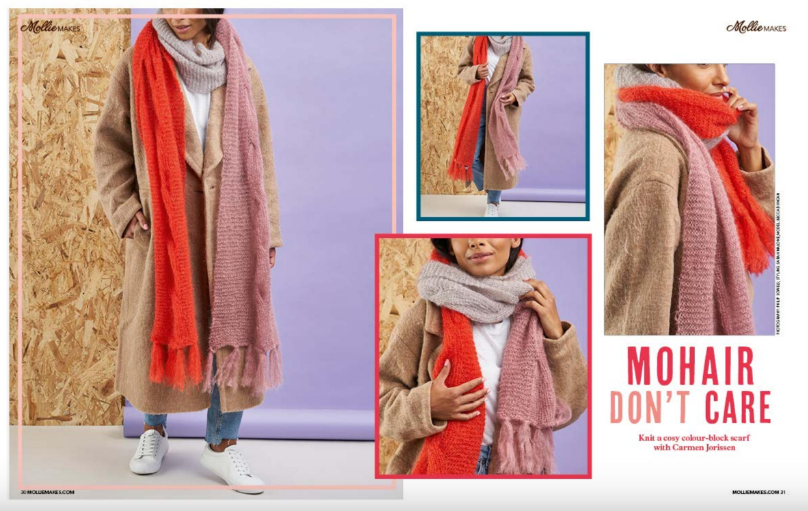 Mohair Don't Care Scarf
Hey friends! How is December treating you? I hope you're all staying cosy out there (or cool if you live in the Southern hemisphere!). One thing that will definitely keep you warm on winter walks is my Mohair Don't Care Scarf! The pattern was first published in Mollie Makes Issue 114, but since I got the copyright back I can now also release it in my own pattern stores.
Pattern Release Coming up!
I'm planning to release the Mohair Don't Care Scarf pattern on Christmas Day, December 25th! And as a special treat for you, the pattern will be 30% off for the first 3 days (December 25th-26th-27th). The code for this discount will be CHRISTMAS, so make sure to use it! Subscribe to my newsletter at the top of this page if you want to get a reminder.
Keep an eye out for the pattern in my Ravelry store and in my webshop right here.
About the yarn
The yarn I've used for the Mohair Don't Care Scarf is Scheepjes Mohair Rhythm (70% Mohair, 30% Micro; 200m/25g). You'll notice that this yarn does not contain silk like other mohair yarns, which actually for me is a bonus because to harvest silk, the silkworms are often killed. This yarn is therefore more animal-friendly because it contains micro (a synthetic fibre) instead of silk.
The entire scarf is knit with two strands of mohair held throughout, and oh my goodness, it is such a LUSH fabric!
I've used three colours in this scarf: Cha Cha (red), Robotic (grey) and Foxtrot (pink). If you're making this scarf in three colours as well, you'll need two balls per colour, plus ONE additional ball for each set of tassels. I made the tassels in the colour the scarf begins and ends with, so that means I've used one additional ball in Cha Cha and in Foxtrot.
Scheepjes Mohair Rhythm (70% Mohair, 30% Micro; 200m/25g)
Cha Cha (689) – 3 balls
Robotic (674) – 2 balls
Foxtrot (673) – 3 balls
Buy your yarns here
You can get this yarn via any Scheepjes retailer, find them here. If you want to support this blog, please feel free to purchase them via any of the affiliate links below. Affiliate links mean that the shopkeeper rewards me with a small percentage of your purchase, you do not pay anything extra. Thank you so much for considering!
Caro's Atelier – female owned business!
Support me by sharing with friends!