What is a Forethought heel?
A Forethought heel is a type of Afterthought heel. I know, those two words sound like they mean the opposite, so stay with me for a bit. An Afterthought heel is where you knit the bulk of your sock first. Toe to cuff or cuff to toe, and then you make a cut where you want to place your heel and add it in. In this sense, the heel is really an 'afterthought' since you don't have to think about it at all when knitting the sock.
With the Forethought heel, it's a little bit different. When you knit your sock, you knit a bit of scrap yarn into the sock at the correct placement for the heel. You can see the little strip of scrap yarn in the picture above. After putting in the scrap yarn, you can continue your sock. Then you take out the scrap yarn and knit the heel in that spot.
If you're looking for a full sock pattern written for six adult sizes, check out my City Stripes Sock pattern here.
Pros and cons
A Forethought heel has less benefits than a 'true' Afterthought heel, but it is a great stepping stone if cutting into your knitting scares you. With an Afterthought heel, the biggest benefit is that you can simply keep on knitting your sock tube. Perfect if you're watching a movie or having a conversation and just want to keep on knitting mindless stockinette. With a Forethought heel, you still need to pay attention to heel placement while knitting your sock. But then again, putting in the scrap yarn is so easy and you can come back and knit the heel when you have some time for "pay-attention"-knitting. Plus, you get that lovely bullseye effect when using selfstriping yarn.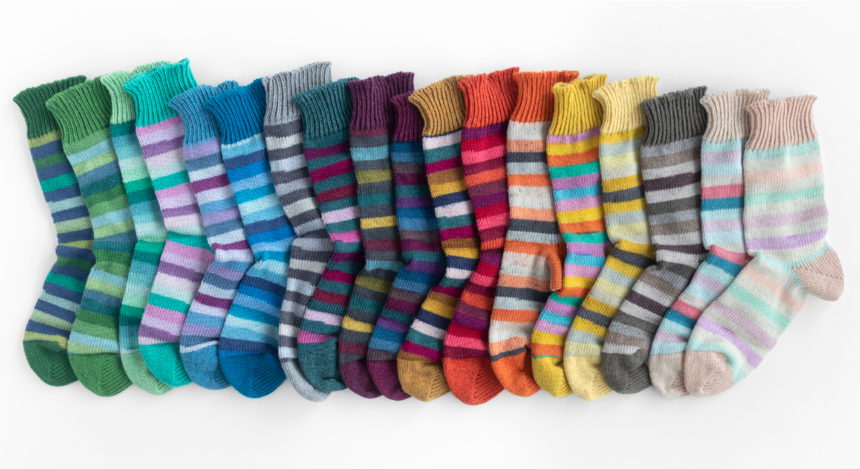 The yarn I used for the City Stripe Socks and the pictures in this blogpost is Scheepjes Downtown, a beautiful selfstriping sock yarn. Head on over to the Scheepjes website to find shops in your area, or shop via the affiliate links below.
How to knit a Forethought heel
Heel Placement
The first thing you want to know before knitting a Forethought heel, is: Where should I place this heel? Please look at the sizing table below, where you will find the correct heel placement for your size. If you're looking for the full City Stripes Sock pattern, look here.
To fit shoe size:
US shoe sizes
UK shoe sizes
TOE UP

Heel placement measured from toe tip

CUFF DOWN

Start toe decreases measured from heel placement

EU 35-36
5-6
2.5-3.5
18 cm (7.2in)
13 cm (5.2 in)
EU 37-38
6.5-7.5
4-5
19 cm (7.5in)
14 cm (5.6 in)
EU 39-41
8-9.5
6-7
20 cm (8 in)
15 cm (6 in)
EU 42-43
10-11
7.5-8
21 cm (8.3in)
16 cm (6.4 in)
EU 44-45
12-12.5
9-10
22 cm (8.in)
17 cm (6.8 in)
EU 46-47
13-14
10.5-12
23 cm (9.1in)
18 cm (7.2 in)
You'll notice that I've added different measurements for toe up and cuff down socks. If you're knitting your socks toe up, you want to place your scrap yarn for the heel at the measurement in the fourth column. If you're knitting your socks from the cuff down, you knit the leg first and then place the scrap yarn when you find the leg is long enough. After placing the scrap yarn, knit to the measurement in the fifth column before starting your toe decreases.
Extra tip for knitting cuff down forethought heels: If you normally try on your socks before starting toe decreases, I recommend knitting your heel first. That way you can try on your socks and start the toe decreases using your usual method.
Placing scrap yarn
You place your scrap yarn where you want your heel to be. When you have determined the correct placement using the sizing table above, knit across HALF of your stitches with the scrap yarn.
For selfstriping yarns, it looks best when you insert a heel between two stripes. On the first picture in the collage above, you can see that the next colour is already starting on the top needletip. This is a perfect spot to insert your scrap yarn. As you see in the middle picture, knit across the next needle with your scrap yarn. Use a separate needle for this, either a DPN (double pointed needle) or a circular needle, in the same size as your current needles. Then, take your working yarn and knit across the same stitches again. This is why it's handy to knit the scrap yarn with a spare needle, because otherwise the needletips would not be in the correct place. Notice in the rightmost picture when I'm knitting across the scrap yarn, that it is the new colour from the selfstriping yarn. This way I have the brown stripe on one side of the heel, and the red stripe on the other side.
Picking up stitches for the heel

Take your needles and use one needletip to pick up the stitches in the row above and below the scrap yarn. Start at one edge, then work your way to the other edge. Be sure to count your stitches and check if it's half of your stitch count.
Unravel the scrap yarn
Then, take a blunt needle or crochet hook and unravel the scrap yarn. At some point it will get very long, feel free to trim it (middle picture) so the unraveling goes a bit faster. When it's completely unraveled, there will be a gap in your sock for your heel to be worked. The rightmost picture above was taken for the afterthought heel so here you still see some red yarn ends. For the forethought heel there aren't any yarn ends at this point.
Knitting the heel
From this point, the instructions for the Forethought heel and Afterthought heel are the same. After joining the yarn, we are going to knit across one side of the heel, and then pick up stitches on the corner. Watch my tutorial video or the photos below for extra guidance. Try to pick up stitches that won't leave any holes.
Pick up two stitches for this side. Then knit across the other side of the heel, and pick up the same amount of sts on the other corner. Extra tip: I like to pick up two bars (shown in top middle pic of collage) and knit those together for 1 stitch. Then I do the same for the other stitch on that side.
PRO TIP: place a stitch marker into the fabric at the start of the round, so it's easier to keep track. If you have already lost your place: the beginning of the round is where you can still see the beginning tail of the heel yarn.
Decreases
Knit two rounds plain, then start alternating decrease and plain knit rounds. On the start of a needle: k1, ssk. On the end of a needle: k2tog, k1. The following round is a plain knit round, then another decrease round, and so on. In my City Stripes Sock pattern, you do this until you have 20 stitches left.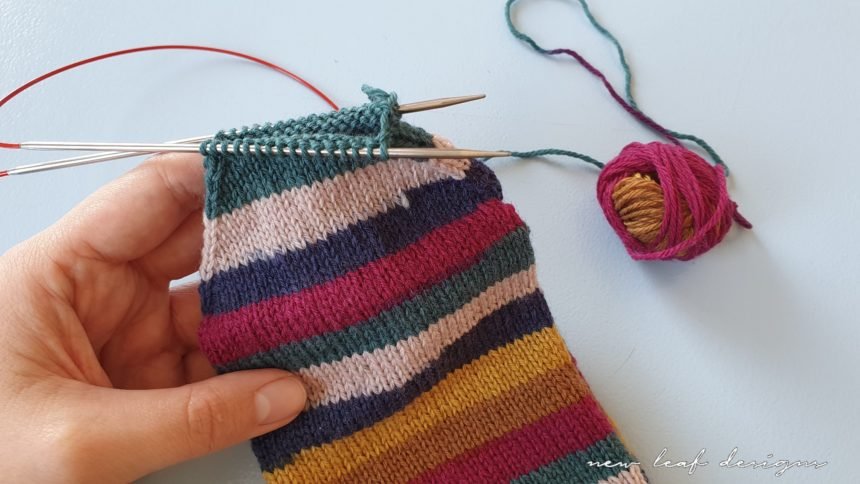 Kitchener stitch
Cut yarn leaving long tail, and thread onto tapestry needle. Hold work up with both needle tips facing to the right. You have two sets of sts, 10 sts on each needle. With tapestry needle, go through first st of bottom needle knitwise and take off knitting needle, go through second st purlwise and leave on. Go through first st of top needle purlwise and take off, go through second st knitwise and leave on.
For remaining sts, remember the following sequence. For bottom needle: k off, p on. Then for top needle: p off, k on. Rep until last 2 sts on each needle. Then, for bottom needle: k off, p off. For top needle: p off, k off.
Tug gently on each Kitchener st from right to left to neaten.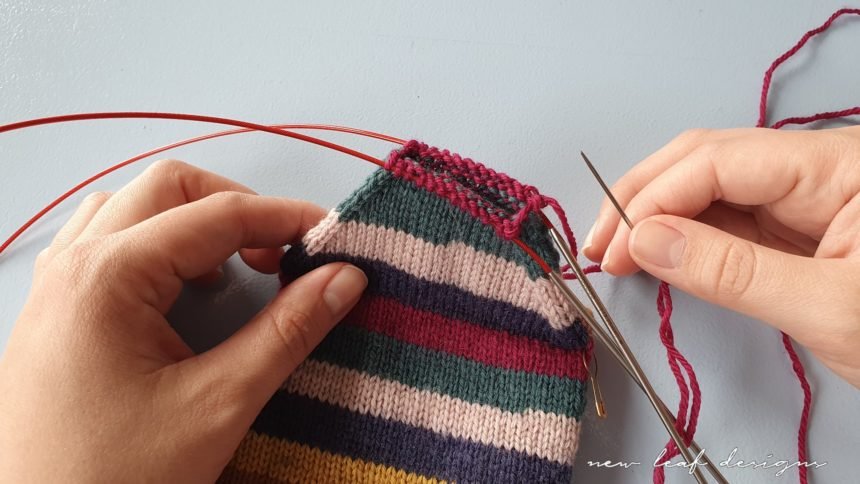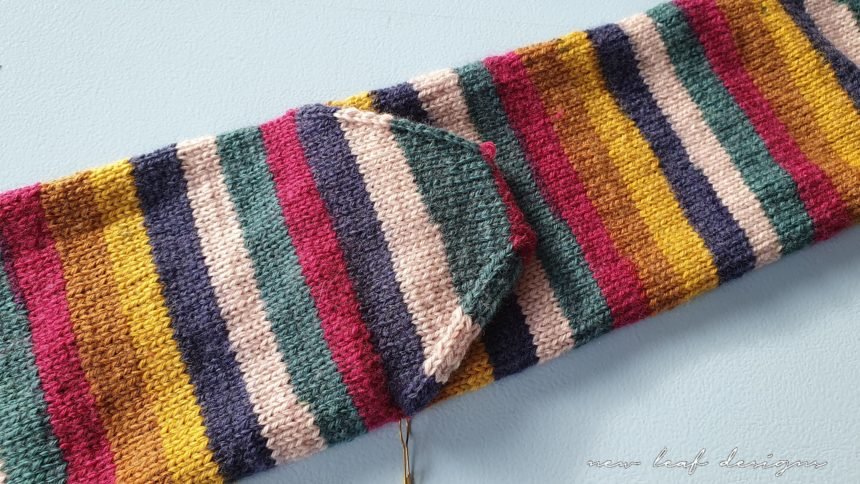 And you're done!
Ta-dah, that was a Forethought heel! I'm curious to know how it went, please do let me know in the comments below. Did you find it easier than expected? Will you be trying a 'true' Afterthought heel after this? Let me know! You can share your makes by creating a project page for the City Stripe socks on Ravelry.
You might also like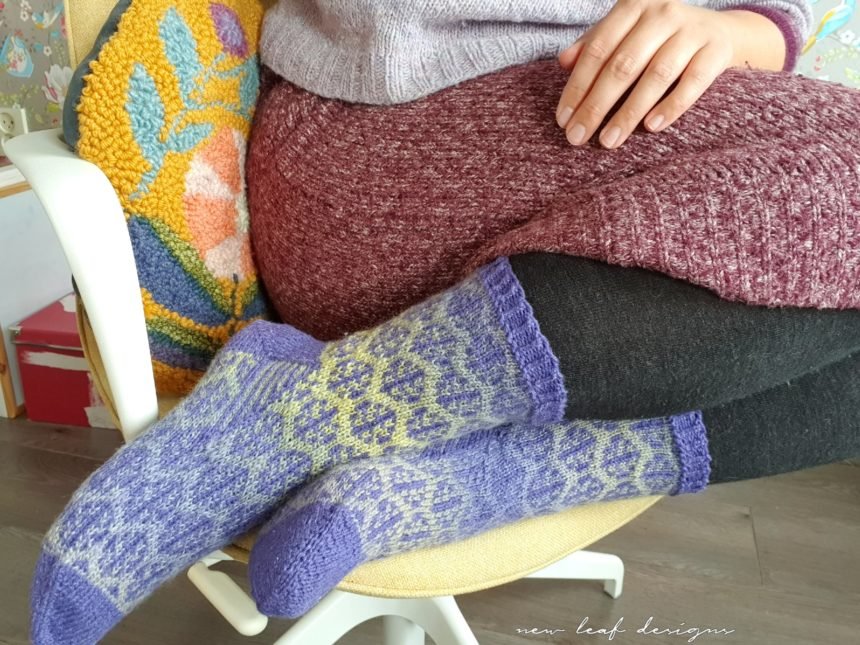 The Subtle Sock Collection E-book
Chevron Boulevard Shawl crochet pattern
Support me by sharing with friends!