Darn it! – Mending Masterclass
Hello everyone, I hope you are all well. I have some great news for you, because today marks the start of the Darn it Mending Masterclass! This Masterclass is a series of tutorial videos that will all be published on my Patreon page. If you don't know Patreon, it's a paid monthly membership for my exclusive tutorial videos, available from just €5 per month. There's already a lot of content on my Patreon page, check out this blogpost here if you want to learn about the other Masterclasses on there.
The Darn it Mending Masterclass focuses on mending holes in knitted and woven fabrics, and I'm also working on adding a chapter on mending crochet fabrics. The first Chapter is available today, with a new chapter being added every Tuesday.
What will I learn?
At the end of this Masterclass, you will be able to fix holes using a variety of techniques. We'll be diving into several different methods, the first one being Swiss darning. Find the complete schedule here:
Tuesday April 27th: Chapter 1 – Swiss Darning, also known as duplicate stitching. This first chapter is almost an hour long, so you'll have loads of information to get started on your own darning practice.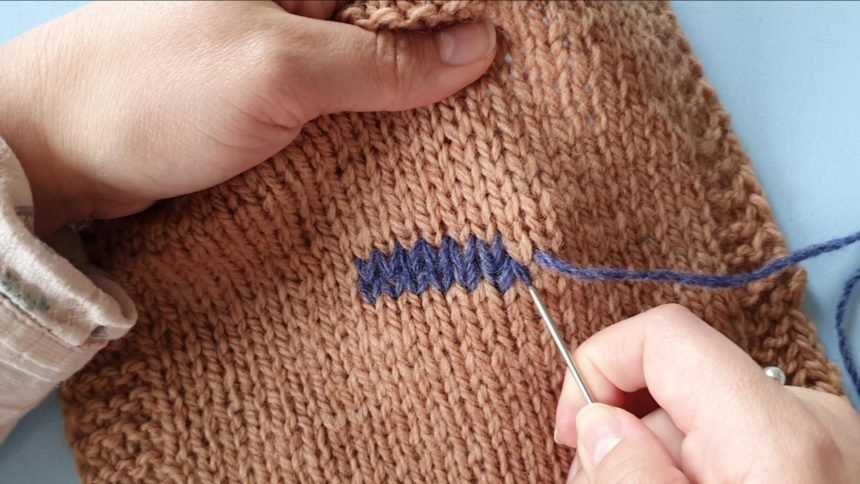 Tuesday May 4th: Chapter 2 – the "knitted" technique. In this chapter, I'm going to teach you how to pick up stitches at the bottom of a hole, and knitting a patch to cover it up. This is especially handy for areas where duplicate stitching might be difficult, such as ribbed cuffs, borders, or areas with stitch patterns other than stockinette stitch.
Tuesday May 11th: Chapter 3 – Weaving. In this chapter, you will learn how to cover up a damaged spot with a neat woven patch. This is one of my favourite techniques as it works on most fabrics.
Tuesday May 18th: Chapter 4 – Crochet patches. At the moment I'm most excited about this one! You can get so creative with crochet and in this chapter you will learn how to cover up a hole with a crochet flower patch.
There are some chapters yet to come, those are still in the process of being filmed. Upcoming techniques include more decorative styles of mending such as embroidery and my attempt at fixing holes in granny squares.
All tutorial videos will be available from the Jonagold level of my Patreon page, which is €5 per month. Disclaimer: Patreon charges you per month, so that means if you join at the end of a month, you will still be charged for that month as well. Just to be completely transparent about this.
Which materials do I need?
To get started, gather up some damaged fabrics. Perhaps you have a sweater or a sock with some holes in them, or even a tea towel or a dishcloth will work nicely. If you don't have any damaged knitwear, you can also use old swatches. Finally, something you can use them for!
To mend these holes, you pretty much only need a darning needle and some yarn. As for which type of yarn, it's best to choose the same fibre that the damaged item was made out of. My go-to mending yarn for the projects in this Masterclass is Scheepjes Metropolis which is a blend of wool and nylon.
Mend with me!
Are you ready to learn new mending skills? Come and join me on my Patreon page and let's get started.
Support me by sharing with friends!