Get the Cosy Moments Shawl PDF pattern via my stores:
Shop the PDF version here Purchase on Ravelry
Hello everyone! The Cosy Moments Shawl MAL has ended March 6th, thank you all so much for knitting along with me! I'm still seeing new finished shawls pop up every day in my Instagram feed (#cosymomentsshawl) or on Facebook. Be sure to join the Scheepjes Facebook group so you can share your shawls! There's a new MAL going on by the wonderful Susan Walsh from Peppergoose, I love her designs so be sure to take a look!
Today I will share some more of the Cosy Moments Shawl finished objects that have caught my eye. I hope you will enjoy them too, and you might see your own shawl in this blogpost!
The Cosy Moments MAL was a Scheepjes make-a-long for Valentine's day, so I've seen a lot of pink projects! Pink is one of my favourite colours so I really like these beautiful pink shawls 🙂
On the left, you see the stunning version by Surinaa! She made the shawl in Scheepjes Maxi Sugar Rush, a really fine cotton yarn perfect for warmer climates. The colour is 408 Old Rosa. Surinaa joined the MAL with her craft group all the way in Singapore! So lovely to have you girls join the MAL 🙂
On the top right, you see the beautiful shawl by Evelien, who made hers in Scheepjes Whirl Strawberries and Scream. This Whirl colour is always a success!
On the bottom right, Yona showcases her shawl in Scheepjes Whirl Nighttime Bubbles, going from pink to black. Really striking to see the contrast between soft pink and stylish black.
Get your Scheepjes Whirl yarns here:
Wool Warehouse (UK) Caro's Atelier (NL)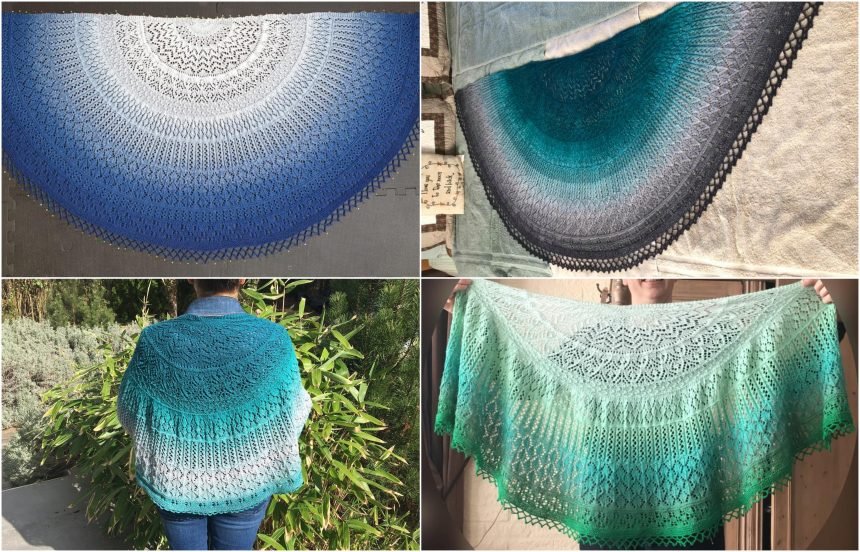 Lots of blues and greens too! Here are some of my faves:
Top left is the spectacular shawl by Annelies, in Scheepjes Whirl Indigo Plane. Love that deep blue!
Top right is Gretchen's version in Scheepjes Whirl Green Tea Tipple, a more moody colourway, very elegant!
Bottom right you can see Sandra's shawl in Peppermint Patty Cake, lovely shades of mint green!
Bottom left is Éva's version which she created from multiple Whirl cakes, very inventive using up leftover yarn, great job!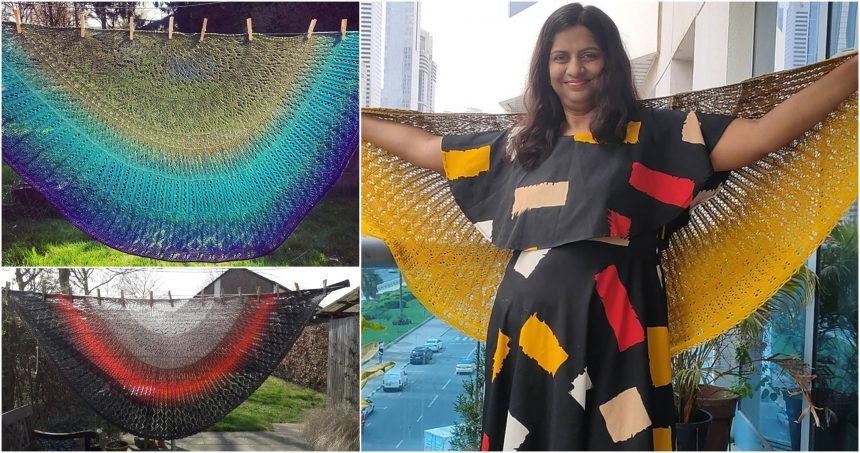 Another set of magnificent shawls!
Top left is Wim's shawl in Blackberry Mint Chip. Wim is also known as Mr Knitbear on Instagram, and he came to one of my workshops, so nice! Be sure to check out Wim's book on socks 😉
Bottom left is Karin's shawl in Scheepjes Whirl Jumpin Jaffa Pop! A dazzling colourway that I don't see as often, so I was really pleased to see this one.
On the right, you see Shweta modeling her beautiful version in Scheepjes Whirl Ombré Golden Glowworm, look how well it matches her dress! Shweta joined the MAL all the way from Dubai, so lovely to have so many crafters join in!
Just look at these gorgeous shawls!
On the left, Kristina has blocked her shawl out meticulously, knit in Scheepjes Whirl Chocolate Vermicelli.
Aleksandra (middle) has chosen Scheepjes Whirl Cotton Candy Man for her shawl, so beautiful!
On the right, you see Anke's pastel-coloured version in Scheepjes Stonewashed yarns. A heavier weight yarn, so I'm sure it's nice and warm!
Talking about heavier weight yarns, a lot of knitters chose to knit theirs out of Scheepjes Whirligig, which is a GREAT yarn for this shawl! I'm so happy that I've knitted a version in Scheepjes Whirligig too, it is so large and cuddly and warm! It has beautiful stitch definition too and the lace just comes out so nicely.
Top left is Suzanne's gorgeous version in Whirligig Teal to Yellow. One of my favourite colourways of this yarn!
Top right is Niamh's STUNNING shawl in Whirligig Teal to Ombre. As I remember she was one of the first to finish hers in Whirligig and she even knit the extended version, using most of a ball of Whirligigette as well. It's about 180cm wide!! Really really beautiful work.
Bottom right, you can see Monique's sublime Cosy Moments Shawl in Scheepjes Whirligig Plum to Ochre. A lovely warm colourway, like a sunset!
Bottom left is Vanessa modeling her shawl in Scheepjes Whirligig Sapphire to Blue. I love her shawl pin too!
Get your Scheepjes Whirligig yarn here:
Wool Warehouse (UK) Caro's Atelier (NL)
Femke has also knitted her shawl from Scheepjes Whirligig, in the colourway Sapphire to Jade. I think it looks wonderful!!
And last but very much not least: this STUNNER by Tammy from Canadutch, knit up in Scheepjes Whirl Dandelion Munchies. Tammy is one of my dearest friends, a fellow Scheepjes blogger and also a moderator of the Scheepjes Facebook groups where the MAL was hosted. I was so happy to have Tammy on board, she has done SO much for this make-a-long, without her it wouldn't have been the same. She and the other moderators and admins have helped me out with proofreading the pattern, giving guidance to participants in the Facebook groups, and making sure I see each and every one of your gorgeous versions of the Cosy Moments Shawl. Thank you!!
A big thank you to Scheepjes as well for hosting the Cosy Moments MAL, I've never had so many people make my one of my patterns, it was truly a great experience! See all of the versions here on Ravelry.
Want to knit your own version of the Cosy Moments Shawl?
Find the free pattern on my blog:
Or purchase the full PDF pattern, now also available via my own webshop! Payment options like iDeal, Bancontact and Sofort have been included so people without Paypal can also have the option of buying the PDF pattern. Each purchase helps me to maintain my business, thank you for your support!
*This blogpost contains affiliate links. Affiliate links earn me a commission if you purchase any yarns via these links, and you don't pay anything extra! Thank you for considering.
You might also like
A first look at the Scheepjes Downtown yarns! 
Support me by sharing with friends!