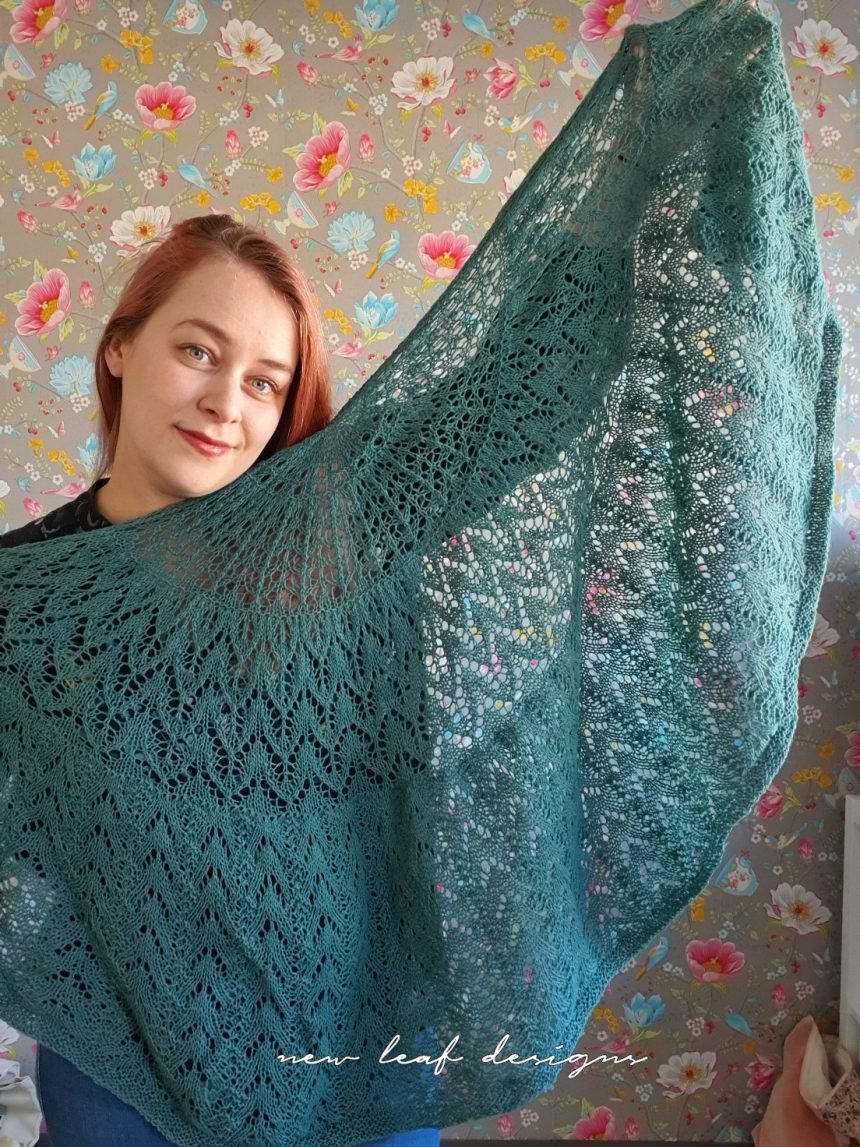 New design: Scent of the Pine Shawl
A new shawl design is on it's way! It will be called the "Scent of the Pine" shawl, and yes: it is a lace pattern! I'm so happy that so many of you are knitting my Cosy Moments Shawl, which was the first lace pattern for many. I hope I have shown you that lace knitting is lots of fun, and that you will like to knit more lace shawls! I love knitting lace because it is so addictive to see the pattern growing row by row.
This Scent of the Pine shawl uses four different lace patterns, and one of them creates a pattern that reminds me of pine trees. Together with the deep foresty-green colour, the name was easily decided: Scent of the Pine. It is also a line from one of my favourite songs "Feeling Good". You probably know this song from the cover by Michael Bublé 🙂
The shawl is finished with a simple garter ridge border – in the picture above it curls a bit, because I hadn't blocked the final section yet. No worries though, on your finished and blocked shawl the border will lay flat.
When will the pattern be published?
Right now I am still working on the Dutch translation of the pattern, and the tutorial videos. I aim for the pattern to be published in two weeks or so, so keep your eyes out for an announcement! The best way of knowing when the pattern is published is to subscribe to my newsletter, or follow me on Instagram.
Where can I buy the pattern?
The pattern will be published in my Ravelry store. I love Ravelry as it's easy to store your patterns in your online library, and it's easy to pay via Paypal. I will also be publishing the pattern in my pattern store here on my website, where you can also pay with iDeal, Bancontact, Sofort, and more options. The pattern will be an instant download, so keep an eye on your email inbox.
Will there be tutorial videos?
YES! I will have tutorial videos for the Scent of the Pine Shawl. They will be available on my Patreon page for Jonagold, Golden Delicious, and Elstar tier patrons, so that means from a subscription of $6 per month. The subscription can be cancelled anytime, there is no minimum time for your patron subscription.
Rewards per Patreon tier:
Fun fact: all of my Patreon tiers are apple varieties that my grandpa had on his farm 🙂
Jonagold – Choose this tier if you're here for the tutorial videos! Learn how to knit your first sweater, how to knit colourwork, how to fix mistakes in knitting, and MUCH more. Plus you get 10% off all my paid self-published patterns! Jonagold is the 3rd most popular apple variety my grandpa grew in his orchard. Crisp with a red 'blush', Jonagold is loved by many.
Golden Delicious – If you want the tutorial videos PLUS downloadable PDF patterns, choose this tier! Golden Delicious patrons get even more tutorial videos, and enjoy 15% off all of my paid self-published patterns. Golden Delicious was the 2nd most popular apple variety from my grandpa's orchard. Sweet like honey!
Elstar – The Elstar patrons are my All-stars! Subscribe to this tier if you want the complete package: ALL of the tutorial videos I offer, all of the rewards mentioned for the other tiers, and more! If you have your own business in the craft branches, choose this tier to unlock my Designer Talk series and chart-making series.
Elstar patrons also get 20% off all paid self-published patterns! Elstar was by far the most popular apple variety my grandpa grew on his apple farm. Fun fact: my grandpa was actually one of the very first farmers to grow this apple hybrid. A pioneer and a real entrepreneur 🙂
Subscribe to my Patreon page for these rewards, read more here.
Skill level
I recommend this pattern for intermediate knitters. It is not as difficult as the Cosy Moments Shawl, so if you've knit that shawl you can definitely knit this one! If you haven't knit lace before, but you have knit regular projects with knit and purl stitches, you can also knit this shawl. I have tutorial videos available on my Patreon page if you like some extra help.
Yarn
The yarn I used for this project is by the Danish company G-uld DK. I used their 'Skotsk Lammeuld' (Scottish Lambswool) base, but this has been discontinued. They do have a new base which is comparable: G-uld DK No 4. I recommend this yarn for the Scent of the Pine Shawl. I used 1,5 skeins: 936 meters in total. Each skein is 600 meters and 100 grams, 100% wool.
G-uld DK yarn is naturally dyed in Denmark, and I was able to visit their workshop last year in May by attending one of their natural dyeing retreats. It was so much fun to learn how to dye yarns with all natural ingredients, so of course I could not resist to bring a souvenir home with me. Those souvenir skeins became this shawl.
Can I use Scheepjes Whirl?
YES! You can use Scheepjes Whirl for this pattern, and I expect it will be gorgeous!! To complete the shawl, you will probably need 1x Scheepjes Whirl and 1x Scheepjes Whirlette in a matching colour.* So get one ball of Whirlette in a colour that matches the very last colour of your Scheepjes Whirl, so you can use it to extend the shawl. You can find a great guide on matching Whirls and Whirlettes on Simy's blogpost here.
*This post contains affiliate links, if you purchase yarns via these links you will not pay anything extra, but I will get a small fee from the shop owner. You can also purchase your yarns via your favourite Scheepjes store. Thank you for considering!
How big is the shawl?
The original Scent of the Pine shawl, knit with the G-uld DK yarn, is 150cm (59″) x 66cm (26″) large. This is measured after blocking. The pattern includes instructions on how to make the shawl a little bit bigger if you wish to extend it.
What kind of needles should I use?
For the Scent of the Pine shawl I used 3mm circular knitting needles from Chiaogoo – my favourite brand knitting needles. I used 80cm length knitting needle, but you may use a longer needle if you prefer that. Depending on your gauge, you may want to use 3.5mm needles instead of 3mm needles. In my experience, I knit a bit looser, so often other people knitting my patterns will need larger needles.
I will keep you all up to date, stay tuned!
x Carmen
You might also like
Cosy Moments Shawl pattern – Part One
Support me by sharing with friends!