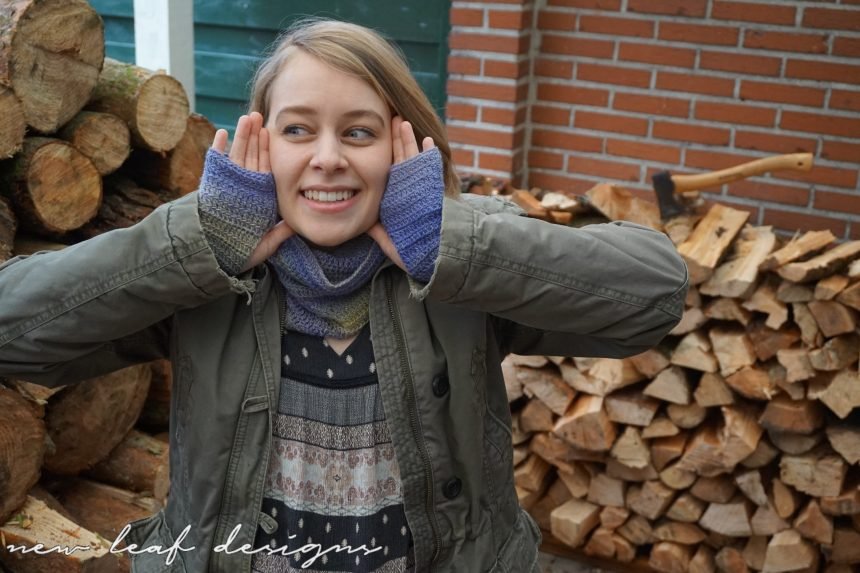 What's that I hear? Oh yay, it's the reveal of a new design, woohoo!! Please let me introduce the Timber Cowl and Wristies, which will be a free pattern coming next week!
Wat hoor ik daar? Oh jippie, het is een nieuw ontwerp!! Laat me aan jullie voorstellen: de Timber Colsjaal en Armwarmers, waarvan het gratis patroon volgende week online zal staan!
A little backstory on the naming of this design.. We have a fireplace in our new home, which my boyfriend and I are super excited about. Even though it still needs its check-up before we can use it, we've started to stock up on wood. My boyfriend is particularly enthusiastic about this and has purchased two axes (one wasn't enough apparently!) to chop it into little blocks. He's even reading some wood-related literature and has started to build the ever so charming wood wall at the back of the house.
Even een achtergrondverhaaltje over de naam van dit ontwerp, Timber (=hout). We hebben in ons nieuwe huisje een ingebouwde haard, waar mijn vriend en ik beiden heel enthousiast over zijn. Ook al moeten we de haard nog laten keuren voordat we hem kunnen gebruiken, zijn we al begonnen met hout in te kopen en te hakken. Mijn vriend is hier heel enthousiast over en heeft maar liefst twee bijlen gekocht (eentje was niet genoeg blijkbaar!). Ook is hij wat hout-gerelateerde literatuur aan het doorlezen terwijl de 'houtmuur' alsmaar groter wordt in de achtertuin. 
So how does this relate to my design? Oh right, I'll tell you. I was looking at all the wood while wearing my new cowl and armwarmers, and the vertical lines in the chopped blocks as well as the age rings really made me think of the stitch pattern I used! I know, crazy crochet brain! So I thought it would be fitting to name the design 'Timber'. And yes, I do also love that song 😉
En hoe heeft dit ook alweer te maken met mijn ontwerp? Nou, toen ik hem gisteren aan het helpen was de blokken hout op te stapelen, zag ik de verticale lijnen aan de binnenkant van het hout, en natuurlijk ook de jaarringen, die me erg deden denken aan de steek die ik had gebruikt voor mijn colsjaal! Haha, ik zie overal patroontjes in denk ik! Vandaar dat een houtgerelateerde naam, dus Timber, me erg toepasselijk leek. En ja, dat ene liedje Timber vind ik ook heel leuk 😉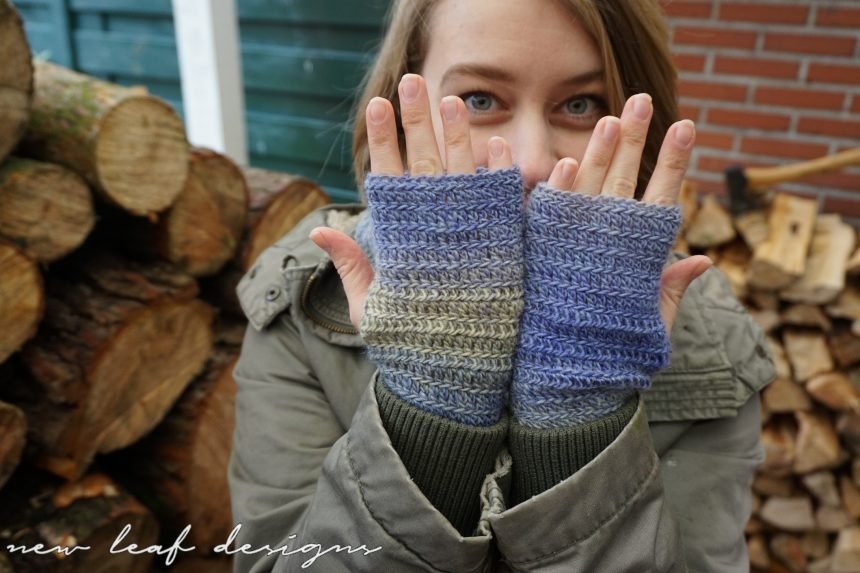 I made the armwarmers nice and long so you don't get cold hands! I love to still be able to use my fingers for using my phone and grabbing my keys out of my pocket, so I rarely wear mittens that are closed at the top. The armwarmers are actually twice the length you see in the picture, most of it is worn inside the coat for extra warmth!
Ik heb de armwarmers fijn lang gemaakt zodat je geen koude handen krijgt, maar wel nog je vingers kunt gebruiken. Dat is toch wel handig met sleutels uit jaszakken vissen en mobieltjes bedienen! Ik heb om die reden maar zelden wanten aan. De armwarmers zijn eigenlijk twee keer zo lang dan ze lijken op de foto, het meeste zit namelijk binnenin de jas! Extra warm, mmm… 
For this pattern I used my own colourway 'New Leaf' from the Scheepjes Our Tribe yarn range. I love those lavender hues, don't you? I've designed this pattern to just use up 1 skein of it. Since the Our Tribe yarns are generously sized at 120 gram (although it only says 100 grams on the label, shhhh!) it was more than enough to make a cowl and matching armwear out of it.
Voor dit patroon gebruikte ik mijn eigen kleur 'New Leaf' van de Scheepjes Our Tribe garens. Ik houd zo van die lavendelpaarse tinten, jij ook? Dit patroon is ontworpen om gemaakt te worden met slechts 1 bol Our Tribe. Omdat er wel 120 gram op een bol zit (shhh, op het label staat slechts 100 gram, maar je krijgt dus iets extra!) was het meer dan voldoende voor deze col en armwarmers.
Retailers for this yarn – Verkooppunten voor dit garen
If your local yarnstore doesn't carry this yarn, please consider to shop via the affiliate links below. Shopping via affiliate links does not cost you anything extra, but the shop gives me a small percentage of your purchase in return for the publicity.
Als jouw lokale garenwinkel dit garen niet in het assortiment heeft, denk er dan alstublieft over na om mij te steunen het garen via een van de volgende links te kopen. Hiermee betaalt u zelf niets extra, maar de winkeleigenaar geeft mij een klein percentage van de aankoop in ruil voor de publiciteit. 
Wool Warehouse (UK, ships worldwide)
Knotty House (CA, ships to CA and US)
Caro's Atelier (NL)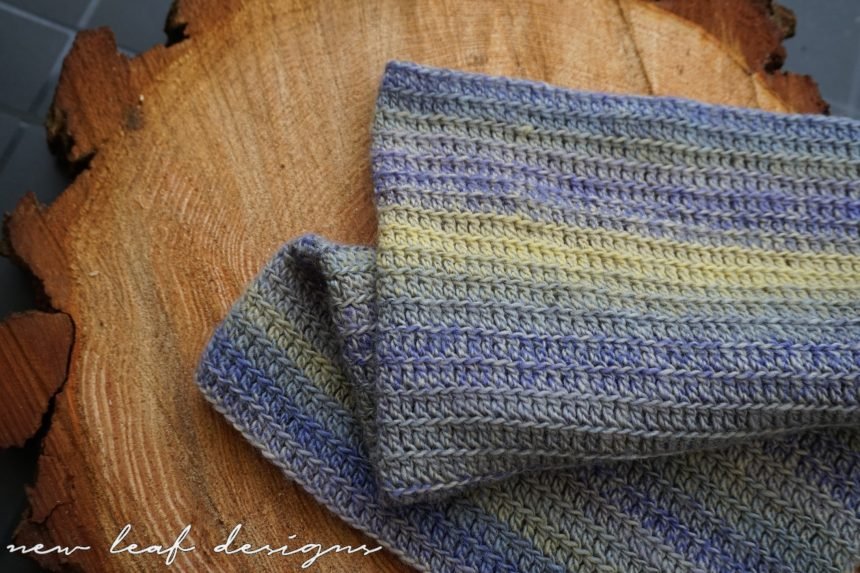 I'll have the pattern ready for you by next Monday, so be sure to check back!
Volgende maandag zal het patroon online staan, kom dan dus weer een kijkje nemen!
Support me by sharing with friends!