Cosy Moments MAL
Hello everyone, I've got exciting news for you: I'll be hosting the Cosy Moments MAL (Make-A-Long) together with Scheepjes! We're going to be knitting a lace shawl in the beautiful Scheepjes Whirl with that gorgeous ombré effect.
Hallo iedereen, ik heb leuk nieuws voor jullie! Samen met Scheepjes zal ik een Make-a-Long houden, de Cosy Moments MAL. We gaan samen heerlijk breien aan een kanten omslagdoek met Scheepjes Whirl, dat er zo'n mooi kleurverloop aan geeft.
Wool Warehouse (UK) Caro's Atelier (NL)
Pattern Parts
February 7th – Gauge swatch information
February 14th – Pattern part 1
February 21st – Pattern part 2
February 28th – Pattern part 3
Prefer a PDF version?
| Liever een PDF versie?
A paid PDF version of the pattern is available in my stores linked below. The PDF version includes the full pattern, including tutorial video links, charts and pictures.
Een betaalde PDF versie is ook te koop in mijn patroonwinkels via de onderstaande knoppen. De PDF bevat het gehele patroon, inclusief tutorial video links, schema's en foto's.
Get the PDF version from my shopPurchase on Ravelry
Introduction: Cosy Moments Shawl
The Cosy Moments Shawl is a knitting pattern for a lace shawl, featuring eight different lace patterns. It's a half-round shawl (also called semi-circle or half-pi shawl) and will be knit flat on circular knitting needles. This MAL is lovingly sponsored by Scheepjes.
The best thing about lace knitting is that it's so relaxing. It demands your full attention so you have no space to think about anything else. During this MAL, take some time for yourself, make sure no one will distract you, brew yourself a cuppa of your favourite tea (a sparkly beverage will do nicely as well 😉 and treat yourself to a cosy moment with your shawl.
De Cosy Moments Shawl is een breipatroon voor een kanten omslagdoek, met acht verschillende steekpatronen. De omslagdoek is halfrond en je breit hem op rondbreinaalden. Deze MAL wordt liefdevol gesponsord door Scheepjes.
Het fijnste aan kantbreien is dat het zo ontspannend is. Het eist je volledige aandacht op dus je kunt even nergens anders aan denken. Neem gedurende deze MAL vaker een momentje voor jezelf, zorg dat niemand je afleidt, maak een stomend kopje thee (of een glaasje bubbels) en geniet van jouw 'cosy moment' met jouw breiproject. 
Skill level
This MAL is aimed at intermediate knitters. You can participate if you're an adventurous beginner knitter. Perhaps you've knit socks, or you've knit shawls before but never lace shawls. In that case, this will be a challenging project for you, so make sure to pay close attention to the pattern and accompanying tutorial videos published along the way, and to keep counting your stitches throughout the shawl. I'll share some extra tips and tricks in the videos to make this project as carefree as possible. At the end of the shawl, there is an optional crochet edging which I think gives a really nice finishing touch. This edging is really simple so it will be doable for crochet beginners.
Dit patroon is geschikt voor gevorderde breiers. Je kunt zeker ook meedoen als je een avontuurlijke beginnende breier bent. Misschien heb je wel al sokken gebreid, of wel al omslagdoeken maar nog nooit met kantpatronen. In dat geval zal dit een uitdagend project voor jou zijn, dus zorg dat je goed alle instructies doorleest en ook gebruik maakt van de tutorial video's die gaandeweg beschikbaar worden gemaakt. Blijf ook je steken tellen, dat helpt foutjes eerder vast te stellen. In de video's deel ik tips en trucs om dit project zo zorgeloos mogelijk te maken. Op het eind van de omslagdoek heb je ook de mogelijkheid voor een gehaakt randje, dit is zeer gemakkelijk en dus ook geschikt voor beginners.
Finished Size
The finished size of the shawl is 135cm from tip to tip along the straight edge, and 60cm deep in the middle.
De omslagdoek meet 135 cm van punt naar punt langs de rechte zijde, en 60 cm diep in het midden.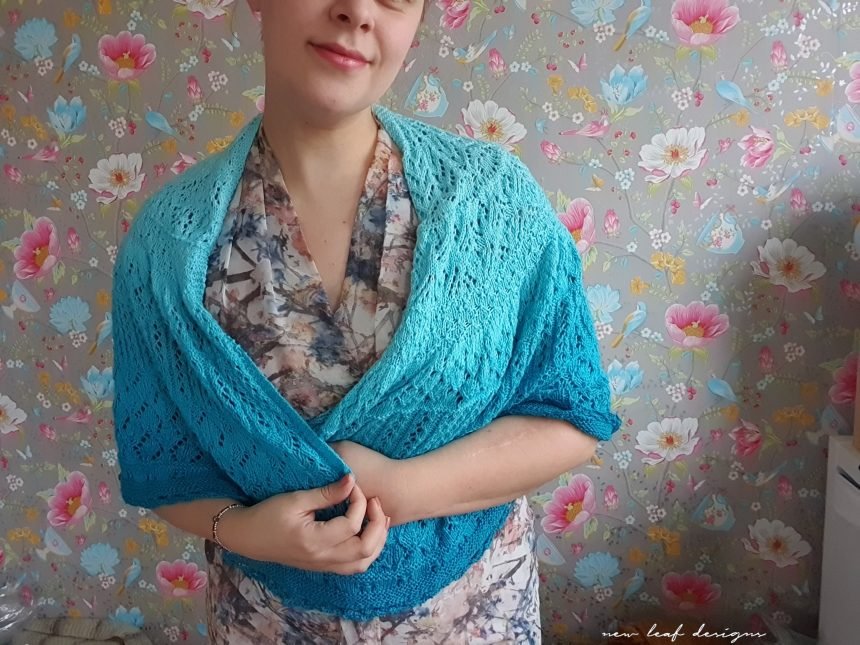 The yarn
For the Cosy Moments Shawl, I've used the beautiful Scheepjes Whirl yarn, with that stunning gradient effect.
De Cosy Moments Shawl is ontworpen voor de prachtige Scheepjes Whirl, met dat mooie ombré effect.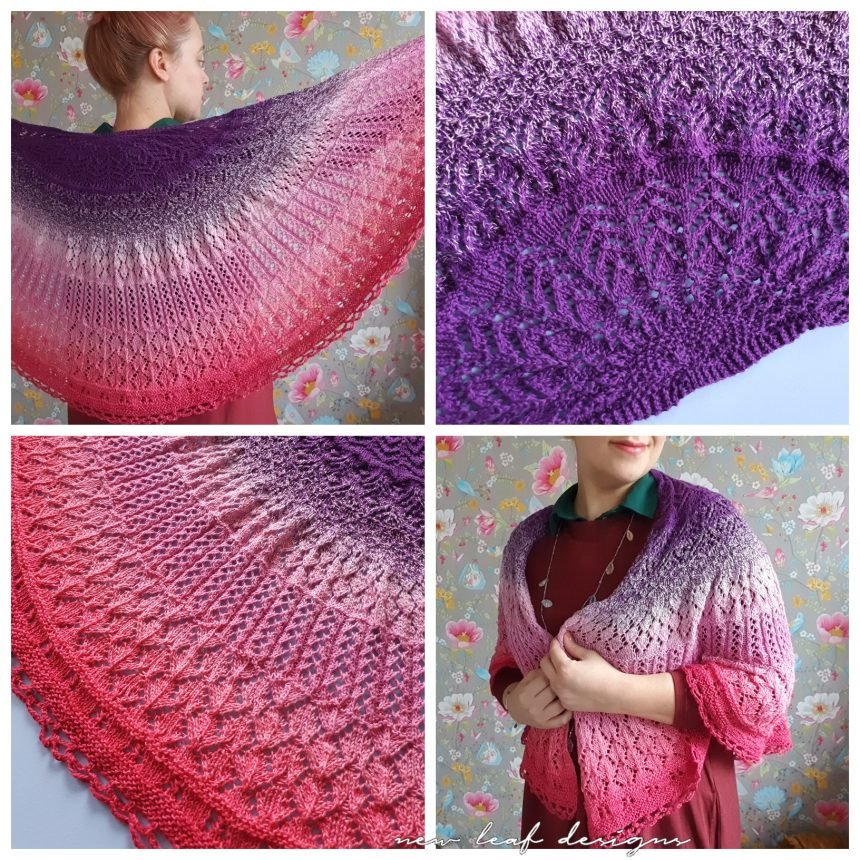 The pink sample is knit out of Scheepjes Whirl Turkish Delight 778. From dark purple to light pink to strawberry pink. Such luscious colours and perfect for this Valentine's theme.
De roze versie is gemaakt van Scheepjes Whirl Turkish Delight 778. Van donkerpaars naar lichtroze naar aardbeien-roze. Heerlijke kleuren, en al helemaal passend voor het Valentijns thema!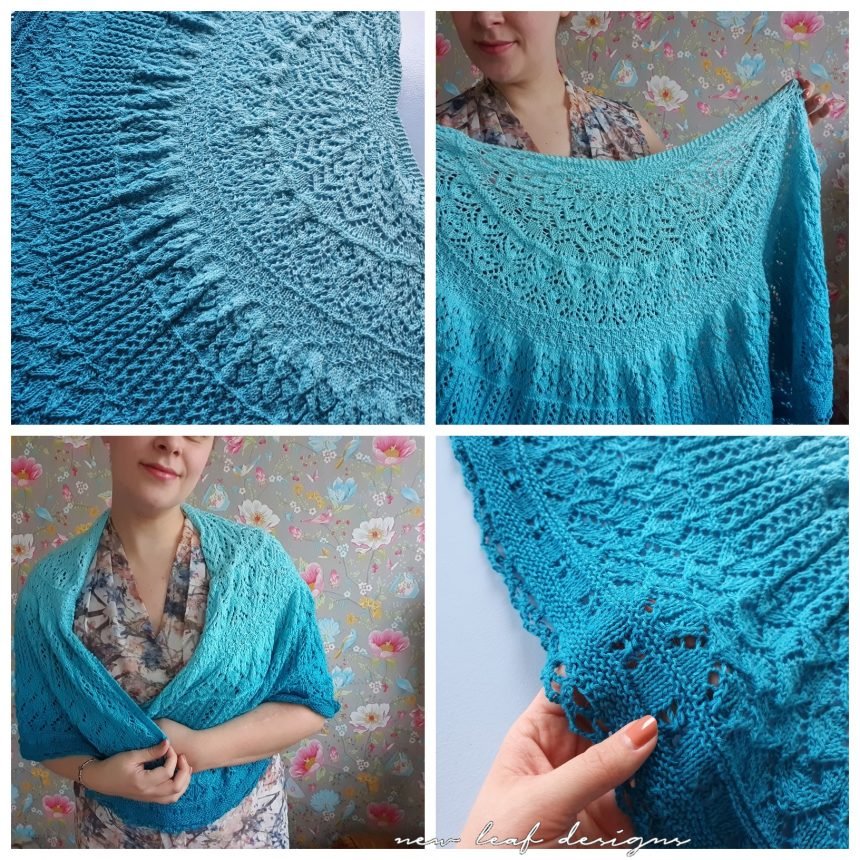 The blue sample uses Scheepjes Whirl Turquoise Turntable 559. Any "Ombré Collection" Whirl will give you an elegant result, with one main colour going from light to dark.
Deze blauwe versie is gebreid met Scheepjes Whirl Turquoise Turntable 559. Met de Whirls uit de "Ombré Collectie" krijg je een elegant resultaat, er zijn verschillende kleuren beschikbaar die allen van licht naar donker gaan.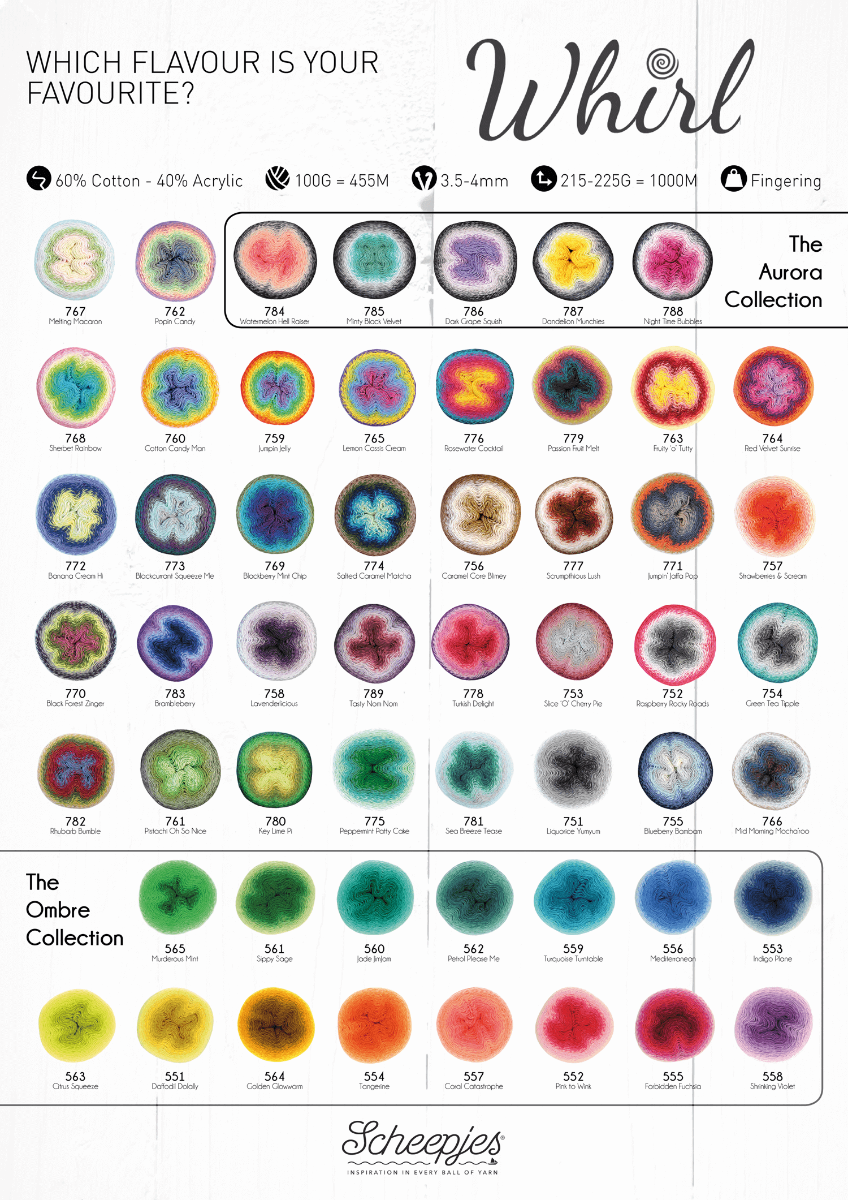 Where to get your yarn
| Garen Verkooppunten
Scheepjes Whirl is available from Scheepjes retailers, as well as online stores! Please consider to support my blog and shop via affiliate links below.
Scheepjes Whirl is verkrijgbaar via Scheepjes winkels, en ook via webshops! Als je mijn blog wilt steunen, kun je shoppen via de affiliate link hieronder.
Wool Warehouse (UK) Caro's Atelier (NL)
My new samples
During this MAL, I'll be making two new versions: one Whirl version in the colourway Kiwi Drizzle 473, with beautiful shades of blue and green. This particular colourway is a Woolly Whirl, meaning the fibre content is 30% wool and 70% cotton. A lovely option if you'd like a 100% natural yarn.
The second version I'm making – which is the one I'm using for the tutorial videos – is a version in Whirligig (yes!), the big sister of Scheepjes Whirl, with a luscious 450 grams and 1000 meters. A beautiful DK weight yarn made up of 80% virgin wool and 20% alpaca. Yumm! The colourway I'm working with is 205 Teal to Ombré, which goes from a light minty green to a deep sea teal. Because this is a DK weight yarn, the resulting shawl will be much bigger than the Whirl version, and I'm so looking forward to wrapping up in it!
At the moment I'm still working on both samples so I'm not able to tell you yet what the exact size of the Whirligig version will be. Patience, my lovelies 😉 Because a Whirligig has the same amount of meters as a Whirl, you can knit this entire shawl out of just the one ball, so you can totally choose to knit along with this MAL with a Scheepjes Whirligig!
Gedurende deze MAL zal ik zelf twee nieuwe versies breien. De eerste daarvan is met een Woolly Whirl in de Kiwi Drizzle 473 kleur, prachtige tinten groen en blauw! Een Woolly Whirl bestaat uit 70% katoen en 30% wol dus het is een mooi alternatief als je op zoek bent naar een 100% natuurlijk garen. 
De tweede versie die ik brei – deze is te zien in de tutorial video's – is een versie met Whirligig (jazeker!), de grote zus van de Scheepjes Whirl. De Whirligig heeft ook 1000 meters maar is wel 450 gram, en bestaat uit 80% wol en 20% alpaca. Yum! De kleur die ik gebruik gaat van mintgroen naar zeeblauw en heet Teal to Ombré 205. Omdat dit een dikker garen is krijg je ook een grotere omslagdoek dan met een Whirl, ik kijk er al naar uit om me helemaal erin te wikkelen!
Op het moment werk ik nog aan beide versies, dus ik kan nog niet met zekerheid zeggen hoe groot de Whirligig versie wordt. Dát hij groter wordt is wel zeker, dus als je houdt van grotere omslagdoeken, ga ervoor!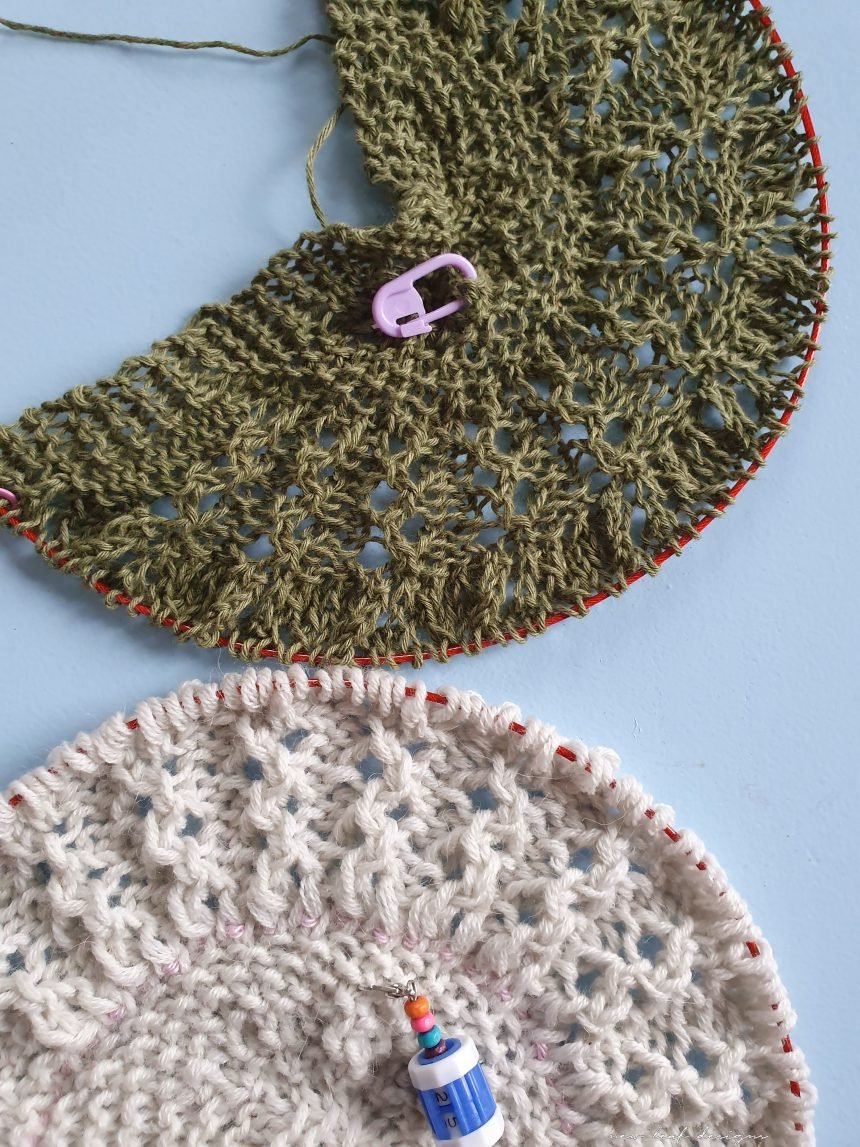 Other materials
Other than yarn, you will of course need knitting needles! I am using 3mm circular knitting needles for my Whirl sample, and 3.5mm circular knitting needles for my Whirligig sample. For the easy crochet border, you will need a crochet hook in the same size (3mm for Whirl, 3.5mm for Whirligig).
You will also need:
Two stitch markers
A row counter (a MUST for lace projects!)
Measuring tape
Naast garen heb je ook nog breinaalden nodig natuurlijk! Ik gebruik voor mijn Whirl versie een 3 mm rondbreinaald, en voor mijn Whirligig versie een 3,5 mm rondbreinaald. Voor het gehaakte randje heb je een haaknaald nodig in dezelfde maat (3 mm voor Whirl, 3,5 mm voor Whirligig)
Je hebt verder nog nodig:
Twee stekenmarkeerders
Een toerenteller (een MUST voor kantbreien!)
Meetlint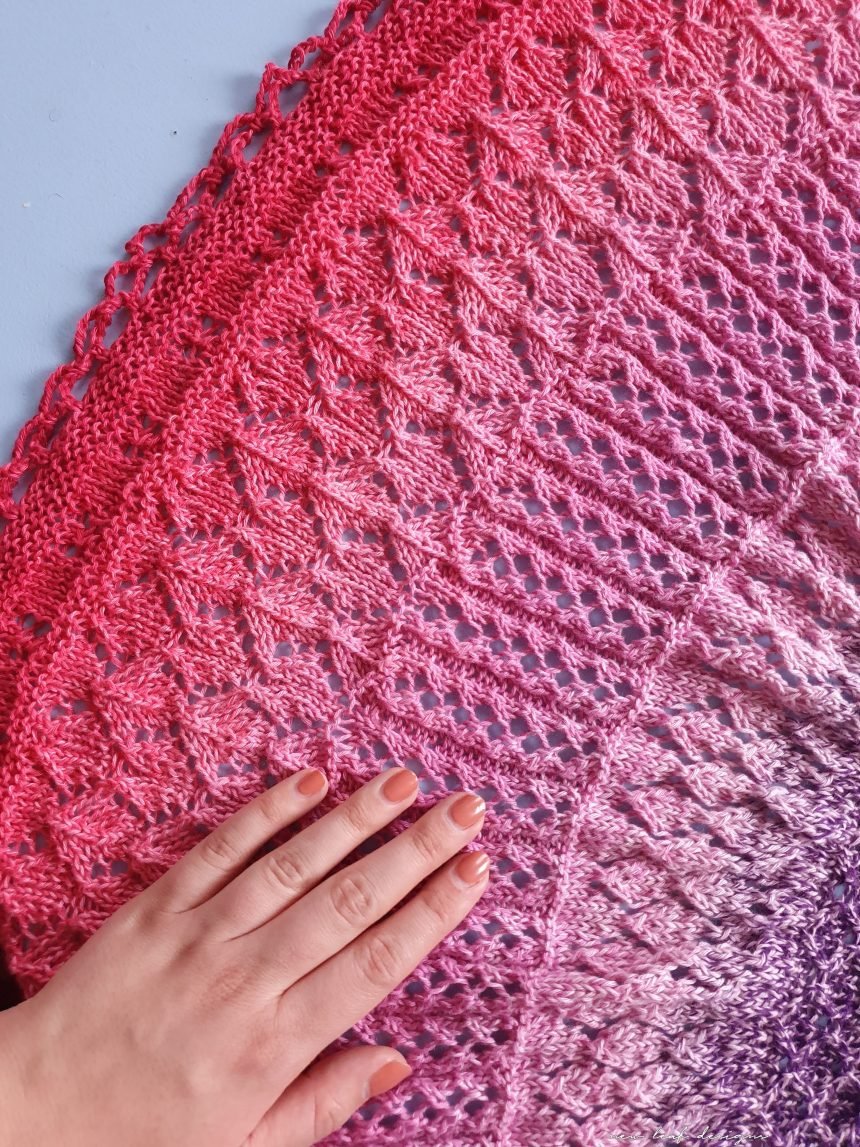 General Information
| Algemene Informatie
Pattern – The first part of the pattern will be published on February 14th. Each new part will be released weekly here on my blog. Pattern will be free on blog, charted and written.
You can also pre-order the full PDF here in my Ravelry store, for €2.95 (ex. VAT) until February 13th. After that it will be €4.95 ex VAT. The pattern on my blog will remain free forever, the paid PDF version gives you an easy printable option with all parts of the pattern in one go.
The PDF version includes ALL parts of the pattern and will be released on feb 14th together with the first free part. Please note that this is a pre-order and the pattern PDF will be available for download on the 14th.
Het eerste gedeelte van het patroon komt 14 februari a.s. op mijn blog, met elke volgende vrijdag het nieuwe gedeelte. Inclusief schema's maar ook uitgeschreven.
Een betaalde PDF versie is beschikbaar in mijn Ravelry winkel, nu voor een speciale prijs van €2,95 ex BTW tot 13 februari. Geen code nodig! Vanaf 14 februari kun je het patroon daar downloaden in zijn volledigheid (dus je hoeft niet te wachten tot de nieuwe delen uitkomen) en wordt de prijs verhoogd naar €4,95 ex BTW. Het patroon op mijn blog zal altijd gratis blijven, maar als je graag het patroon wilt printen is de PDF versie een gemakkelijke optie.
Videos – There will be tutorial videos for each lace section of the shawl, for the swatch, and for additional techniques such as putting in lifelines. You can visit my YouTube channel here.
Voor elk kantpatroontje maak ik een tutorial video, net als voor het proeflapje en voor andere technieken zoals levenslijnen inbrengen. Je vindt mijn YouTube kanaal hier.
Newsletter – subscribe to my newsletter to not miss a single part of the MAL. of course if you buy the full version of the pattern, you will have them all in one go!
Schrijf je in voor mijn nieuwsbrief om geen enkel gedeelte van het patroon te missen! Of koop de PDF versie, dan heb je alle delen in één keer.
Ravelry – add the Cosy Moments Shawl to your Ravelry queue and give it a 'heart' to spread the love, so it is seen by more people. Thank you!
Voeg de Cosy Moments Shawl op Ravelry toe aan je favorieten zodat meer mensen het patroon te zien krijgen. Bedankt!
Facebook – the Cosy Moments MAL is hosted on Facebook in the Scheepjes Facebook group – find the International group here. You can also join my Facebook community here.
De Cosy Moments MAL wordt in de Scheepjes Facebook groep gehouden, vind HIER de Nederlandse groep. Je kunt ook lid worden van mijn eigen Facebook groep. 
Instagram – share your Cosy Moments Shawls with the hashtag #CosyMomentsShawl and #ValMAL (for the Valentine's MAL)
Deel je Cosy Moments Shawls met de hashtag #CosyMomentsShawl en #ValMAL (Valentijns MAL)
Languages – the Cosy Moments Shawl will be available in English and Dutch. The pattern is also charted.
Het Cosy Moments Shawl patroon wordt gepubliceerd in Engels en Nederlands. Het patroon bevat ook breischema's.
Thank you
A big thank you to my testers and sample makers Michelle, Gabriëlla, Carna, Bianca and Chantal! Without you this would not have been possible 🙂  I also want to thank Scheepjes for their continuing generosity and support! And of course, thank YOU for visiting my blog and reading this blogpost, I would be thrilled if you knit along with me!
Ik wil mijn geweldige testers en sample breiers graag bedanken: Michelle, Gabriëlla, Carna, Bianca en Chantal! Zonder jullie was mij dit niet gelukt 🙂 Ik wil ook Scheepjes bedanken voor hun liefdevolle steun! En natuurlijk wil ik ook JOU bedanken voor het bezoeken van mijn blog en het lezen van deze blogpost, ik zou het superleuk vinden als je met mij mee gaat breien!
Copyright note: The copyright of this pattern is protected by Scheepjes. It is not allowed to copy, reproduce, redistribute, sell or edit the pattern in any way. You are allowed to share finished objects from this pattern, but please always credit me as the designer. Please do not share the PDF version of the pattern with others, instead give them a link to my blog so they can find the pattern themselves. Thank you!
Copyright: Het copyright van dit patroon wordt beschermd door Scheepjes. Het is niet toegestaan dit patroon te kopiëren, te verspreiden, te verkopen, te bewerken of opnieuw uit te brengen. Je mag de omslagdoeken verkopen, maar zet er wel bij dat ik de ontwerper ben. Deel de PDF versie a.u.b. niet met anderen, maar deel in plaats daarvan de link naar mijn blog of winkel zodat ze zelf het patroon kunnen vinden. Bedankt!
Support me by sharing with friends!