Guizhou, de vierde Chinese provincie op ons lijstje, staat vooral bekend om de prachtige borduurkunsten van de Miao-volkeren daar. De Miao-vrouwen met hun ellenlange haar gewikkeld in een kunstige knot bovenop hun hoofd borduren en masse, en natuurlijk gebruiken ze daarvoor de beste garens! We hadden gehoord van een wekelijkse markt in de stad Kaili, waar ze ook borduurgarens zouden verkopen, dus besloten we daarheen te gaan!
Guizhou, the fourth Chinese province on our list this summer, is known for the stunning embroidery-skills of the Miao-people. The Miao-women, with super long hair all wound up in a bun on the top of their heads, love to embroider and use the best yarns available! We heard of a market in Kaili where they might sell embroidery thread, so we went to have a look!

Er werden ook heel veel alledaagse producten verkocht, die hier op de markt ook niet zouden misstaan. Fruit en gebakken mooncakes, haarspeldjes, doe-het-zelf artikelen (alleen dan niet de soort die wij leuk vinden, maar meer zoals wat de Gamma verkoopt ;)). Alle kraampjes onder een parasol natuurlijk, want de Chinezen houden niet van zon! Wij hebben natuurlijk ook parasols bij markten, maar dan voor het geval het gaat regenen!
Lots of everyday items were sold at the market, just like any market here in Europe actually. Fruit, pastries, hair pins, DIY-items (the bolts, screws and wood kind of DIY). Since the Chinese don't like the sun very much, every stall had it's own parasol of course!  The main reason we have parasols at markets here in the Netherlands is in case of rain, haha. 
Het eerste straatje sloegen we in, en het was meteen al kassa! Garens van allerlei soorten en diktes..
Shortly after arriving at the market we found our first crafty stall!
Jackpot! Wat een mooie garens.. De grote strengen die je ziet bestaan uit heel veel kleinere strengetjes garen, die volgens mij maar 5 mao kosten (40 eurocent). Ik koos een paar tinten oudroze uit, en ook wat leuke felle kleurtjes. De vrouw van het kraampje moest lachen toen ik zei dat ik nog niet wist wat ik ermee zou maken, daar kopen ze namelijk geen garens als ze er nog geen plannen voor hebben. Maarja, zij kunnen de markt elke week weer bezoeken! Konden wij dat maar..
Jackpot! Ohh the prettiness.. Such beautiful skeins of thread! The big skeins were divided in many little skeins, each of which costs about 40 eurocents. I bought lovely shades of dusty pink and a few bright colours, I still don't know what to do with them but I just had to buy some thread! 
En om de hoek.. Geweven en gevlochten vismanden, grote platen om theebladeren op te laten drogen..
Around the corner: handwoven baskets!
Ze vonden groen, rood en zwart blijkbaar wel héél mooi!
The Miao women seem to love green, red and black!
Toen stuitte ik op dit kraampje, waar ze échte zijden garens hebben. De garens die ik eerder kocht zie je bovenin de foto, en de zijden garens zijn de kleinere klosjes daaronder. Je kunt het verschil voelen, maar je kunt het ook zien! De zijden garens lijken veel meer te glanzen. Ze waren wel ietsje duurder, maar nog steeds spotgoedkoop!
After that I bumped into this little stall, where they sold real silk thread! The thread I bought before is the same as the top skeins in the picture, the ones below are all silk. You really see the difference in sheen right? Needless to say, some of these went home with me as well.. 
Verderop heel wat gehaakte tasjes! In China zijn ze meer fan van deze aardse tinten, terwijl je bij ons meer pastelkleuren ziet.
Not just embroidery, but also crochet was present at the market! The Chinese apparently love earthy colours like green and brown, while we have a lot of pastel colours here at the moment. 

En nog meer! Hier trouwens wel wat meer kleurtjes.
And even more! In other colours too this time. 
In dit kleine dorpje sliepen we die nacht, ziet het er niet prachtig uit? Ik wou dat ik er nog eens naar terug kon gaan..
This little village is where we spent the night that day, doesn't it look stunning?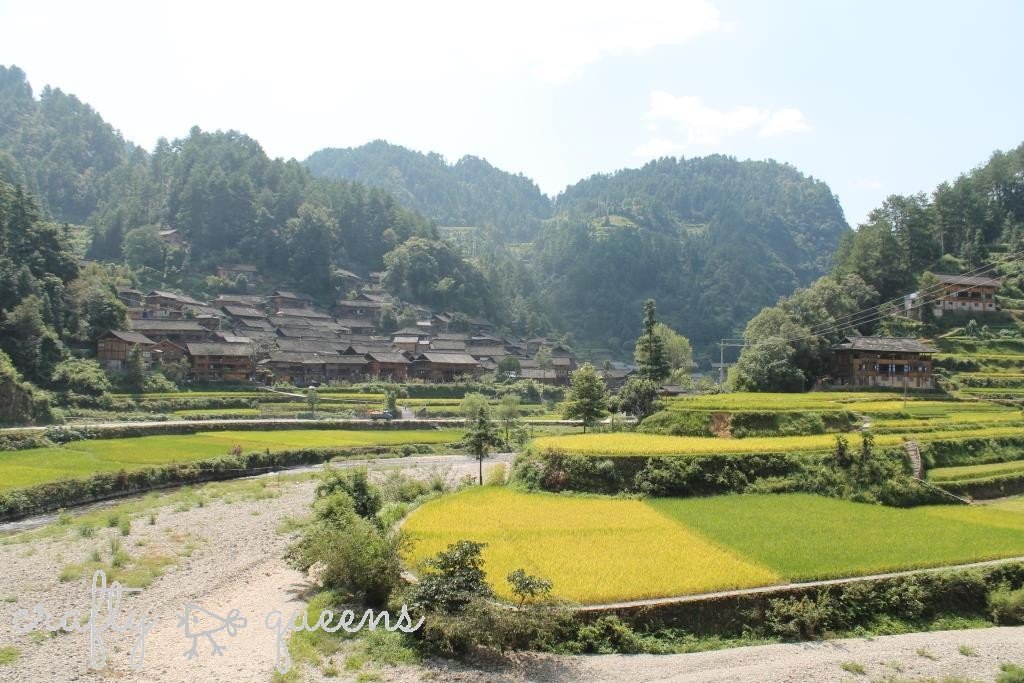 Dat was het deze week voor mijn Azië-avonturen! Kom volgende week weer voor nog een terugblik 🙂
That's it for this week's Asia memory! Check back next week for another flashback 😉 
Support me by sharing with friends!