Meestal schrijf ik over breien en haken, maar borduren doe ik ook graag! Vandaag laat ik jullie zien hoe je je borduurdraad goed opbergt.
Als je wel eens borduurt heb je misschien wel gemerkt dat borduurgarens niet zo handig zijn verpakt. Als je de twee papiertjes eenmaal van het garen afhaalt heb je een losse streng garen, die snel in de war raakt! Ik heb een tijd lang geprobeert ze weer terug in de papiertjes te stoppen of netjes in een zakje te bewaren, maar dat was toch niet de beste oplossing. Onderhand heb ik twee goede methodes gevonden!
Usually I write about crochet or knitting, but I occasionally do some embroidery too! Today I'm going to show you how you can store your embroidery thread without tangling it. 
De eerste manier is om het garen rond een wasknijper te wikkelen. Het eindje kun je tussen de wasknijper stoppen zodat het niet weer afrolt!
The first method I really like is winding the thread around a clothes pin. You can secure the end by putting it inside of (between? in?) the pin. 
Als je veel kleine restjes hebt, of niet zoveel plaats om al die wasknijpers op te bergen, kun je deze kaartjes maken! Zoek wat schattige kleine kaartjes uit en maak er gaatjes in met een perforator. Nu kun je je restjes draad er makkelijk aan vast maken! In borduurpakketten heb je ook vaak kaartjes met de garens eraan, en ook de bijbehorende nummers van de kleuren.
If you have lots of scrap thread, or maybe not as much room to store lots of clothes pins, maybe this is the best option for you! You can make holes in cards and put the thread through. Embroidery kits usually have thread stored this way too. If you want, you can write the number of the colour on the card as well.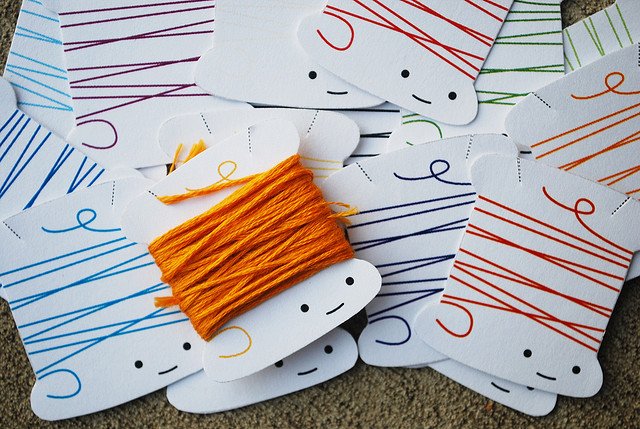 Als je geen wasknijpers hebt maar toch veel garen wilt opslaan, kun je ook deze schattige papieren klosjes uitprinten. Ze komen van de blog Wild Olive, waar heel veel leuks op staat voor borduurfans!
If you don't have any clothes pins or cute cards available, you can print out these cute paper bobbins designed by Wild Olive. Free printable via the link!

Nog een geweldig idee op Wild Olive is deze manier om garens te bewaren: met ijsstokjes! Maak een gaatje in elk uiteinde. Door het ene gaatje stop je het draadeinde, en door het andere gaatje kun je een sleutelring vastmaken, zodat je ze ook nog makkelijk samen kunt opbergen. Klik hier voor de hele tutorial.
Another one of her amazing ideas is winding the thread around a popsicle stick. Make a hole at each end: one to put the thread end through, and one to insert a keychain ring for easy storage. Click here for the full tutorial by Wild Olive. There's lots more cute inspiration and patterns on her blog!
Heb jij ook nog handige tips om borduurdraad op te bergen? Deel ze in de reacties!
Do you have any tips for storing embroidery thread? Let me know in the comments!
Support me by sharing with friends!