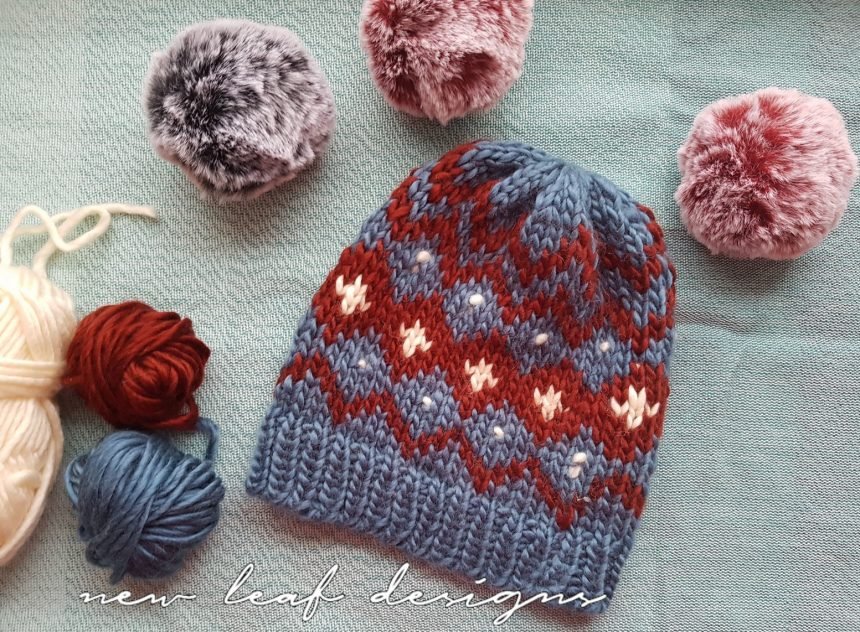 Ta-dah, the Finn Hat is done! Or.. fin! 😉 With 3 balls of Scheepjes Namaste I was even able to make 2 hats, which was a pleasant surprise. You can see the yarn I have left after 2 hats on the left side of the picture above. I might have been able to make a pompom from that, but as it happens I had already bought some lovely fluffy pompoms from a shop. They were actually attached to keychains, shhhh 😉 The keychains were  much cheaper than actual store-bought pompoms and easier to find too, hurray!
Ta-daa, de Finn Muts is af! Met 3 bollen Scheepjes Namaste kon ik zelfs 2 mutsen maken, waar ik heel blij verrast mee was. Het garen wat ik na 2 mutsen nog over heb zie je boven helemaal links op de foto. Wellicht had ik daar nog een pompom van kunnen maken, maar toevallig had ik al fluffy pompoms gevonden in de winkel. Dat waren eigenlijk geen pompoms maar sleutelhangers, shhhh 😉 Veel goedkoper en tegenwoordig overal te vinden!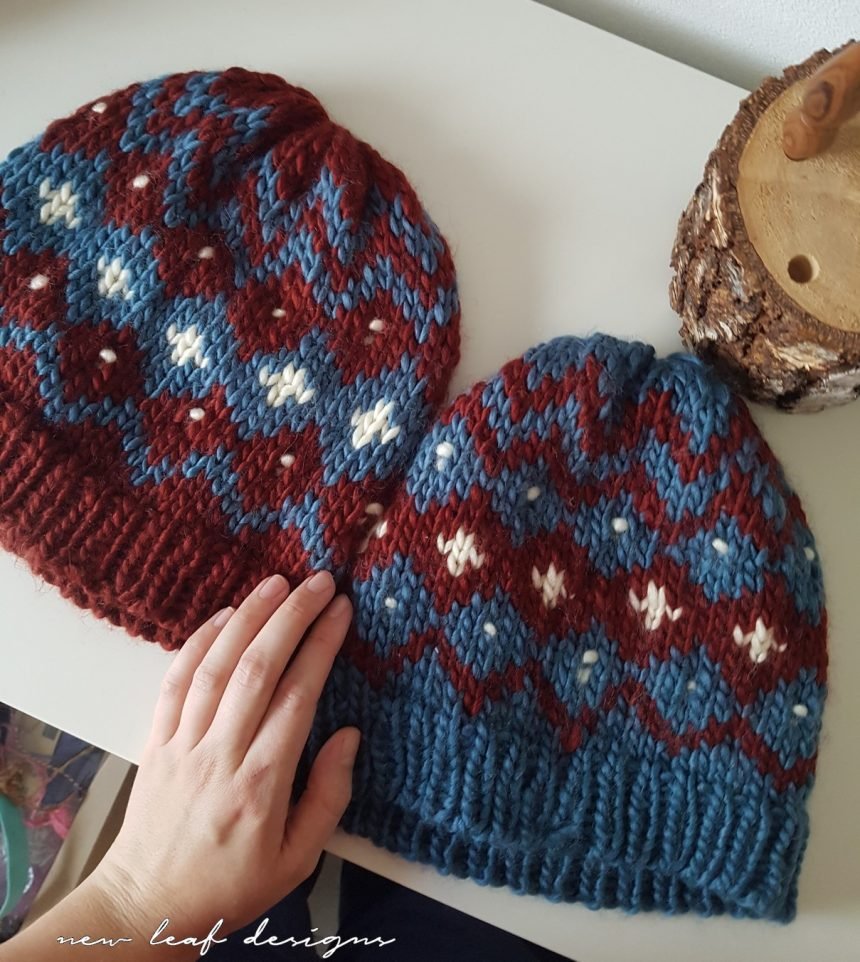 For the second hat I reversed the blue and red, so I've used red wherever I used blue in the first hat, and vice versa. This made it possible to make 2 hats out of 3 balls of yarn, even with the second hat being a larger size. The blue hat is suitable for head circumference of approx 55cm (21.5 inch) and the red hat is suitable for head circumference of approx 60cm (23.5 inch).
I've almost finished the pattern and I'll share it here on my blog next week Thursday, including a colour chart to make it as clear and concise as possible.
Voor de tweede muts heb ik het rode en blauwe garen omgedraaid, dus waar ik eerst blauw heb gebruikt, heb ik voor de 2e muts rood gebruikt. Zo kwam ik goed uit met het garen, zelfs al is de 2e muts een grotere maat. De blauwe is geschikt voor hoofdmaat 55cm (ongeveer), en de rode muts voor hoofdmaat 60cm. 
Het patroon is zo goed als af en zal ik volgende week donderdag met jullie delen! Inclusief kleurenschema om het zo duidelijk en compact mogelijk te houden.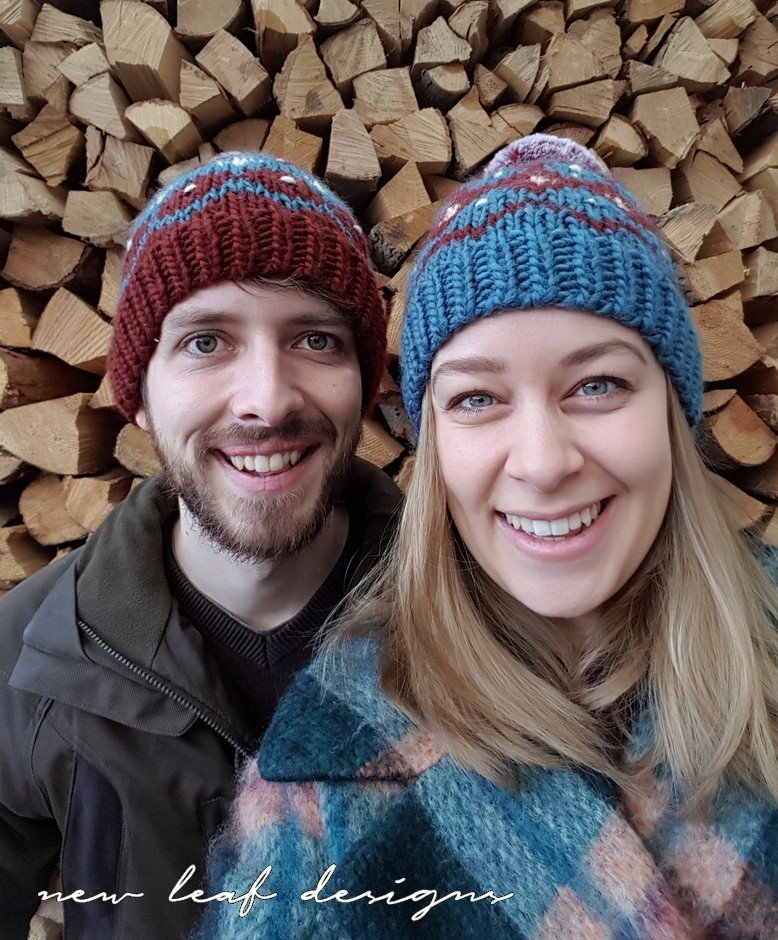 This past weekend I've taken some pics with my boyfriend, aren't these hats cute? You can be matchy-matchy with your significant other and the reversed colours make it easy to know which hat is yours.
Afgelopen weekend heb ik samen met mijn vriend foto's gemaakt van onze mutsen, zijn ze niet leuk? Zo ben je heerlijk matchy-matchy terwijl je toch met 1 blik gelijk weet welke muts van jou is.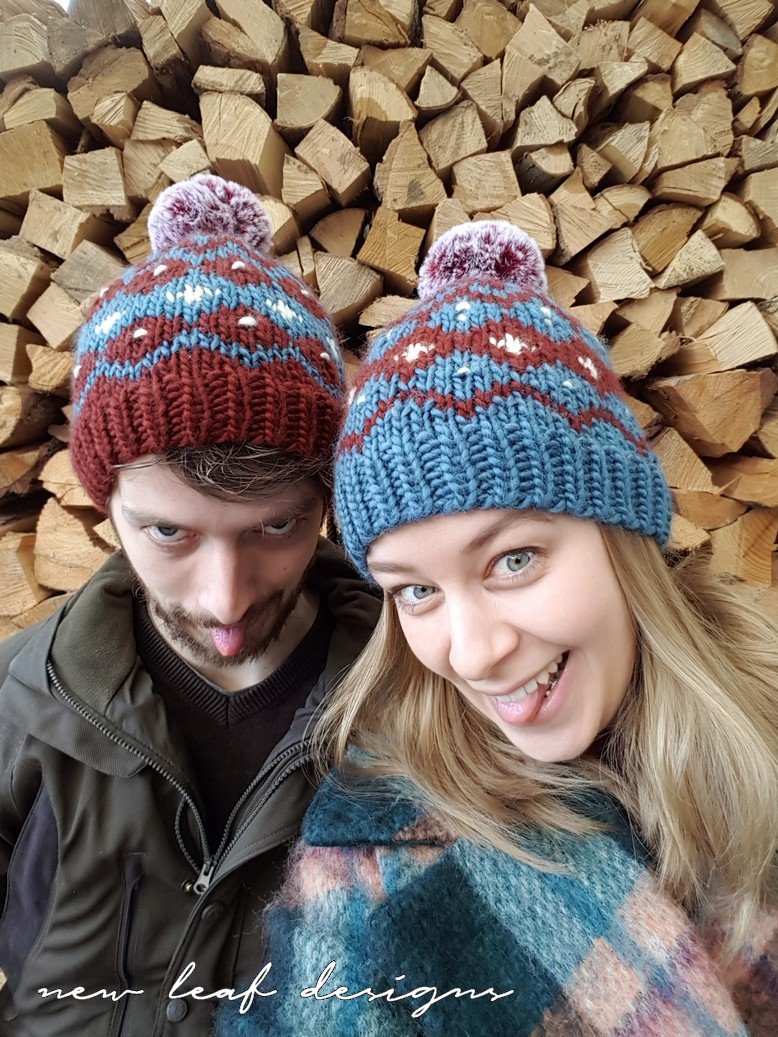 Of course we couldn't take ourselves too seriously, haha! And how about those pompoms? I love them, it's like they were meant to be paired with this Scheepjes Namaste yarn. Small piece of advice: I haven't sewn the pompoms on, but I've attached them with a thread and simply knotted that at the inside of the hat. This way the pompom is easily removable for washing or for those who don't like pompoms on their hats every day.
Natuurlijk konden we het niet helemaal serieus nemen, haha! En staan de pompoms niet perfect erbij? Net alsof ze voor dit garen gemaakt zijn. Tip: Ik heb de pompoms vastgemaakt met een touwtje maar heb deze aan de binnenkant van de muts niet vastgenaaid, maar ik heb er gewoon een knoopje in gedaan. Zo kun je de pompoms gemakkelijk van de muts afhalen als je even geen pompom wilt, of als je de muts wilt wassen. 
Pattern / Patroon
The pattern will be on my blog next week, February 28th. If you're subscribed to my blog via either WordPress or Bloglovin, you'll receive an automatic update in your email inbox.
Het patroon komt volgende week, 28 Februari, op mijn blog te staan. Als je geabonneerd bent op mijn blog via WordPress of Bloglovin dan krijg je hier automatisch een emailtje over.
Where to get the yarn / Verkooppunten van dit garen
Would you like to get your hands on Scheepjes Namaste as well? Please find your local Scheepjes retailers here or check out the affiliate links below.
Wil jij ook Scheepjes Namaste uitproberen? Bekijk dan deze pagina voor Scheepjes winkels bij jou in de buurt of shop via de onderstaande affiliate links.
Wool Warehouse (UK, ships worldwide)
Caro's Atelier (Benelux)
Support me by sharing with friends!