Hooray, it's my turn in the Scheepjes YARN blog hop! I love blog hops, don't you? The Scheepjes YARN blog hop features one designer from the bookazine each day, and it's been really fun so far hopping to all of the blogs and reading the designer's thoughts on their own design. For example, I loved reading Miss Neriss' post where she showed us what the Frida Shawl originally looked like! And did you read the Joya dress story on The Little Bee? Oh my oh my, I sure hope I never experience that or my head would explode!
Yesterday it was Ana's turn to talk about her amazing Eva Sweater – you know, the beautiful petrol blue crochet sweater! I love the image of the sweater styled over a floral skirt, it's totally how I would wear it. But then again, I wear everything with florals, haha.
As you may know, I have 2 designs in this issue of YARN: the Sleeping Reindeer and the Winterberry Socks. And I have to say, I'm blown away by the amazing response you have given these two designs! Every time I have a design in YARN it already is so, so exciting because of the beautiful photography, and then seeing you guys all being super enthusiastic about them is the icing on the cake!
The little reindeer has been especially popular, and I'm so pleased! Have you seen the cute versions my pattern testers Linda, Carna and Joke have made? Check out their reindeers HERE on Ravelry, and add your own project page if you plan to make it! It's a very quick make and I've included elaborate instructions on embroidery. Face embroidery is very important to get right because it determines the whole look of the project; the extra instructions mean you don't need to worry!
J
Also… did you know the original reindeer had a brown nose and a different ribbon? During the design process I had a chat with Scheepjes' creative team and we decided to make it even more christmassy with a red nose and matching ribbon! Which colours would you pick for your reindeer?
For the Sleeping Reindeer, you will need:
Scheepjes Catona (100% cotton) in 5 colours
404 English Tea 1x 50gr ball – beige colour for the body
503 Hazelnut 1x 25gr ball – light brown for the head and ears
413 Cherry 1x 25gr ball – fuchsia pink for the body and nose
391 Deep Ocean Green 1x 25gr ball – bluegreen for the body
162 Black Coffee 1x 25gr ball – dark brown colour for the feet and antlers
40cm folk-style ribbon art.nr. 0897 (the one with the hearts), available via Scheepjes Stockists
2.5mm crochet hook
For information on retailers please check the very end of this blogpost, thank you!
And then of course… the Winterberry Socks! I can't help but feel so proud of this design. It's one of those things where the pieces just fell into place. I was just getting into colourwork at the time, with my Striped and Stranded Socks just being published. I love combining the colourwork technique with variegated or selfstriping yarns, it gives such a nice effect! Another reason to love the Scheepjes Our Tribe yarns! And other than that, colourwork is so addictive to knit so these socks just flew off the needles. I especially love the corrugated rib – two toned rib edging – on the socks.
Do keep in mind that colourwork socks are way less stretchy than regular socks, so you'll have to use a bigger needle and more stitches in order for the socks to fit. Don't worry though as all of this information is included in the YARN bookazine!
There was a slight printing error in the pattern though, which can always happen but is still a little frustrating 😉 In the bookazine, the 3rd column from the right was coloured entirely red by mistake. This actually also gives a really nice colourwork effect, but it's just a little bit different from the original design. This way you can choose which one you like best!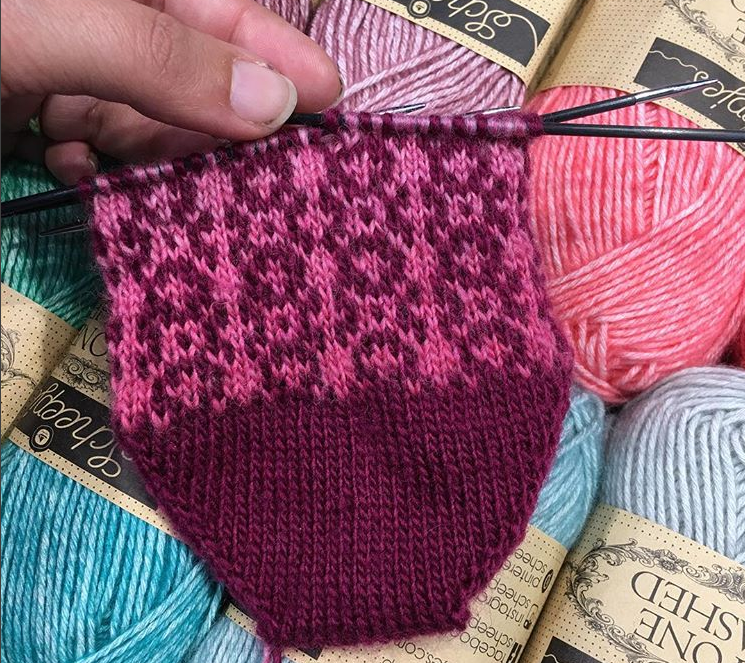 Lili from the Sticks & Cups yarnstore in Utrecht was very quick to cast on and has followed the colour chart from the bookazine, which actually produces a very nice pattern as well! Click on the picture to visit Lili's Instagram page.
For the Winterberry Socks you'll need 2 balls of Scheepjes Our Tribe yarn (70% superwash merino, 30% polyamide). I used 968 Happy in Red and 970 Cypress Textiles for my version, and Lili is using a solid Our Tribe (Raspberry Radiance) together with a variegated Our Tribe (I'm guessing the new one- Heart). So so pretty!!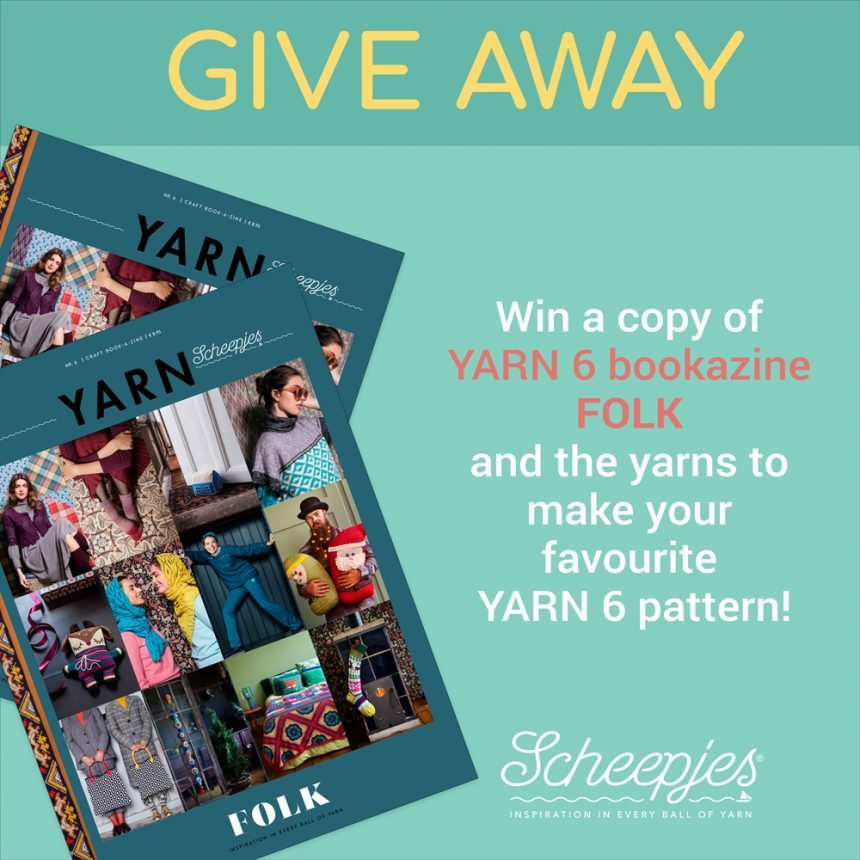 Did you know you can WIN a copy of this bookazine, PLUS all the yarn you need for your favourite project? Amazing right!? What you need to do, is follow along the bloghop. Each blogger has included a secret symbol (letter, number or otherwise) in their post, and it's up to you to find it and put them all in the correct order! Have you found the secret sentence? Then go ahead and visit this Facebook post by Scheepjes and comment with the secret sentence. The winner will be chosen amongst those who have the correct answer, on November 12th!
The giveaway is open worldwide and will run until November 11th, so make sure to get your answers in that day!
Tomorrow, you can hop along over to Susan Walsh' website Peppergoose, where she will talk about her Olga Cardigan design! Oh, I have to admit I gasped audibly when I saw this cardigan for the first time, it is STUNNING! I'm planning to make one because it would suit so many things in my wardrobe. And look at that crochet edging on the sleeves… such detail, I'm going to be having so much fun making this!
What is your favourite project from the book? Please let me know in the comments! I've linked the previous blog hop posts below so you can have a look at the other bloggers' posts if you haven't read them yet. They are so fun to read, so be sure to have a look.
Previous Blog Hop Posts:
Kirsten – Haakmaarraak
Nerissa – Miss Neriss
Jellina – Jellina-Creations
Maria – Fifty Shades of 4Ply
Tatiana – Lilla Björn Crochet
Alia – The Little Bee
Esther – It's All in a Nutshell
Tammy – Canadutch
Dedri – Look at what I made
Ana – Ana D 
Where to get the bookazine and the yarn?
Find your local Scheepjes retailer HERE. If you don't have a Scheepjes retailer near you, you can also shop online! Please consider to shop via the affiliate links below. It doesn't cost you anything extra, but the shopkeeper will reward me with a small percentage of your purchase if you do choose to shop via these links. All purchases are very much appreciated! These links will take you straight to the Scheepjes bookazines page. Some stores may not have the FOLK issue in stock at the moment as it's super popular, in that case just wait a few days and try again:
Wool Warehouse (Ships worldwide from UK) – back in stock!
Habbedash (Ships worldwide) – in stock at moment of writing!
Caro's Atelier (NL/BE) – in stock at moment of writing!
Support me by sharing with friends!