Chevron Boulevard Shawl – pattern coming this week!
Happy Tuesday everyone, have I got news for you! The copyright for the Chevron Boulevard Shawl has been returned to me, so now I can publish it in my own pattern stores! Previously it was available in the crochet magazine Inside Crochet, Issue 128. This magazine tends to be a bit difficult to get outside of the UK unless you get a subscription directly from them, so I know many of you will be pleased to know the Chevron Boulevard Shawl pattern will also be available as a PDF download from my own pattern stores.
When can I buy the pattern?
The crochet pattern will be published this Thursday, January 21st!
Okay, and where?
In my pattern store right here on my website.
And also in my Ravelry store right here.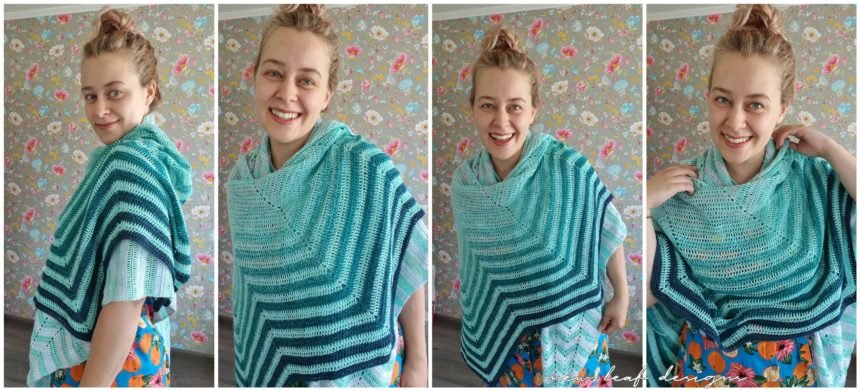 In what languages will it be available?
The Chevron Boulevard Shawl pattern will be available in English, both UK and US terminology, and also in Dutch.
What skill level is advised?
For this pattern I recommend having a little bit of crochet experience. The pattern itself is quite easy, it's basically just trebles (UK)/double crochet (US). The reason why I recommend having experience is because the yarn is quite thin, and I know this may be a bit difficult if you've never crocheted before.
What yarn is used for this shawl?
The yarn I used is Scheepjes Whirl (the gradient yarncake) and Scheepjes Maxi Sugar Rush (a solid cotton yarn). Combining the two doesn't just create a lovely striped effect, but also adds a solid-and-sheer effect because the Maxi yarn is much thinner. Because we're using the same size hook throughout, that gives the thinner yarn a more translucent look.
1 x Scheepjes Whirl Sea Breeze Tease
4x Scheepjes Maxi Sugar Rush (50g)  in 385 Chrystalline OR 8x Scheepjes Maxi Sweet Treat (25g)
For other stockists and alternative colourways, check this blogpost.
Hook size
I made this shawl with hook size 3mm, you might need a different size to get the same gauge.
Gauge: 21 sts and 10.5 rows of trebles (UK)/double crochet (US) measure 10x10cm/4×4″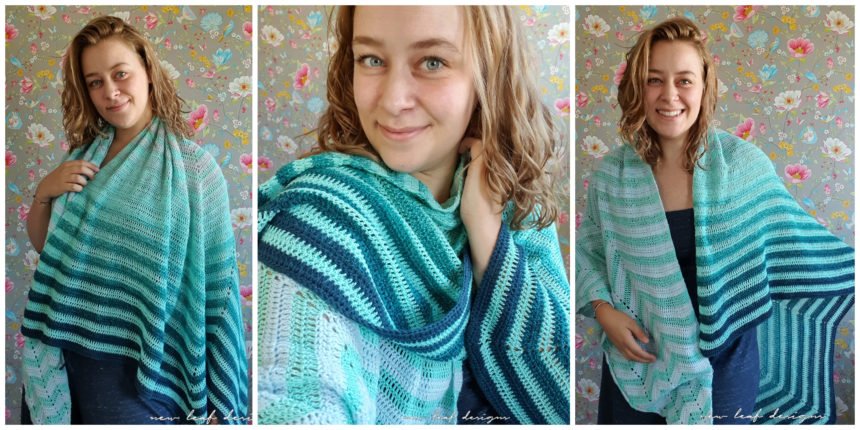 How do I wear this shawl?
This shawl has a pretty unusual shape, so you might wonder how to wear it. Personally I love it draped over my shoulders without wrapping it (see above photos left and right). This way it is pretty elegant and could be worn over a dress or jumpsuit at a party (if we ever get to go to parties again, right?)
The other way I love to wear it is to lay the thinner point over one shoulder, draping it across the back and over the other shoulder, and then wrapping the wider part over the first shoulder again. For reference see the set of four pictures just above the 'language' heading in this blogpost.
Are you excited for the pattern launch this Thursday? Be sure to subscribe to my newsletter or keep an eye on my pattern stores!
You might also like
Summer of Shawls – take a look at my most popular shawl patterns!
Support me by sharing with friends!