Summer is here, and this year I'm officially declaring it the 'Summer of Shawls'. Yep. I said it! I've started wearing shawls regularly for the past couple of years, and one thing I noticed, is that not many people wear shawls? I have even received messages of knitters and crocheters asking "but what do you DO with all those shawls?!" To which my response usually is "ehm… wear them?" Haha 🙂
I absolutely love shawls! They are entertaining to knit, really fun to design, and so versatile to wear. I tend to wear them instead of cardigans for just that layer of extra warmth.
This year, I've already published two shawl designs and there are two more in the works! I can't tell you any more about the upcoming ones, so for now I'll focus on the patterns I've already published – and have been so popular!
The Cosy Moments Shawl
If you missed this pattern being published, you might have been living under a rock! Haha 🙂 My Cosy Moments Shawl came out in February of this year, and Scheepjes hosted a Make-A-Long in their Facebook groups which was super fun. Thanks to the Make-A-Long, the Cosy Moments Shawl is my most popular pattern to date, and also the pattern with the most community makes on Ravelry!
Get the pattern HERE in my New Leaf Webshop, and HERE via Ravelry.
Find Scheepjes Whirl via Wool Warehouse (UK) and via Caro's Atelier (NL).
Scent of the Pine Shawl
The Scent of the Pine Shawl was released in April, shortly after the Cosy Moments MAL ended. I loved to see how many of you got 'hooked' on knitting lace, and knit the Scent of the Pine shawl after learning to knit lace with my Cosy Moments videos. I also recorded tutorial videos for this shawl, which are available on my Patreon page for a small subscription fee.
Find the pattern HERE in my New Leaf Webshop, and HERE via Ravelry.
One of the community makes that I absolutely MUST show you is this stunner by Suzanne who posted it in my Facebook group. She made the Scent of the Pine Shawl in Scheepjes Whirligig, and doesn't it just look gorgeous!! This colourway is called Plum to Ochre, and Suzanne has really made it shine. Thank you for sharing!
Get your Scheepjes Whirligig yarns via Wool Warehouse (UK) or via Caro's Atelier (NL).
Breezeblocks Shawl
The Breezeblocks Shawl was one of my first paid patterns, its third birthday is coming up in July! The Breezeblocks shawl is a crochet shawl that imitates the corner to corner stitch. The difference is, it's not corner to corner, but side to side! This works especially well for Scheepjes Whirl, as all of the colours in the cake are distributed evenly. Most shawls are designed in a halfround or triangular shape, which means you will see more of one colour than the other. The Breezeblocks shawl has a rectangular shape, so you don't have to worry about one colour being more dominant.
Find the pattern HERE in my New Leaf Webshop and HERE on Ravelry. Bonus: you get the winter version 'Freezeblocks' for FREE when you order the Breezeblocks pattern.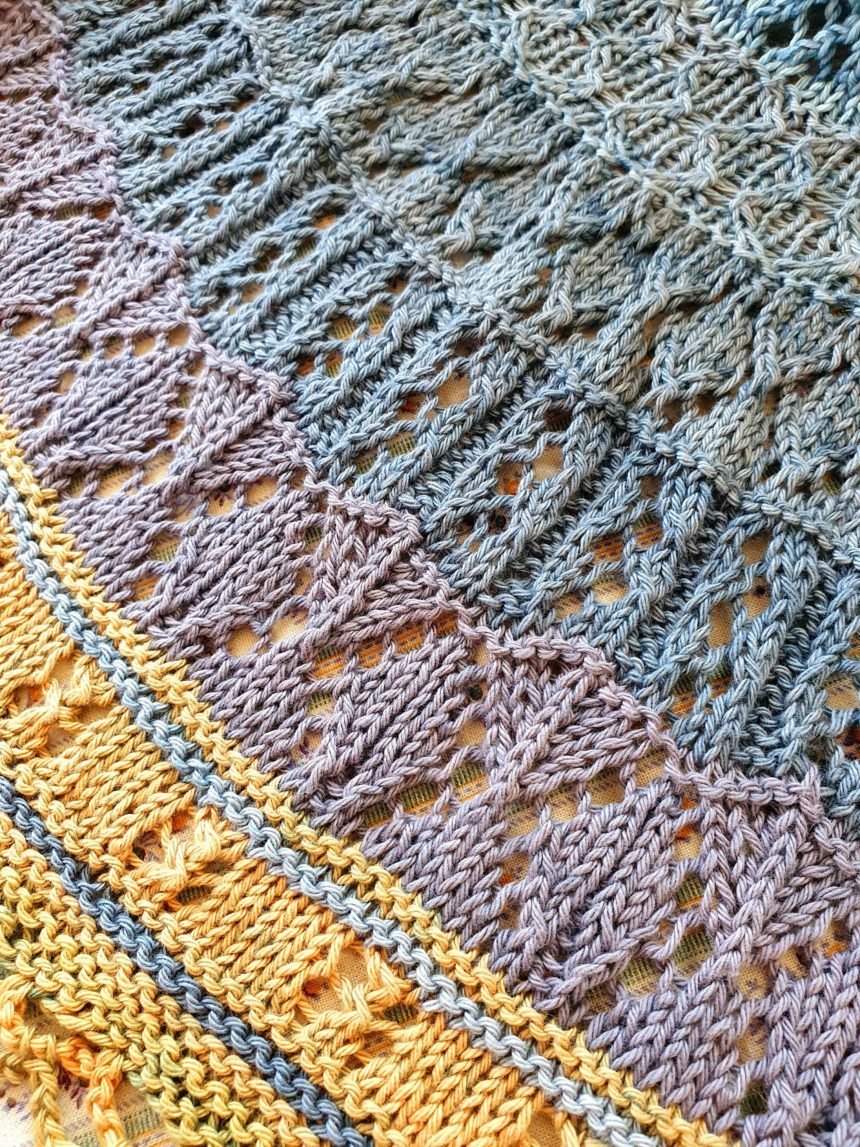 Ooh, and what's this? I have now added a 'Minis-version' to my Cosy Moments Shawl pattern! This one is designed specifically for the Scheepjes Skies mini skein set. You get both versions when you purchase the original PDF pattern.
Have you made any of my shawl patterns? I would LOVE if you would add your project to the Ravelry project page so others can see too. Thanks!
Talk soon,
x Carmen
Support me by sharing with friends!