Tijd voor deel 2 van de handgeverfde garen-serie! Bedankt voor alle leuke reacties op deel 1, wat fijn te horen dat er meer mensen zijn die de laatste tijd zo geïnteresseerd zijn in handgeverfde garens als ik. Ik heb zelf een theorie dat mensen de laatste tijd steeds vaker 'een stapje terug' naar het schaap willen gaan. Haken en breien is natuurlijk al een tijdje erg populair, maar tegenwoordig zie ik veel mensen zelf garens verven of zelfs spinnen. Wat denken jullie? Maar genoeg gekletst, op naar de ster van vandaag: Wol met Verve!
Thank you for the nice comments on my previous post! It seems a lot of people are interested in handdyed yarns, just like me. I have this theory that lately, people want to trace their yarn even further back to the source. Of course, knitting and crocheting has been popular for a while, but lately I see lots of people dyeing and even spinning their own yarns! Do you notice the same or is this just me? Anyway, let's get on to the star of today: Wol met Verve! Wol means 'wool', and Met Verve is a Dutch phrase actually, it means something like 'enthusiastic'. But 'verve' also means 'dye, paint', so there you have it 🙂 'Enthusiastic dyed wool'!
Wol met Verve heeft een uitgebreid assortiment. Ze hebben ook garens van Scheepjes, Opal, en Lang Yarns onder andere, maar wat wij vandaag het interessants vinden zijn natuurlijk hun zelfgeverfde garens!
Wol met Verve have quite a few yarns in stock, such as Scheepjes, Opal, Lang Yarns.. but of course we're interested in their handdyed selection today!
Wol met Verve zag ik volgens mij voor het eerst op de Brei- en Haakdagen van 2015 met hun eigen stand. Spikkelgarens waren toen net superpopulair geworden, mede door Westknits ontwerpen, en Wol met Verve had toen ook als een van de eersten spikkelgarens. Die 'speckled' reeks hebben ze nog steeds, onder de naam Confetti.
The first time I saw their yarn was at a craftfair in 2015, speckled yarn was very in vogue at the time, and still is a much loved dye technique I think! Their speckled range is called Confetti.
Er bestaan binnen hun assortiment twee verschillende 'gewichten' handgeverfde garens, namelijk kantgaren en sokkengaren. Daarbinnen bestaan er verschillende varianten, verschillende vezelsoorten voor het kantgaren en verschillende verftechnieken voor het sokkengaren.
They have two different weights of handdyed yarn: lace and sock/sport. Both weights have several variants, be it in fibre content or dyeing technique. Find the links below:
Prijsjes // Prices (100g)
WMV Handdyed Lace:
Mulberry Queen €19,95
Kidsilk Lace €19,95
Tibetan Lace €21,95
WMV Handdyed Sock/Sport:
Basic Sock Confetti €12,50
Basic Sock Multi Colour €10,50
Basic Sock Semi-Solid €9,95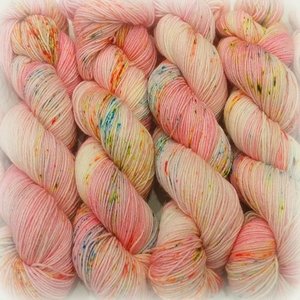 Andere leuke feitjes:
Wol met Verve heeft een eigen winkel in Zwartsluis (OV)! Vrijdag en Zaterdag geopend, plus op donderdagavond nog een brei-en haakcafé.
Ze geven hun garens leuke namen zoals 'Homer's Pink Donut'.
Wist je dat ze ook een Kwartaalselectie hebben? Dat is een verrassingspakket met minimaal 100 gram garen en een bijbehorend patroon. Kijk hier voor meer info.
Other facts:
They also have a brick and mortar shop in Zwartsluis (NL), opened Thursday evening, Friday and Saturday.
One of their yarns is called Homer's Pink Donut! Don't you just love that name?
Did you know they also have a mystery yarn club? It's available for subscription every 3 months, includes at least 100 grams of yarn and a pattern.
** Ze hebben nu in December een actie: binnen Nederland en België betaal je geen verzendkosten boven een bepaald bedrag.** Toen kon ik het natuurlijk niet laten.. Ik heb gisteren mijn garens al ontvangen, daar volgen binnenkort foto's van!
During the month of December they have free shipping for the Netherlands and Belgium if you order for a certain amount. Of course I coul'dn't resist! I received my yarns yesterday, will post pics soon!

Eén klein minpuntje wat ik wil noemen is dat de garens van dezelfde kleurstellingen onderling heel wat verschillen. Zo bestelde ik bijvoorbeeld de Violetta Confetti die op de foto overwegend paars is, maar de streng die ik ervan kreeg had veel zwart, geel en rood erin. Ook heel mooi, dat zeker, maar niet wat ik in eerste instantie verwachtte.
Natuurlijk is dit in het algemeen een moeilijk puntje bij het verkopen van handgeverfde garens, foto's kunnen afwijken van het eigenlijke garen wat je krijgt. Let daar dus op, als je op zoek bent naar een specifieke kleur is het raadzaam om even contact op te nemen met de verkoper.
One thing I do want to mention is that the yarns from the same colourways differ quite a bit from each other. The yarn I ordered was different from the yarn in the picture, but of course this is something to be expected when ordering handdyed yarn, so bear this in mind! If you need a specific colour, don't hesitate to contact the seller, this of course is not only applicable to WMV but all handdyed yarn sellers.
Daartegenover staan bij Wol met Verve dan weer de ontzettend zachte prijsjes, zoals je hierboven kunt zien zelfs vanaf €9,95! Zo goedkoop heb ik handgeverfd garen nog nooit gezien, en daarom is Wol Met Verve zeker het proberen waard.
A big plus at WMV is the prices! I've never seen handdyed yarn being sold this cheap: €9,95! Definitely worth trying out if you ask me.
Hebben jullie al eens met WMV gebreid of gehaakt?
Have you ever worked with WMV yarns?

Support me by sharing with friends!