Maak kennis met de Tetris Colsjaal! Een fijne gehaakte colsjaal, die je dus in het rond haakt. Supermakkelijk en snel te maken. Je haakt hem met één bol Scheepjes Stardust, daar zit namelijk meer dan 500 meter op! De subtiele glimmer in het garen voegt nét even dat extra's toe, zonder heel opvallend te zijn. Perfect voor de wintermaanden, om zelf te dragen of als cadeautje te geven. Heb je mijn review-vlog over het Stardust garen al gezien? Bekijk hem hier.
Meet the Tetris Cowl! A delicate crocheted cowl, which is made in the round. Super easy and fast to make! I used just one ball of Scheepjes Stardust, it has more than 500 meters on one ball so that's quite a lot. The subtle shimmer takes the cowl to the next level without being too overpowering. Really nice to wear in the wintermonths, or to give as a gift! Did you see my review on this yarn yet? Visit this page if you haven't.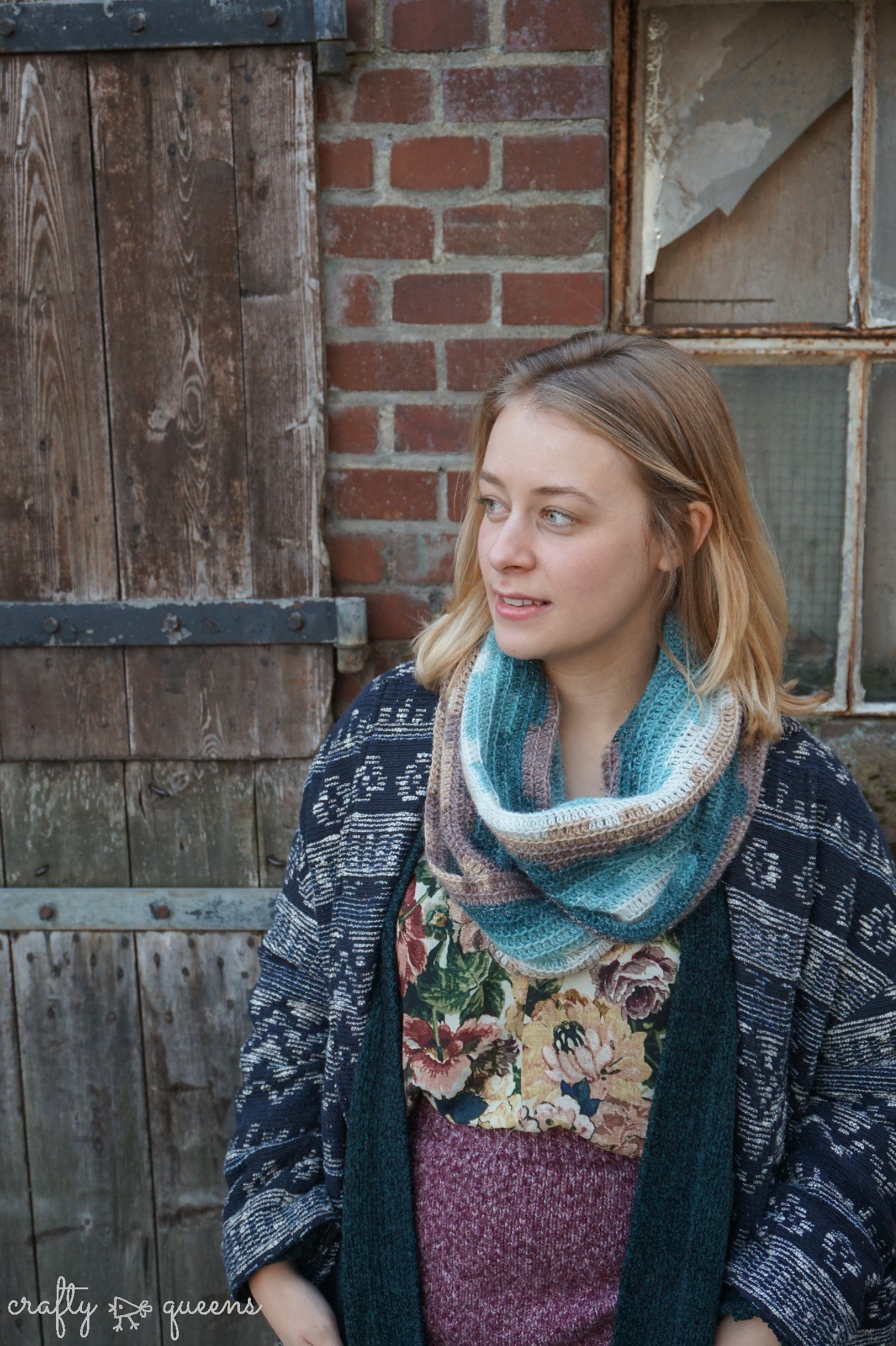 Benodigdheden:
1 bol Scheepjes Stardust – ik gebruikte de 662 Sagittarius kleurstelling
3,5 mm haaknaald
Schaar
Stopnaald
You'll need:
1 ball Scheepjes Stardust – I used 662 Sagittarius
3,5 mm crochet hook US E-4
Scissors
Darning needle
Retailers for this yarn – Verkooppunten voor dit garen
Als jouw lokale garenwinkel dit garen niet in het assortiment heeft, denk er dan alstublieft over na om mij te steunen het garen via een van de volgende links te kopen. Hiermee betaalt u zelf niets extra, maar de winkeleigenaar geeft mij een klein percentage van de aankoop in ruil voor de publiciteit.
If your local yarnstore doesn't carry this yarn, please consider to shop via the affiliate links below. Shopping via affiliate links does not cost you anything extra, but the shop gives me a small percentage of your purchase in return for the publicity.
Wool Warehouse (UK, ships worldwide)
Caro's Atelier (NL)
Het patroon // The pattern
Het patroon steekt als volgt in elkaar: je haakt een lange streng lossen, bevestigt begin en eind aan elkaar door middel van een halve vaste, en je haakt rondom stokjes. Vanaf de tweede toer, wanneer je dus niet meer in lossen haakt maar in stokjes, haak je alleen in de achterste lussen.
I'll walk you through the pattern first: You crochet a lot of chain stitches, join in the round with a slip stitch, then crochet double crochets (US ; that's trebles for UK) all around. From the second round, only crochet in the back loops.
Haak een groot aantal lossen, zodat de streng lossen dubbelgevouwen ongeveer 2x de breedte van je schouders is. Bij mij waren dat ongeveer 270 lossen. Let op: stekenaantal is niet belangrijk voor het patroon, je hoeft dus niet per se een rond getal te hebben!
Chain so many stitches that they, folded double, are about twice the width of your shoulders. I did about 270 stitches, but keep in mind that stitch count is not important here, you don't need a round number.
Zorg ervoor dat je lossen niet verdraaid zitten. Steek de haaknaald in de allereerste losse en maak een halve vaste.
Make sure your stitches aren't twisted, then join in the round with a slip stitch: place hook in very first chain stitch that you made, wrap yarn and pull through all loops. 
Toer 1: 2 lossen, 1 stokje in elk van de lossen, beginnend vanaf de 3e losse vanaf de naald. Op het eind haak je 1 halve vaste in de 2e losse van het begin van de toer.
Toer 2: 2 lossen, 1 stokje in elk van de lossen – maar ALLEEN in de achterste lussen! Op het eind haak je 1 halve vaste in de 2e losse van het begin van de toer.
Round 1: Chain 2, starting from 3rd chain from the hook, dc in every stitch around. Close round with a slip stitch in the top chain stitch.
Round 2: Chain 2, 1 dc in every dc – back loop ONLY. Close round with a slip stitch in the top chain stitch.
Herhaal Toer 2 totdat je garen op is. Als je het garen helemaal wilt benutten, weeg je het garen vóór en ná dat je een toer hebt gehaakt. Nu weet je hoeveel gram nodig is voor één toer, en kun je uitrekenen hoeveel je er nog kunt haken.
Repeat Round 2 until you run out of yarn. If you want to make the most of your yarn, weigh your yarn before and after crocheting 1 round. Now you know how many grams of yarn it takes to crochet 1 round, and you can calculate how many rounds you can make. 
Afwerking: werk de draadjes weg. De colsjaal hoeft niet geblockt te worden, maar kun je wel doen als je dit fijn vindt.
Finishing: Weave in all ends. The cowl doesn't need blocking, but I'm not stopping you!
Ik haakte mijn Tetris colsjaal met het verloopgaren van Stardust, maar er zijn ook effen varianten! Dan krijg je dus niet het blokjeseffect waar de Tetris col zijn naam aan dankt, maar hij wordt minstens zo leuk. Maak je er ook een? Deel hem dan op mijn Facebook pagina of Ravelry!
My cowl was made using the variegated Scheepjes Stardust, but there are also solid colours of this same yarn. You won't get the colour blocks effect where the Tetris cowl gets its name from, but it will be beautiful none the less! Are you making one? Please share on Facebook or Ravelry!
Want more of this in your mailbox? Subscribe to my blog via Bloglovin'!
Support me by sharing with friends!