Are you ready for a SUPER FUN free crochet pattern?! My newest design – the Chevrainbow Crochet Blanket, is wonderful mindless crochet and this easy blanket pattern uses all colours from the Scheepjes Stonewashed Colour Pack!  I normally only use a few colours for a project, so this was really out of my comfort zone! I hadn't expected to like the outcome this much, and I hope you will like it too!
Ben je klaar voor een SUPER LEUK en gratis haakpatroon? Mijn nieuwste ontwerp – de Chevrainbow Deken, is een heerlijk gedachteloos haakwerkje dat je lekker voor de tv kunt haken, en het gebruikt alle kleuren uit het Scheepjes Stonewashed Colour Pack wat het heel leuk maakt om te doen. Normaal gesproken gebruik ik slechts enkele kleuren voor een groot project, dus dit was echt uit mijn comfort zone! Ik had niet verwacht dat ik het resultaat zó leuk zou vinden, en ik hoop dat jullie hem ook mooi vinden!
If you'd like to support me as a designer, and you'd like a concise printable PDF with instructions on how to change the width of your blanket, please consider to purchase the PDF for this easy crochet blanket pattern at a low price.
Shop the PDF version here Purchase on Ravelry
Als je me graag steunt als een ontwerper, en het patroon graag zou willen uitprinten incl. instructies voor het smaller/breder maken van de deken, denk er dan over na om de betaalde PDF van dit patroon te kopen incl. alle informatie.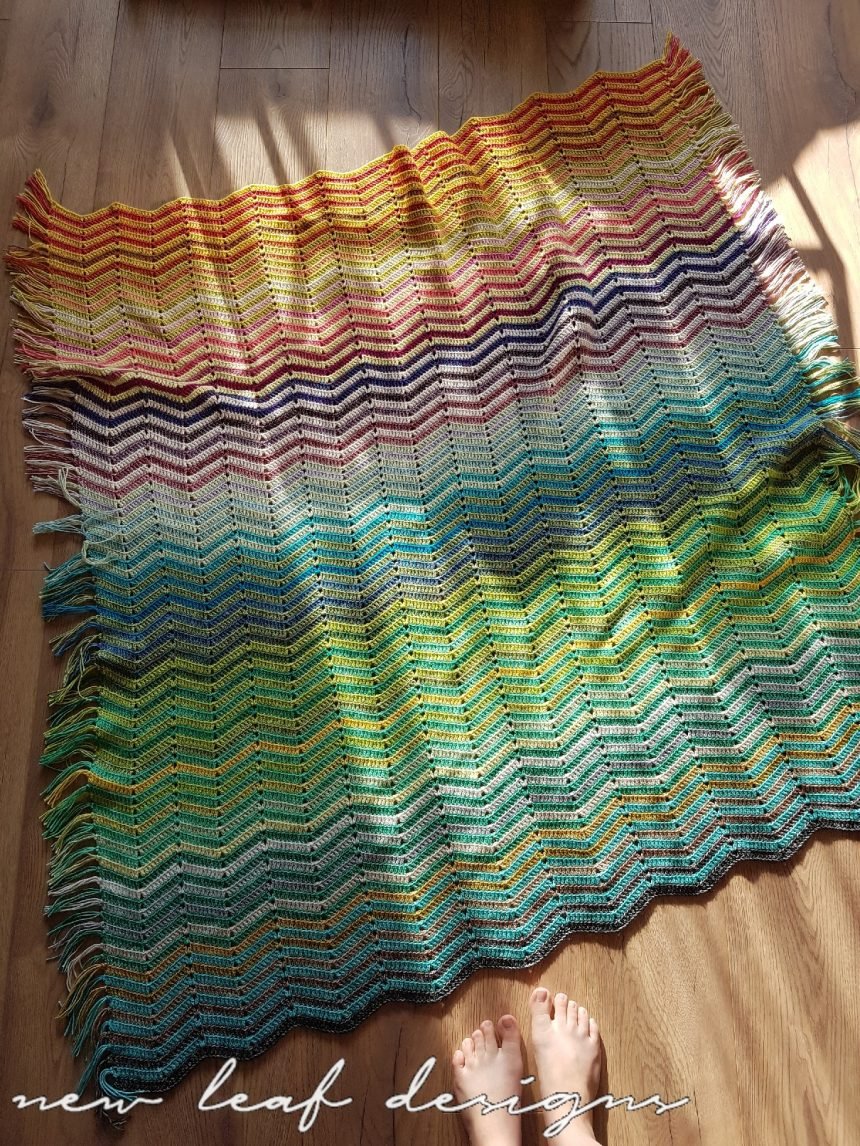 Used Abbreviations (US) – Gebruikte Afkortingen
CH – chain
CH-SP – chain space
DC – double crochet
BLO – back loop only
SK – skip
ST(S) – stitch(es)
Special stitch: Standing DC
Yarn round hook 2 times, insert hook in designated stitch and complete dc as usual: pull up loop, yarn round hook and through 2 loops, yarn round hook and through all loops. The extra yarnover made at the beginning will ensure that the standing dc looks the same as a regular dc.
L – losse
L-opening – lossen opening
ST – stokje
STK(N) – steek/steken
Speciale steek: staand stokje
Sla het garen twee keer rond de naald, steek haaknaald in de aangewezen steek en voltooi het stokje zoals normaal: haal een lus op, omslag en haal door 2 lussen, omslag en haal door alle lussen. De extra omslag van aan het begin zal ervoor zorgen dat het staand stokje eruitziet als een normaal stokje.
Get the yarn here –
Garen verkooppunten
Find Scheepjes stockists here. If there aren't any near you, please consider to shop via the below affiliate links (directly linked to the colour packs!). It does not cost you anything extra, but I will receive a small percentage of your order from the shopkeeper as a thank you. It is very much appreciated!
Bekijk deze pagina voor Scheepjes verkooppunten bij jou in de buurt. Zitten er geen bij jou in de buurt of shop je liever online? Ik zou het in dat geval erg op prijs stellen als je wellicht via een van de onderstaande webwinkels je garen kunt kopen, dat zijn namelijk affiliate links. Shoppen via affiliate links kost jou niks extra's (en ik heb al direct naar de goede pagina gelinkt voor de colour packs), en in ruil voor jouw aankoop krijg ik een kleine bijdrage van de winkel als een bedankje. 
Scheepjes Colour Packs:
Wool Warehouse (UK, ships worldwide)
Knotty House (Canada, ships to Canada and USA)
Caro's Atelier (NL)
Materials –
Materialen
FOR THE BLANKET WITH STONEWASHED/RIVERWASHED REGULAR
1x Stonewashed & Riverwashed Colour Pack
10x Stonewashed Regular (130m/50g, 78% cotton, 22% acrylic) 50g, 1 ball in each of the following colours (and also in order of usage)
815 Green Agate
825 Malachite
826 Fosterite
827 Peridot
806 Canada Jade
819 New Jade
801 Moon Stone
817 Citrine
812 Lemon Quartz
833 Beryl
4mm crochet hook (US size G) / 4mm haaknaald
FOR THE BLANKET WITH STONEWASHED/RIVERWASHED XL
1x Scheepjes Stonewashed & Riverwashed XL Colour Pack
17x Scheepjes Riverwashed XL (75m/50g, 70% cotton, 30% acrylic) 50g balls (also in order of usage):
1 ball of 989 Yarra
1 ball of 982 Steenbras
1 ball of 975 Eisack
1 ball of 974 Avon
1 ball of 986 Mississippi
1 ball of 984 Nile
1 ball of 979 Mersey
1 ball of 978 Murray
1 ball of 977 Ural
1 ball of 980 Narmada
1 ball of 991 Amazon
1 ball of 973 Po
1 ball of 976 Tiber
1 ball of 981 Colorado
1 ball of 990 Wheaton
1 ball of 992 Rhine
1 ball of 988 Danube
Recommended needle size:
5mm crochet hook (US size H) / 5mm haaknaald
Finished Dimensions –
Afmetingen
The finished blanket (regular) measures 135cm x 113cm excluding fringe.
XL version dimensions are 163x118cm excl. fringe
De deken (regular) wordt 135 cm lang x 113 cm breed, dit is exclusief de franje.
De XL deken is 163cm lang x 118 cm breed zonder de franje.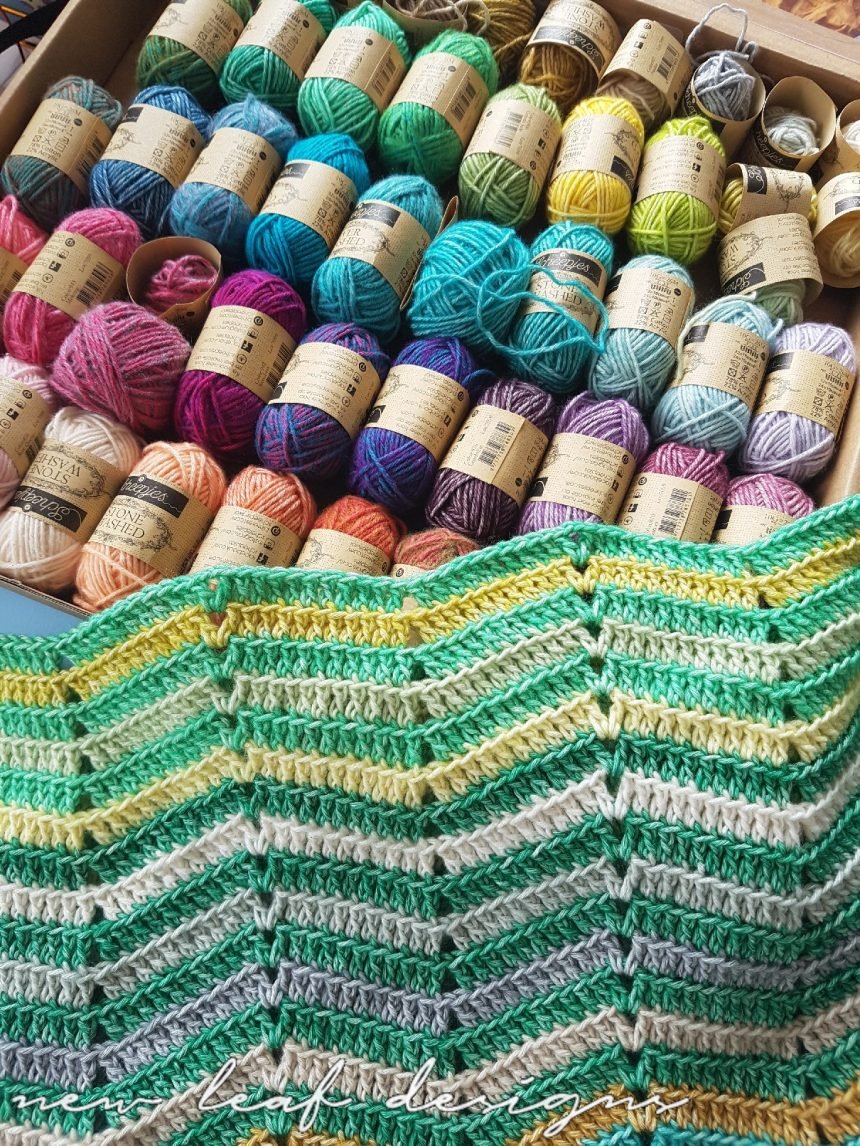 Notes – Opmerkingen
This easy crochet blanket is made in rows, alternating the 50 gram balls of Stonewashed and the 10 gram (regular) or 15 gram (XL) balls from the Stonewashed & Riverwashed Colour Pack. The 10-15 gram balls from the Colour Pack (Contrast Colours – CC) are each used for one row only! The 50 gram balls (Main Colours – MC) will each be used for 5 rows (regular) or 3 rows (XL). You start off with using a 10-15 gram ball from the Colour Pack (see the exact order of use below, numbered 1-50). To give you an idea:
CC1 – MC1 – CC2 – MC1 – CC3 – MC1 – CC4 – MC1- CC5 – MC1 – CC6 – MC2– CC7 – MC2- etc..
Note that the Main Colour (50 gram balls) only switch to the next colour after the previous colour being used 5 times, while the Contrast Colour (1o gram balls) change every CC row.
For the XL blanket, the Main Colour will change after only being used 3 times. For the XL blanket you have to start with a Main Colour in order to make the most out of your yarn.
Bij dit patroon gebruik je afwisselend de 50gram bollen van Stonewashed en de 10gram(regular) of 15 gram (XL) bolletjes uit het Stonewashed  & Riverwashed Colour Pack. Je gebruikt de bolletjes uit het Colour Pack (Contrast Kleuren – CK) elk maar voor één rij. De 50 gram bollen (Hoofdkleuren – HK) worden gebruikt voor 5 rijen (regular) of 3 rijen (XL). Je begint met een bolletje van het Colour Pack (exacte volgorde hieronder in de tabel te vinden). Om je een idee te geven:
CK1 – HK1 – CK2 – HK1 – CK3 – HK1 – CK4 – HK1 – CK5 – HK1- CK6 – HK2 – CK7 – HK2 – enz..
De Hoofdkleur wisselt dus pas nadat de vorige Hoofdkleur 5 keer is gebruikt, terwijl de Contrast Kleur elke rij anders is.
Voor de XL deken wisselt de Hoofdkleur al na 3 keer gebruikt te zijn, je hebt niet genoeg garen voor een 4e en 5e rij. Begin voor de XL deken met een Hoofdkleur om zoveel mogelijk garen te gebruiken.
Order of use of Main Colour 50g balls / Volgorde van de 50 gram bollen:
REGULAR
1- 815 Green Agate
2- 825 Malachite
3- 826 Fosterite
4- 827 Peridot
5- 806 Canada Jade
6- 819 New Jade
7- 801 Moon Stone
8- 817 Citrine
9- 812 Lemon Quartz
10- 833 Beryl
XL
1- 989 Yarra
2- 982 Steenbras
3- 975 Eisack
4- 974 Avon
5- 986 Mississippi
6- 984 Nile
7- 979 Mersey
8- 978 Murray
9- 977 Ural
10- 980 Narmada
11- 991 Amazon
12- 973 Po
13- 976 Tiber
14- 981 Colorado
15- 990 Wheaton
16- 992 Rhine
17- 988 Danube
Order of use of Colour Pack 10g/15g balls / Volgorde van de 10/15 gram bolletjes uit het Colour Pack:
| | | | |
| --- | --- | --- | --- |
| 1 | 803 Black Onyx | 26 | 824 Turquoise |
| 2 | 829 Obsidian | 27 | 815 Green Agate |
| 3 | 822 Brown Agate | 28 | 828 Larimar |
| 4 | 804 Boulder Opal | 29 | 813 Amazonite |
| 5 | 832 Enstatite | 30 | 818 Lilac Quartz |
| 6 | 809 Yellow Jasper | 31 | 808 Conundrum Ruby |
| 7 | 831 Axinite | 32 | 810 Garnet |
| 8 | 802 Smokey Quartz | 33 | 811 Deep Amethyst |
| 9 | 814 Crystal Quartz | 34 | 830 Lepidolite |
| 10 | 801 Moon Stone | 35 | 949 Yarra |
| 11 | 817 Citrine | 36 | 941 Colorado |
| 12 | 819 New Jade | 37 | 942 Steenbras |
| 13 | 812 Lemon Quartz | 38 | 945 Ganges |
| 14 | 827 Peridot | 39 | 943 Mekong |
| 15 | 833 Beryl | 40 | 835 Rhodochrosite |
| 16 | 806 Canada Jade | 41 | 836 Tourmaline |
| 17 | 954 Congo | 42 | 820 Rose Quartz |
| 18 | 826 Fosterite | 43 | 821 Pink Quartzite |
| 19 | 825 Malachite | 44 | 834 Morganite |
| 20 | 951 Amazon | 45 | 816 Coral |
| 21 | 953 Severn | 46 | 944 Nile |
| 22 | 805 Blue Apatite | 47 | 947 Seine |
| 23 | 950 Wheaton | 48 | 946 Mississippi |
| 24 | 948 Danube | 49 | 823 Carnelian |
| 25 | 952 Rhine | 50 | 807 Red Jasper |

Pattern –
Patroon
For the original version: Ch 240 sts + 3 turning chain sts. These 3 turning chains count as the first dc.
For the XL version: Ch 192 sts + 3 turning chain sts. These 3 turning chains count as the first dc.
Row 1. From 4th ch from the hook: 11dc, *sk 2 ch sts, 11dc, ch2, 11dc. Crochet from * 9 times in total. Then: sk 2 ch sts, 10dc, 2dc in last ch st.
DO NOT TURN WORK. Cut yarn leaving a 15cm tail and start the next row right at the beginning of the previous row. From here on out all dc's are worked ONLY in the BACK loop (BLO – back loop only)!
Row 2. Attach yarn in first dc of previous row with a standing dc blo, 1dc blo in same st, *10dc blo, sk 2 sts, 10 dc blo, (1dc, ch2, 1dc) into ch-sp, crochet from * 9 times in total, then: 10dc blo, sk 2 sts, 10 dc blo, 2dc blo in next st.
Repeat Row 2 making sure to follow the above mentioned colour orders.
Voor de originele versie: Haak 240 lossen +3 keerlossen. Deze 3 keerlossen tellen als een stokje.
Voor de XL versie: Haak 192 lossen + 3 keerlossen. Deze 3 keerlossen tellen als een stokje.
Rij 1. Vanaf de 4e losse van de naald: 11st, *sla 2 stkn over, 11st, 2l, 11st. Haak vanaf * in totaal 9 keer. Dan: sla 2 stkn over, 10st, 2st in de laatste stk. 
KEER JE WERK NIET. Knip het garen af op ongeveer 15cm en begin de volgende rij direct op het begin van de vorige rij. Vanaf hier worden alle stokjes ALLEEN in de achterste lussen gehaakt!
Rij 2. Haak een staand stokje in de eerste stk van de vorige rij, 1st in dezelfde stk, (10st, sla 2 stkn over, 10st, (1st, 2l, 1st) in de l-opening, haak vanaf * in totaal 9 keer, dan: 10st, sla 2 stkn over, 10st, 2st in de volgende stk. 
Herhaal Rij 2, let goed op de volgorde van de kleuren die hierboven genoemd zijn.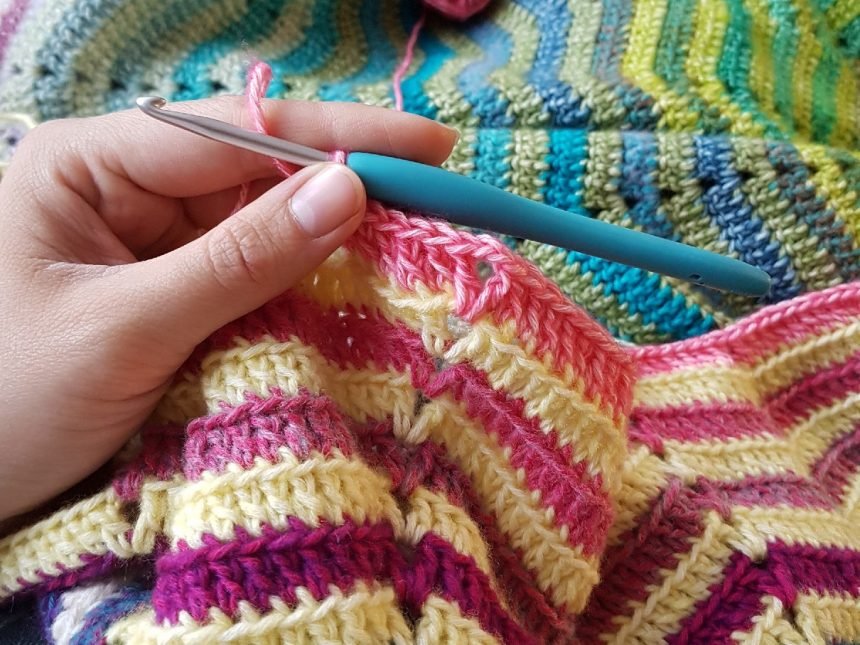 Finishing – Afwerking
You'll have just a little bit left of each colour after crocheting the blanket. Use these scraps for fringes along the edge. To do this, cut of 2 pieces of 30cm long yarn, fold it in half and pull it halfway through the edge of the blanket with a crochet hook (you may want to use a bigger hook). Then pull the strands through the loop you just created. Please view the tutorial for this in the video below.
Na het haken van de deken heb je nog maar een beetje over van elke kleur. Deze restjes ga je gebruiken voor de franje aan de zijkanten van de deken, waarmee je ook de eindjes weg kan werken. Om de franje te maken knip je 2 stukken garen af van 30cm elk, deze vouw je dubbel. Steek een haaknaald (misschien een grotere maat) door de zijkant van de deken en haal de franje erdoorheen zodat je een lusje hebt. Haal de draadeindjes van de franje door dit lusje en trek strak. Bekijk hiervoor ook de tutorial in het filmpje hieronder.
Be sure to share your Chevrainbow blankets on social media by tagging them with #chevrainbowblanket and #newleafdesigns. Thank you! Did you like this pattern? Be sure to check out my other free patterns right HERE.
This pattern is designed by me – Carmen Jorissen. The yarn was lovingly provided by Scheepjes, a Dutch yarn company. Copyright of this pattern is protected by Scheepjes, please do not share any printed copies of this pattern but link to this blogpost instead, thank you very much!
Tag jouw Chevrainbow deken op social media met #chevrainbowblanket en #newleafdesigns, bedankt! Wil je graag meer gratis patronen zien? Bekijk mijn andere gratis haak- en breipatronen HIER. 
Dit patroon is ontworpen door mij – Carmen Jorissen. Het garen ervoor was liefdevol gesponsord door Scheepjes, een Nederlandse garenfabrikant. Copyright van dit patroon wordt beschermd door Scheepjes. Verspreid alsjeblieft geen geprinte kopietjes van dit patroon, maar link in plaats daarvan naar deze blogpagina. Dankjewel!
Shop more patterns here Shop andere patronen hier
You might also like
Learn to knit beautiful Colourwork!
Support me by sharing with friends!