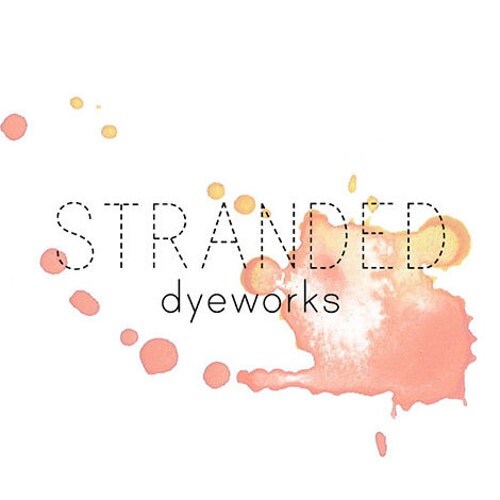 Ontmoet de indie dyer van vandaag: Amy Green van Stranded Dyeworks. Ook wel bekend als @amyflorence op Instagram, en van de Stranded Dyeworks Podcast op Youtube, mocht je haar daar volgen. Ik kwam achter haar winkel via een vriendin van mij, en ze heeft zo'n mooie garens dat ik die natuurlijk graag deel in deze blogserie. 
Meet the indie dyer of today: Amy Green from Stranded Dyeworks. Also known as @amyflorence on Instagram, and from the Stranded Dyeworks Podcast on Youtube. I found out about her via a friend of mine who lives in the UK, and her yarns are just so fabulous I couldn't wait to share them here!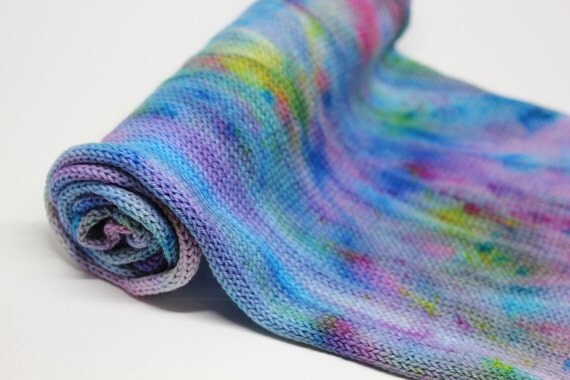 Ze heeft een heel aantal garensoorten om uit te kiezen, zoals enkeldraads garen, garen met kasjmier erin en zelfs de zogeheten 'sock blanks'. Daarvan zie je een voorbeeld op de foto hierboven. Het is een machinegebreide lap, die daarna is geverfd. De verftechnieken die je dan kunt toepassen zijn heel anders dan de verftechnieken die je kunt toepassen als het garen nog in een streng is gewikkeld. Denk aan leuke streepeffecten of ombré garen… Het is in ieder geval een hele verrassing hoe je uiteindelijke werkje (meestal sokken, vandaar sock blank) eruit komt te zien!
She has quite a lot of yarn bases to choose from, like single spun yarn, yarn with cashmere in it, and even sock blanks! You can see an example of a sock blank on the picture above. It is a machine knitted rectangle, which is dyed afterwards. There are a lot of dyeing techniques which can be used on sock blanks, but not on skeined yarn! It's always a surprise how your project is going to look like, it seems like a lot of fun knitting with these. 
Hieronder zijn details van sommige van haar garens te vinden. Bij al het merino garen in deze winkel gaat het trouwens om superwash merino, dat betekent dat je dit garen in de wasmachine kunt wassen. Een andere bijkomstigheid van superwash is dat het garen wat meer uitrekt. Pas hier dus op als je iets breit/haakt waar de maat belangrijk is.
You can find the details on some of her yarns below, including links to the yarns. All of the merino used in these yarns is superwash merino, which means that you can wash this yarn in the washing machine. Another peculiar thing about superwash yarns is that they tend to stretch more, so keep this in mind when choosing your project. 
Solo Singles – 100% merino – €19,25
Castaway DK – 100% merino – €19,25
Paradise MCN – 80% merino, 10% nylon, 10% cashmere – €21,65
Plateau Sock Blank – 75% merino, 25% nylon – €21,65
Ik hoop dat je net zoveel plezier hebt als ik toen ik in haar shop aan het neuzen was, er zitten zo'n pareltjes tussen! Koop jij wel eens garen uit het buitenland? Spelen de verzendkosten daarbij een grote rol? Gewoon nieuwsgierig 🙂 Gelukkig kost het bij deze winkel maar rond de €5 voor verzending naar Nederland!
I hope you had as much fun as I did when I was browsing her shop, there are so many pretties in there! Do you ever buy yarn from abroad? When you do, do shipping costs matter a lot? Just curious 🙂 
Support me by sharing with friends!