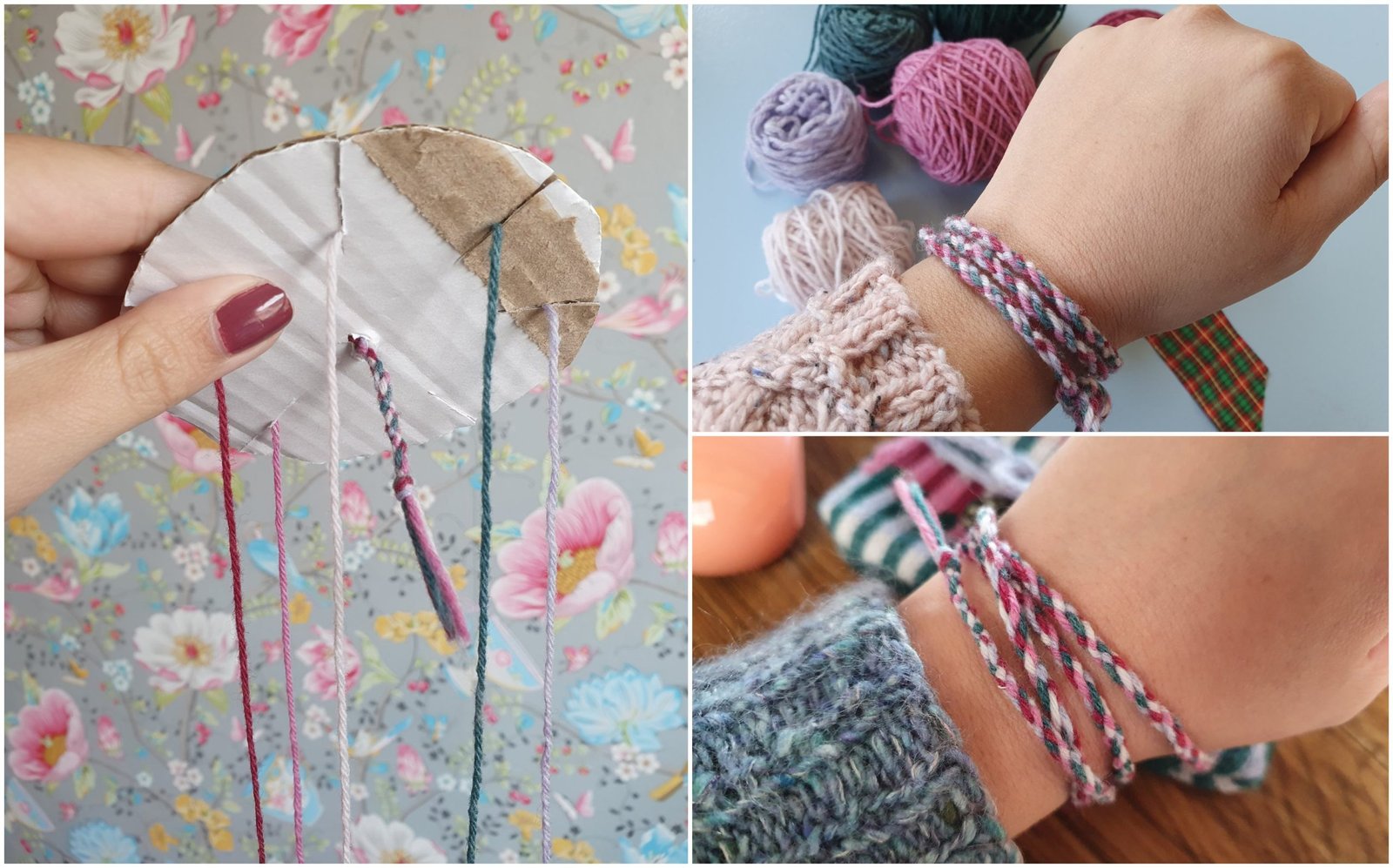 Kumihimo braiding
Have you ever heard of Kumihimo braiding? It's a Japanese craft where you braid cords or strands of yarn by putting each strand over the other, via a cardboard or foam disc. There are many different braiding patterns out there, some are very elaborate with lots of colours and even beads strung to the yarns. This five strand braid is super easy to do, perfect to try with kids too. You have specific Kumihimo discs, but for this braid you can just use a cardboard circle. I used five colours of Scheepjes Metropolis, about 1 meter each which will give you a long wrap-around bracelet. If you just want to try it, you can use shorter threads too. I've prepared a tutorial video right here, so you can give it a go!
Heb je ooit gehoord van Kumihimo vlechten? Het is een Japanse vlechttechniek waarbij je draden over elkaar heen brengt met behulp van een schijf van foam of karton. Er zijn heel veel verschillende vlechtpatronen, sommige heel uitgebreid en je hebt er zelfs met kralen aan de draden. Deze vlecht met vijf draden is super gemakkelijk om te doen en kun je ook prima met kinderen doen. Er bestaan speciale Kumihimo schijven, maar voor deze simpele vlecht kun je net zo makkelijk een kartonnen schijf nemen. Ik gebruikte vijf kleuren van Scheepjes Metropolis, elke draad ongeveer een meter lang. Hiermee krijg je een lange armband die je een aantal keren om je pols kunt wikkelen. Als je het gewoon even wilt uitproberen kun je natuurlijk ook kortere draden nemen. Hier vind je mijn Nederlandse instructievideo zodat je het kunt proberen!
Try it with different yarns too! Here's my current braid with Scheepjes Chunky Monkey, and it makes for a much thicker and sturdier cord. Have fun with it 🙂
Want to share what you're working on right now? Come and join my Facebook group!
Probeer het ook met andere garens! Hier is mijn huidige vlechtprojectje met Scheepjes Chunky Monkey, en het koord wordt hiermee veel dikker en steviger. Veel plezier ermee 🙂
Wil je delen waar je mee bezig bent? Wordt dan gezellig lid van mijn Facebookgroep!
Support me by sharing with friends!