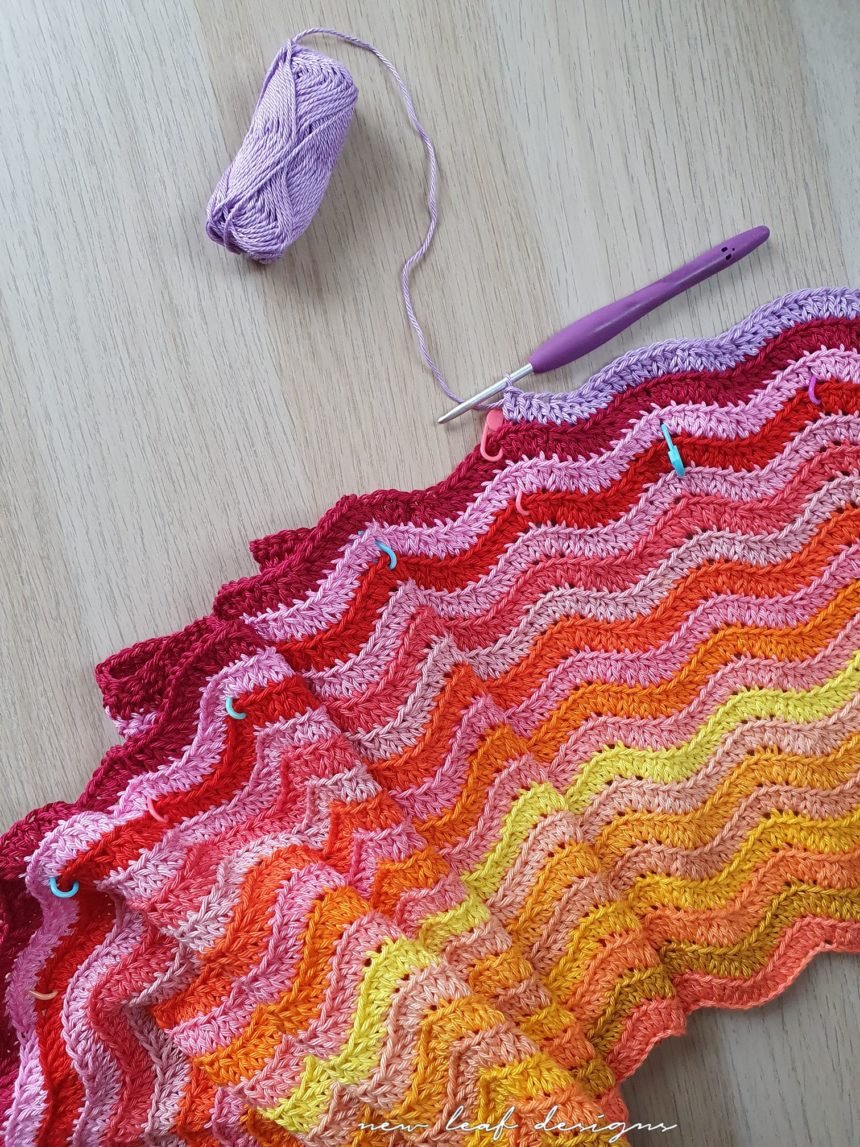 Rainbow Sea Waves Blanket
OooOOoooH what's this! Is it perhaps a sneak peek of the blanket I've been designing? Yes it is! Meet the Rainbow Sea Waves Blanket, a wonderfully simple crochet blanket. My mom has been working hard on this one, and I'm loving her progress updates. The beginning of the blanket is very bright and fruity as you see, but it will slowly change colour throughout the rows. I'm so excited to see more!
This blanket is perfect if you're a beginner crocheter, because it only uses one stitch! Alright, not counting chain stitches 😉
Ooooeeeeh wat is dit dan! Is het wellicht een voorproefje van de deken die ik aan het ontwerpen ben? Jazeker! Dit is de Rainbow Sea Waves Blanket, een heerlijk simpele deken. Mijn moeder heeft hier hard aan zitten werken, en ik kijk steeds uit naar haar nieuwe foto's. Het begin van de deken is heel fris en fruitig zoals je ziet, maar langzaamaan zullen de kleuren gaan veranderen. Ik ben zo benieuwd!
Deze deken is overigens perfect als je net begint met haken, want je hoeft maar één steek te kennen! Nou oké dan, ik heb de losse niet meegeteld 😉
Purchase pattern on Ravelry Purchase pattern in New Leaf Webshop
Finished Blanket Size
The finished size of the Rainbow Sea Waves blanket is 100 x 140cm (39″x 55″). The size can easily be altered, but this is the size that will work best for the Colour Pack.
De Rainbow Sea Waves Blanket wordt 100 x 140 cm groot. Het patroon is gemakkelijk aan te passen als je de afmetingen wilt veranderen, maar deze maat werkt het beste voor het Colour Pack.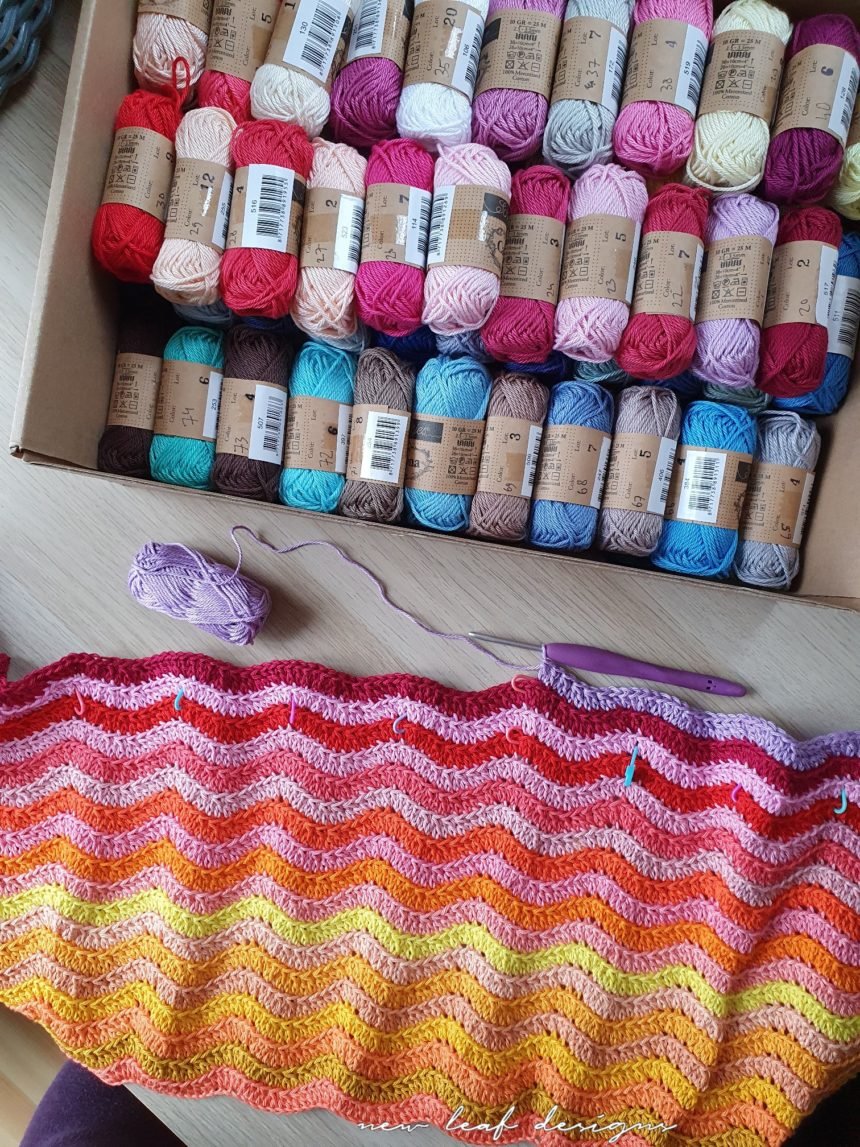 Scheepjes Catona Colour Pack
The Rainbow Sea Waves blanket uses the Scheepjes Catona Colour Pack, which is a box that has all 109 colours of Scheepjes Catona, in 10 gram balls. You use a new colour for each row, and that makes it so much fun!
If you want to get your yarn pack ready for the FREE pattern release on September 1st, make your way to any of the Scheepjes retailers listed here, or perhaps shop via any of the online shops below. Shopping via these affiliate links will not cost you anything extra, and the shopkeeper gives me a small percentage as a reward. Thank you for considering! If you want to use full sized balls of Scheepjes Catona, that is also possible: you will need 22 balls to complete the blanket in the original size (100 x 140 cm)
Knitting Network – Scheepjes Catona 50g
Voor deze Rainbow Sea Waves deken gebruik je het Scheepjes Catona Colour Pack, een doos met 10 grams bolletjes van elk van de 109 kleuren. Voor elke rij pak je een nieuwe kleur, en dat maakt het juist zo leuk!
Als je je garen alvast klaar wilt hebben voor de lancering van het GRATIS patroon op 1 september, dan kun je deze halen bij een van de Scheepjes verkooppunten. De Colour Packs zijn ook te krijgen via de webshop hieronder, dit zijn affiliate links en daar verdien ik dan een beetje van, maar het kost jou niets extra. Je kunt ook losse bollen Scheepjes Catona gebruiken, je hebt dan 22 bollen nodig van 50 gram voor de originele maat (100 x 140 cm)
Caro's Atelier – Colour Pack & Catona 50g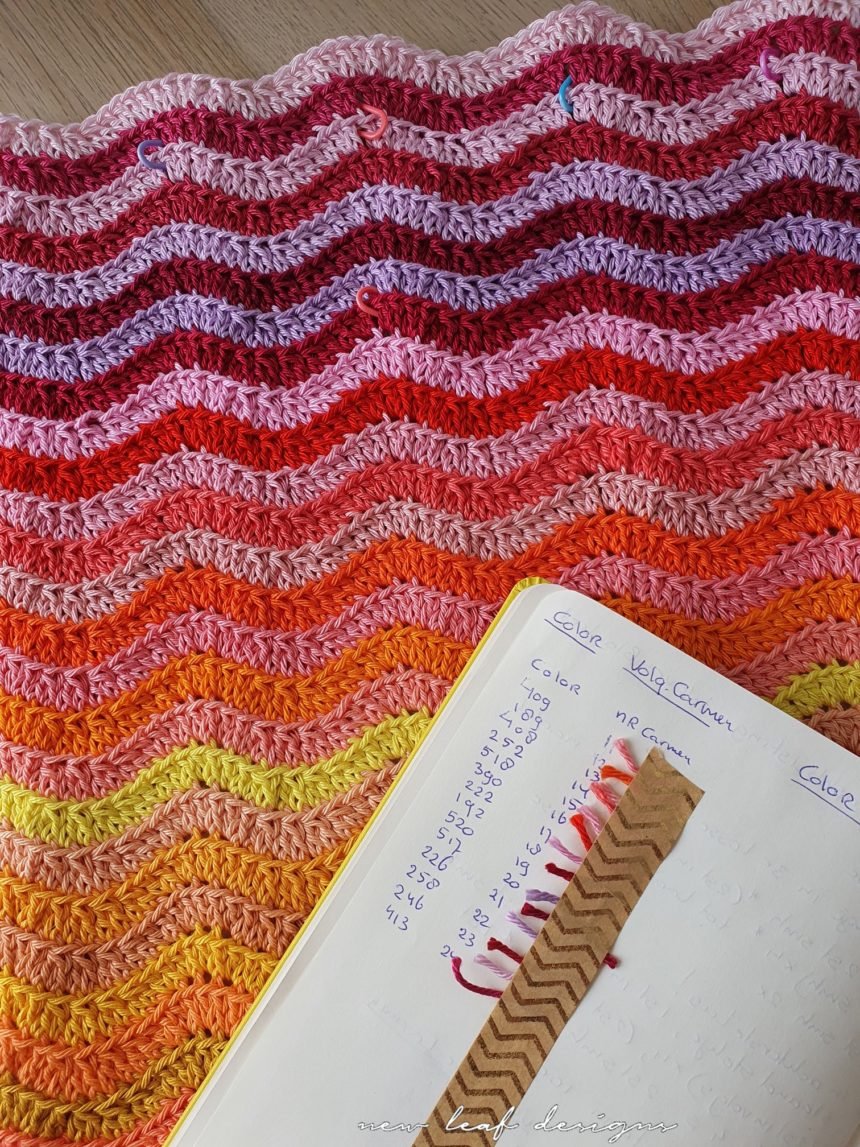 I also love mom's notebook where she keeps a small piece of each colourway and notes down the colour code. I will be sharing this list together with the free pattern, so you can make exactly the same blanket!
Ik vind het ook zo leuk hoe mijn moeder in haar notitieboekje bijhoudt welke kleur ze heeft gebruikt. Deze lijst komt uiteraard in het gratis patroon te staan, zodat je precies dezelfde deken kunt maken!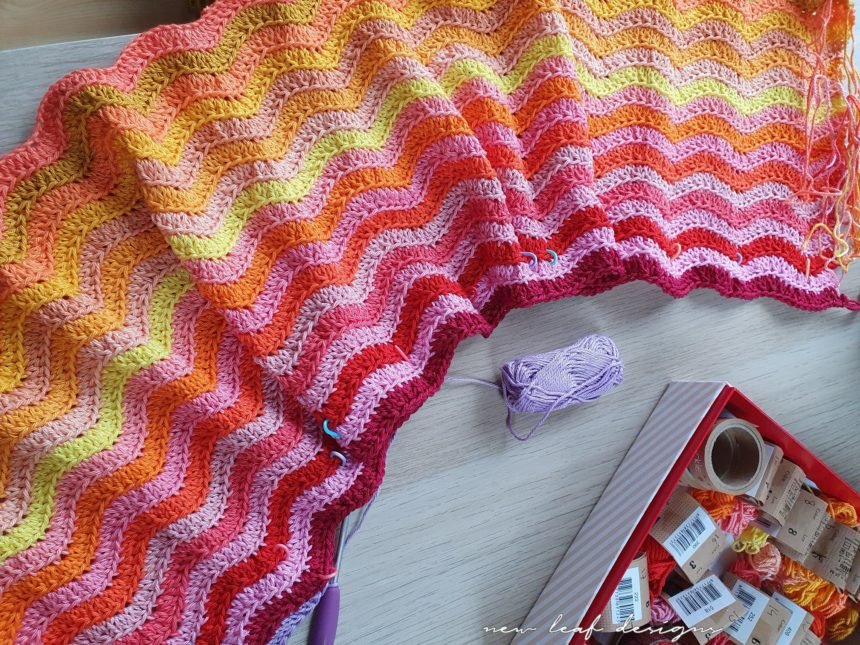 Check back in a couple of days when I will post pictures of the entire Rainbow Sea Waves Blanket. The pattern will be out on September 1st, here on my blog, for FREE!
Kom je over een weekje weer op mijn blog kijken? Dan plaats ik foto's hoe de Rainbow Sea Waves Blanket uiteindelijk is geworden. Het GRATIS patroon zelf komt uit op 1 september. 
You might also like:
The summer of shawls – my three best selling shawl patterns!
Chevrainbow Blanket – Free pattern!
Support me by sharing with friends!