Hello everyone, I'm back with an update on my colourwork sweater! Remember my blogpost from last week? I've started a new project with Scheepjes Metropolis yarns, and I'm so happy with how it is looking so far! Scheepjes Metropolis has a stunning colour range (80 colours!) and they are perfect for colourwork knitting. As you know, colourwork is one of my favourite knitting techniques!
Dag iedereen! Ik ben weer terug met een nieuwe blogpost over mijn kleurwerk trui. Herinneren jullie je nog mijn blogpost van vorige week? Ik ben aan een nieuw project begonnen met Scheepjes Metropolis garens, en ik vind het al zo mooi worden! Scheepjes Metropolis is er in ontzettend veel kleuren (wel 80!) en werken heel goed voor inbrei patroontjes. En zoals je misschien weet is kleurwerk breien een van mijn favoriete breitechnieken!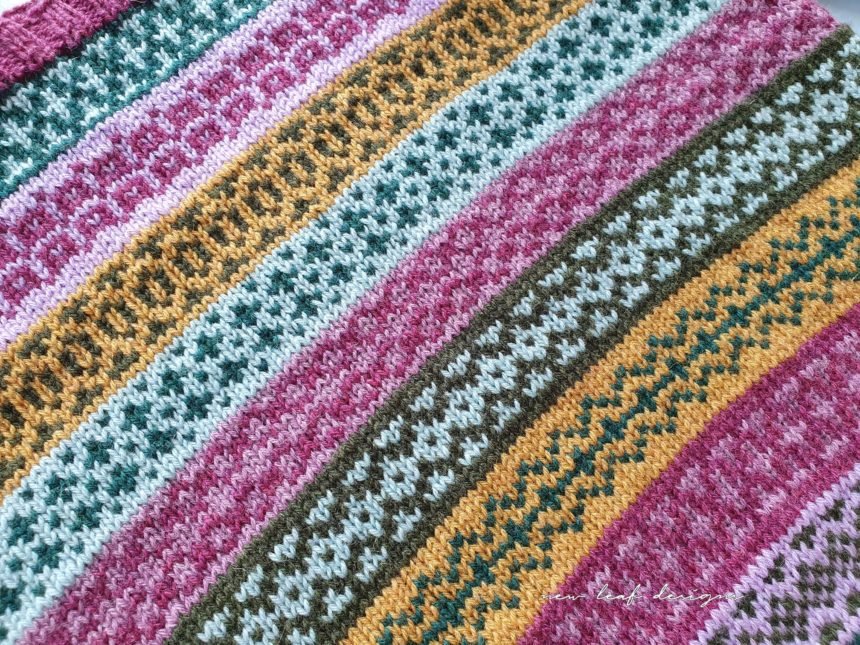 I mean, just LOOK at this!! I'm having so much fun combining colours and designing colourwork knitting patterns. Colourwork knitting is exceptionally addictive because you see the pattern developing for your eyes, and that's really motivating!
Ik bedoel, KIJK nou toch! Ik heb ontzettend veel plezier met het kiezen van kleuren en het ontwerpen van nieuwe patroontjes. Kleurwerk breien is super verslavend omdat je het patroon ziet groeien, en dat werkt heel motiverend.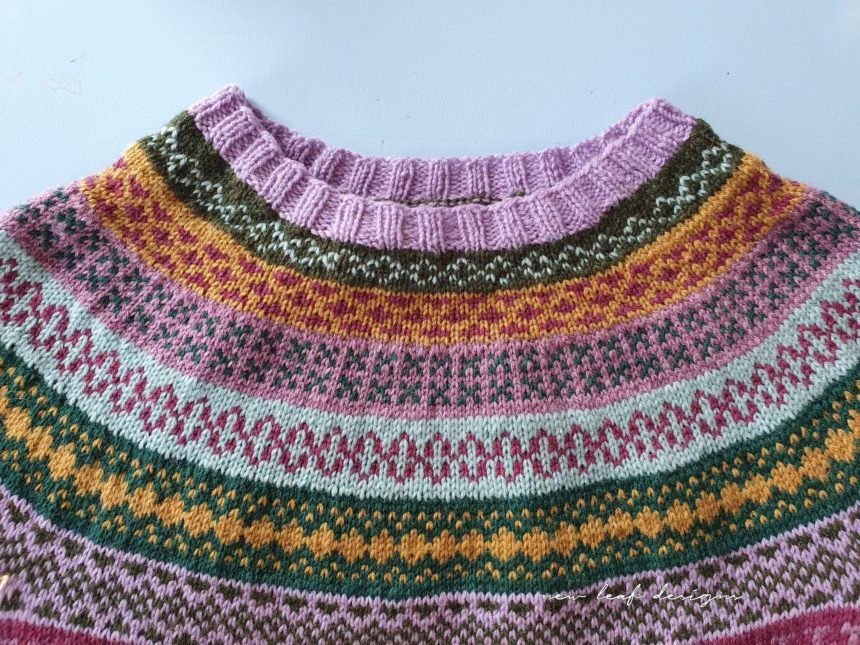 I will say this is one of my most ambitious designs so far, I've never designed a top down sweater, let alone colourwork! The colourwork adds in a tricky element because the numbers have to be a multiple of 4 stitches at all times. Otherwise the colourwork patterns will not fit. So yet again, I've made it quite difficult for myself, haha. But I do love how it looks so far! I hope you do too 🙂
Ik moet wel zeggen dat dit een van mijn meest ambitieuze ontwerpen tot nu toe is. Nog nooit had ik een trui ontworpen van het nekboord naar beneden, laat staan in kleurwerk! Het kleurwerk voegt iets extra's toe qua moeilijkheidsgraad omdat het stekenaantal ten alle tijden een veelvoud van 4 steken moet zijn. Anders passen de patroontjes namelijk niet. Dus alweer heb ik gedacht, "waarom makkelijk doen als het ook moeilijk kan?" Haha, maar ik ben er wel heel blij mee hoor, ik vind het zo mooi! En ik hoop dat jij dat ook vindt 🙂 
Get your yarns here
Get your Scheepjes Metropolis yarns via your local retailer, or perhaps consider to shop via one of the affiliate links below:
Wool Warehouse (UK shipping only at the moment)
Koop Scheepjes Metropolis garens via jouw lokale winkel of overweeg om via de onderstaande affiliate link in te kopen:
Next week: the reveal!
Check back next week Friday to see if I have managed to finish my sweater 🙂 See you then!
Kom je volgende week weer kijken? Dan heb ik mijn trui waarschijnlijk wel af 🙂 Tot dan!
You might also like
My contribution to YARN magazine – Tearoom: Earl Grey Socks!
Support me by sharing with friends!