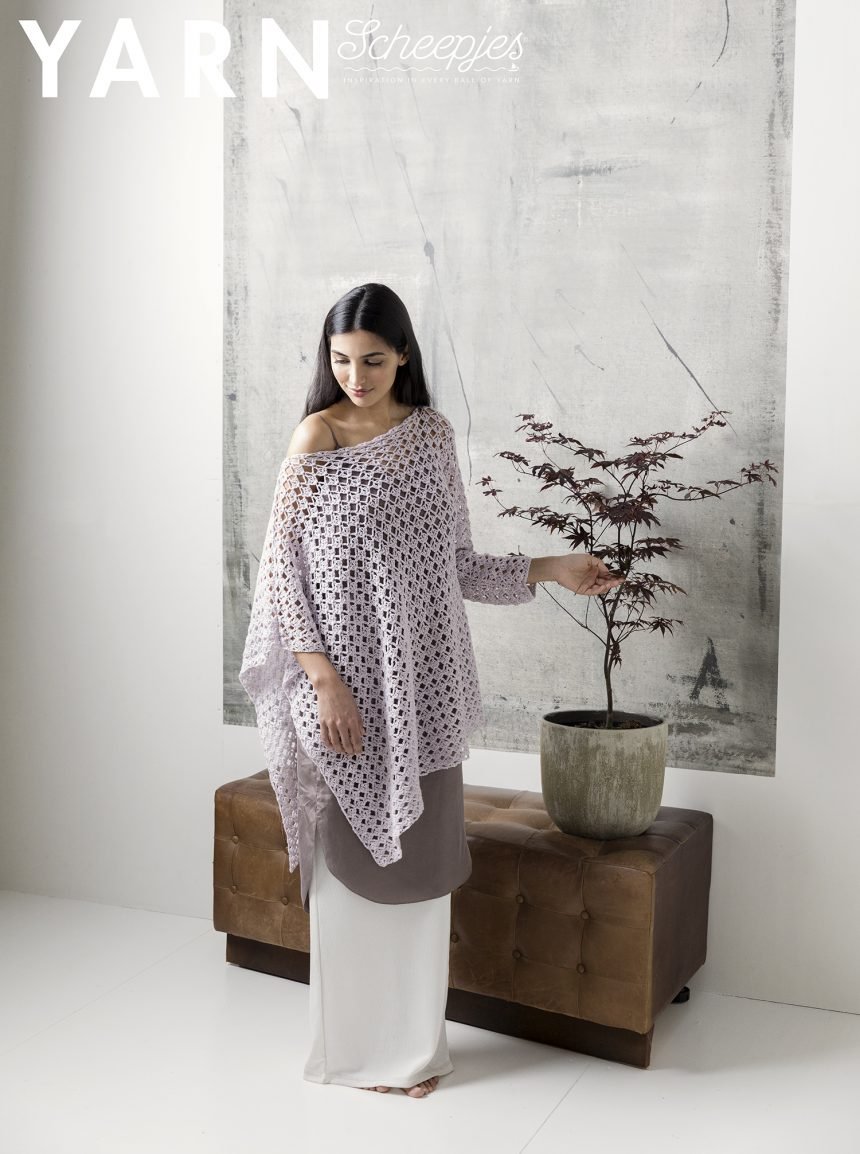 The newest issue of Scheepjes YARN bookazine has landed! This issue is called 'Tea Room', and is divided into four chapters: English Tea, Oolong, Ginger & Saffron, and Matcha. Each chapter includes four designs, which are simply STUNNING!! Every time a YARN bookazine comes out, I'm so in awe of all the beautiful designs, the photography and the styling, it truly is a feast for the eyes.
In the picture above you see the 'Jasmine Poncho with Cowl' from the Oolong chapter, a design by Margaret Hubert. It is such a versatile garment, which will add that hint of effortlessness to your outfit. The neck opening can be stretched and draped over the shoulders like in the photo above, or it can be pulled up as a cowl. The poncho is made using Scheepjes Metropolis, and you will need 8:9:10 balls for sizes S:M:L.
Just look at this jaw-dropping shawl! It is the 'Petals and Leaves Shawl' by Johanna Lindahl, which you can find in the English Tea chapter. It is made using Scheepjes Whirligig, which is a giant ombré yarn cake with alpaca content! Since I've made a sweater using this yarn, I know how gorgeously soft it is. What a luxurious shawl to have! The ultimate gift for a loved one <3 And can I just say? I LOVE that Scheepjes are also using older models for their shoots. Knitting is certainly not just for grannies, but modelling is also not just for young people! Love the styling as well, it's just perfect!
Get Scheepjes Whirligig here:
One of my absolute faves are these colourwork gloves by Margje Enting, my heart started pounding faster when I saw it! It makes me think of those beautiful Shetland-inspired knitting patterns, just beautiful. And as it happens, I have a bunch of colours from Scheepjes Metropolis in my stash. I might just make my own version! Also, I need to figure out where that blouse is from! <3
I also contributed a design to this issue: the Earl Grey Socks! I totally loved making these. I was inspired by a sweater my coworker wore to the office, haha. Kind of this argyle/houndstooth print, but not quite. I was so fascinated I actually took a picture of his sweater. He must have thought I was out of my mind.. Oh well! Anything for inspiration, right? This inspiration resulted in the purple/white pattern from the socks. I then designed the blue/pink pattern to go with it, and it has turned out so well! Of course, if you'd like less excentric socks you can choose one of both patterns to use for the entire socks, but personally I just love the mismatching patterns. The change in colourwork pattern also made for a very entertaining knit.
If you'd like to knit these socks yourself, you only need 4 balls of Scheepjes Metropolis. Make sure you have 2 pairs of contrasting colours so the colourwork patterns will show nicely.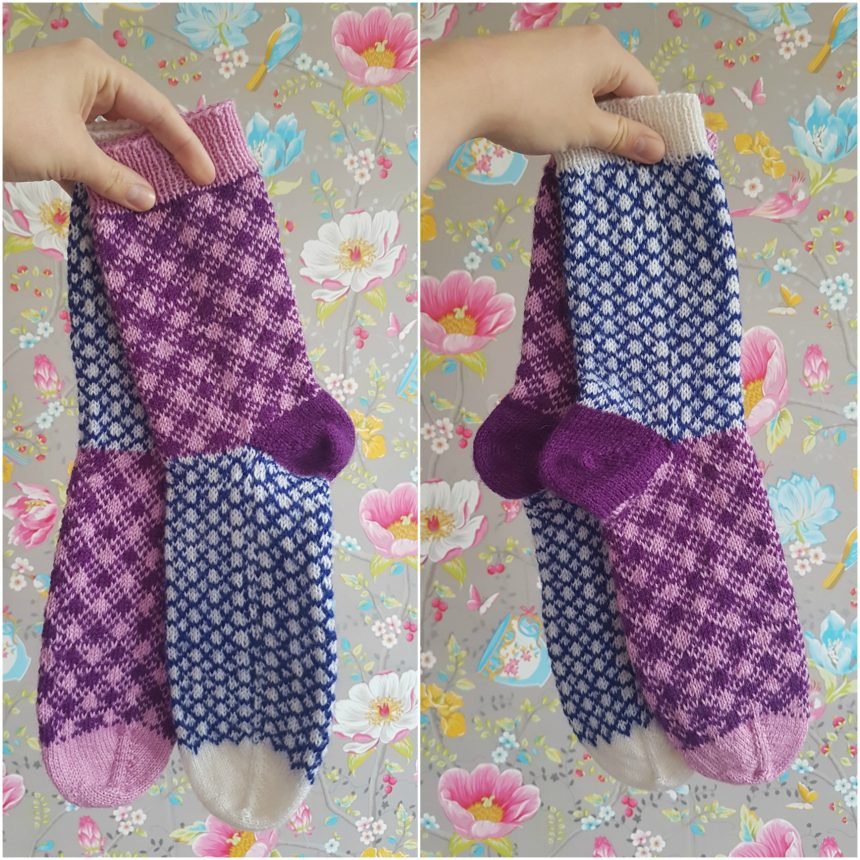 My tester Gerlinde knit this pair, aren't they lovely? We decided on similar colours as the original ones, but paired differently. You can see it gives a totally different look to the socks, and I'm so curious how other pairs will turn out. Which colours would you choose for your version?
Get Scheepjes Metropolis here:
Where to get YARN Bookazine?
The YARN bookazine Issue 8: TEA ROOM will be available in stores from September 13th, which is tomorrow! All of the stores linked above will also have the bookazine, so be sure to check their website. The links in this blogpost are all affiliate links, which means if you purchase anything after clicking those links, I will be rewarded with a small fee. Don't worry, it won't cost you anything extra!
Happy knitting and crocheting everyone, and don't forget to brew yourself a cuppa 😉
Support me by sharing with friends!