Voelen jullie het lentezonnetje soms ook al door de wolken heenkomen? Heerlijk hè! En komend weekend wordt het zo'n lekker terrasweer.. daar gaan we eens van genieten. Met een haakwerkje op schoot natuurlijk! In de lente haak of brei ik graag luchtige sjaals of omslagdoeken, daarom vandaag een verzameling van haakpatronen die ik heb samengesteld. De patronen vind je door op de naam van de sjaal te klikken. En het beste…? De patronen zijn allemaal gratis verkrijgbaar!
Spring is coming! That means crochet for warm weather, yay! I like crocheting light and airy shawls in spring, so here's a quick roundup of crochet spring shawl patterns for you. Best of all? They are all free!! Find the pattern by clicking the name of the design. 
Miss Neriss – Spring Shawl
Als eerste de Spring Shawl van Nerissa, een prachtige luchtige gehaakte omslagdoek. Dit patroon is voor de iets gevorderde haaksters aangezien het alleen verkrijgbaar is als een schema. Als je hier aan gewend bent gaat het heel gemakkelijk!
First up is the very aptly named 'Spring Shawl' by Nerissa, a beautiful lightweight shawl. This pattern is suitable for the experienced crocheter, as it's presented as a crochet chart. If you know how to read those, it will be a breeze!
Atty's – Catona bloemensjaal
Deze bloemensjaal van Atty's deed al een tijdje de ronde op Pinterest en Facebook, hij blijft mooi!
Wil je het liefste een sjaal maken in lentekleurtjes? Probeer dan eens de nieuwe kleuren van Scheepjes Catona (zie foto hieronder), die zouden prachtig zijn voor deze sjaal!
Atty's flower shawls have been shared a lot on Facebook and Pinterest, this one is my fave! It's made with Scheepjes Catona. They've just released a spring colour range (see below) which would be perfect for a spring version of this shawl.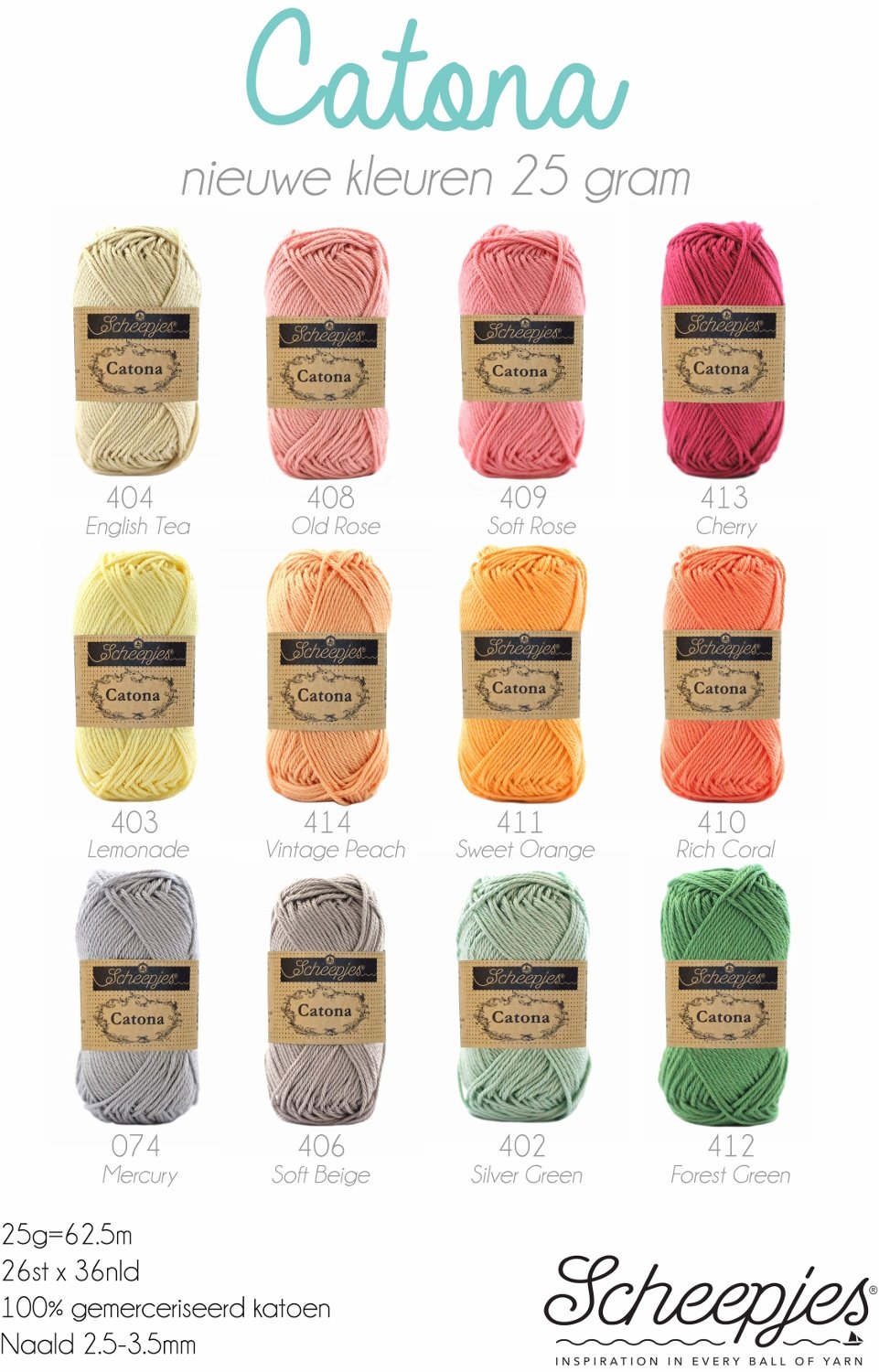 Berniolie Lotte Shawl
Een sjaal voor de lente of zomer maak je het beste met katoen of linnen, zo is het niet zo warm en kriebelig. Bernadette van Berniolie heeft voor haar Lotte Shawl Scheepjes Linen Soft gebruikt, een garen dat uitermate geschikt is hiervoor! Vind je de kleuren ook niet prachtig? Ik zwijmel er helemaal bij weg..
A cotton or linen yarn is the best for a spring or summer shawl, since these yarns don't get too warm while wearing them. Bernadette from Berniolie used Scheepjes Linen Soft for her Lotte Shawl, a great choice! And the colours…. swoon!
Jellina Creations Olivia Cowl
Wauw! Wat een kleurenpracht! Jellina heeft een verloopgaren (Unicat) samen gebruikt met een effen garen (Schachenmayr sokkenwol), en de Olivia Cowl is het prachtige resultaat. Soms is het in de lente nog wel frisjes – zeker in Nederland – dus vind ik het zelf fijn om dan een col te dragen, omdat die niet van je schouders af glijdt.
Wow! Look at those colours! Jellina combined an ombré yarn (Unicat) with an even-coloured yarn (Schachenmayr sockyarn), and the Olivia Cowl was the beautiful result of that experiment. Sometimes the weather can still be a bit harsh in springtime, which makes a cowl really nice to wear since it doesn't fall off your shoulders. 
Happy In Red – Japanese Flower Scarf
Ik wil al tijden het 'Japanese Flower' patroon een keertje uitproberen, maar al helemaal nu ik deze sjaal van Esther zie! Ze maakte hem met Scheepjes Alpaca Rhythm, een van de nieuwe luxere garens van Scheepjes. Als je dit te warm vindt kun je natuurlijk ook gaan voor de katoenen garens zoals Cotton8 bijvoorbeeld.
I've been dying to try the Japanese Flower pattern, and now I've seen Esther's Japanese Flower Scarf it's even higher on my list! She used Scheepjes Alpaca Rhythm, one of the new more luxurious Scheepjes yarns. If you want to make it less warm for spring, choose a cotton yarn like Cotton8 instead.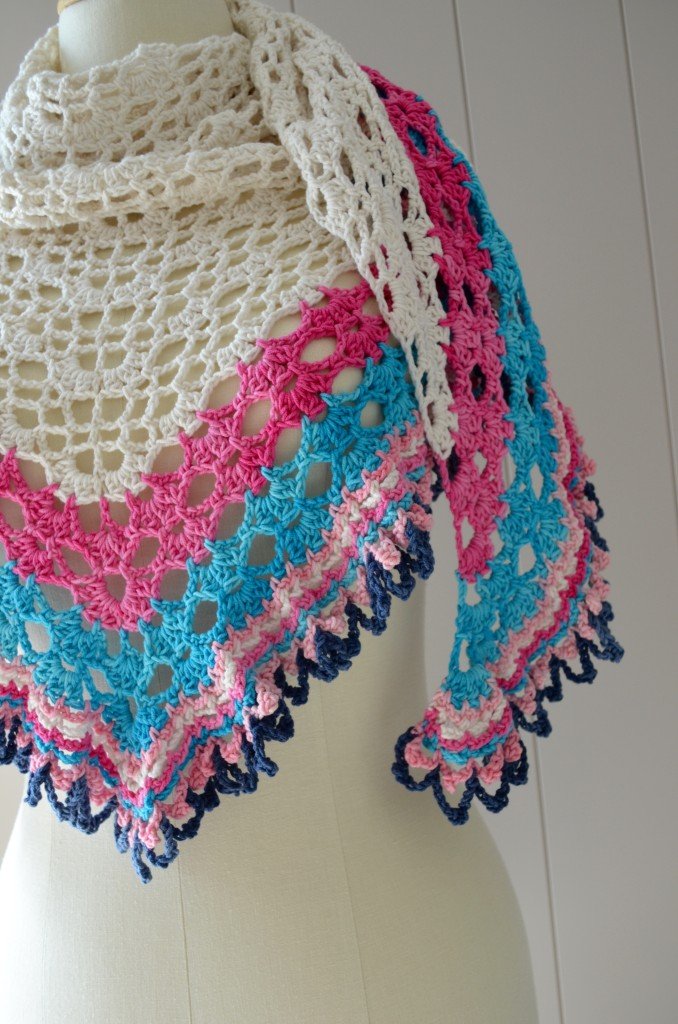 Vicarno – Sunny Day Shawl
Annelies Baes staat bekend om haar mooie sjaal-ontwerpen, en de "It's a Sunny Day Shawl"is geen uitzondering! Vooral de kleurkeuze vind ik erg mooi. Ze haakte hem met Scheepjes Softfun, ook een perfect garen voor de lente. Ik maakte er ook mijn eigen gebreide Lentesjaal mee.
Annelies Baes is famous for her beautiful shawl designs, and her "It's a Sunny Day Shawl"is no exception! I especially like the colours, so pretty! She made it with Scheepjes Softfun, one of my fave yarns. I made my knit Spring Shawl with it too!
Ben jij ook met een lentesjaal bezig? Of heb je er al eentje gemaakt? Vertel ons jouw favoriete patroon in de reacties! 🙂
Are you making a spring shawl, or did you perhaps already make one? Share your favourite pattern in the comments! 🙂 
Miss no more blogposts or patterns, follow New Leaf Designs on Bloglovin'! 
Support me by sharing with friends!