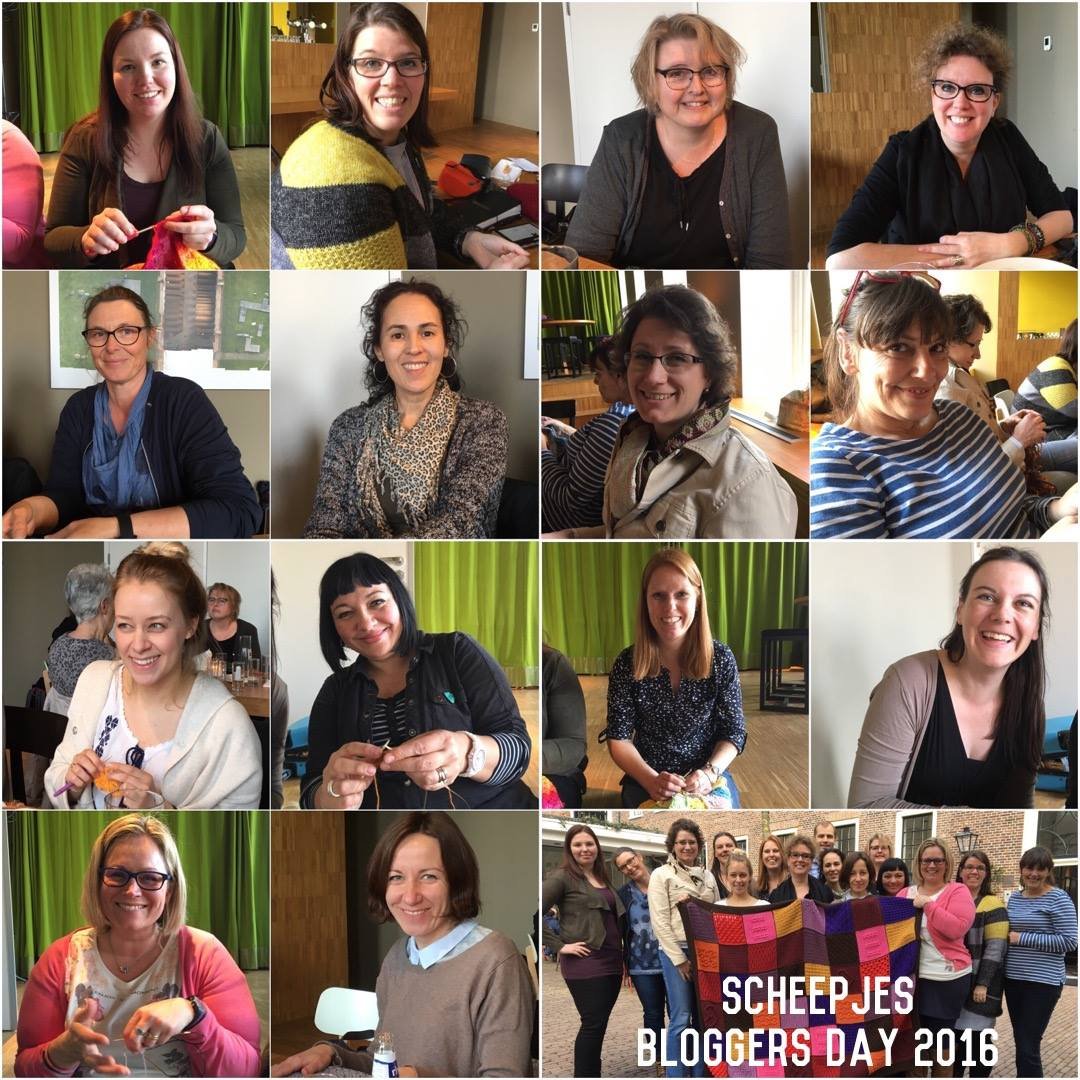 Afgelopen vrijdag en zaterdag was ik wederom in Tynaarlo en Groningen voor de Scheepjes Bloggers Dagen! Onze groep is weer een stukje gegroeid sinds vorig jaar, het was geweldig de oude bekenden weer te zien maar ook ontzettend leuk om nieuwe aanwinsten te ontmoeten. Even een voorstelrondje in de foto hierboven. Van links naar rechts, van boven naar onder: Kirsten, Tammy, Bernadette, Christa, Jellina, Atty, Esther, Maria, -ikzelf-, Sarah, Esther, Dedri, Nerissa en Tatiana. Helaas konden Annelies en Susan er niet bij zijn afgelopen weekend, hopelijk wel de volgende keer! 
Last Friday and Saturday I was at the Scheepjes Bloggers Days! Our little group has grown over the year and it was great to both see old friends again and meet new faces! A quick introduction in the picture above (from left to right, top to bottom:)  Kirsten, Tammy, Bernadette, Christa, Jellina, Atty, Esther, Maria, -me-, Sarah, Esther, Dedri, Nerissa and Tatiana. It's a pity Annelies en Susan couldn't join us this weekend, hopefully I'll see them next time!
We werden helemaal verwend met cadeautjes! En niet alleen garen 😉 Onder andere een "Scheepjes Blogger" broche die perfect matcht met mijn nieuwe sjaal! En een fantastische Blogger-mok van DEEZ Dutch. Op de andere kant staat "Hookers gonna hook", zo leuk! De breiende bloggers onder ons hadden er "Knitters gonna knit" op staan. We kregen ook nog anders leuks, dat zal ik je op Instagram laten zien de komende dagen.
We were totally spoilt with gifts! And to surprise you, it wasn't just yarn! We also got these great blogger pins and mugs. The other side of the mug reads: "Hookers gonna hook" or "Knitters gonna knit", depending if the blogger was more of a crocheter or a knitter. Such a thoughtful gift! They're available at Deez Dutch on Etsy. Ooh, and notice how the "scheepjes blogger" pin matches my Spring Shawl perfectly? We also got some other gifts I'll show you on IG (Instagram) over the next couple of days 🙂 
Op de vrijdag kregen we een hele leerzame workshop van Cara Medus over kledingpatronen ontwerpen in verschillende maten, daar heb ik ontzettend veel van geleerd! Daarna hoorden we al de leuke nieuwtjes op onder andere garengebied van Scheepjes… en dat mag ik natuurlijk niet vertellen 😉 Ik kan niet wachten tot ik het kan delen!! 
Op de zaterdag gingen we naar een leuke locatie in Groningen – de Prinsenhof – om lekker te kletsen, te haken of te breien, en samen ideetjes op te doen! En dat deden we volop, het was heerlijk!
On Friday, Scheepjes had invited Cara Medus to give a very educative workshop about Garment Sizing and pattern writing. It was some very insightful stuff about things Tech Editors get to deal with, and I learned quite a bit on how to improve my pattern writing. So interesting! After that we heard some of the plans Scheepjes have for the coming period, it's so exciting but also top secret so I can't share anything yet! 
The day after we went to a very nice location in Groningen – Prinsenhof – to chat with each other, knit and crochet, and come up with some great ideas. We had a great time, it was really lovely!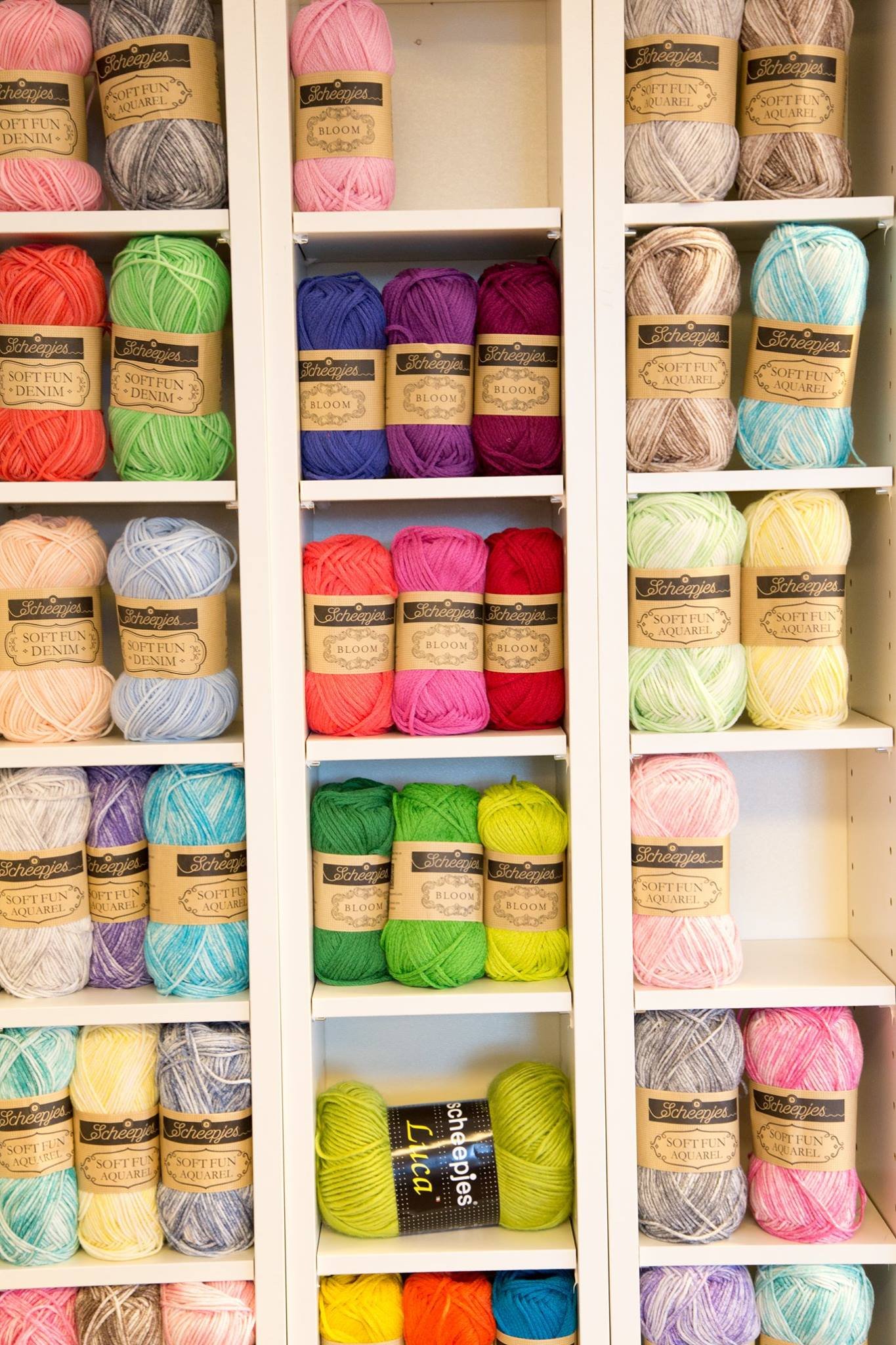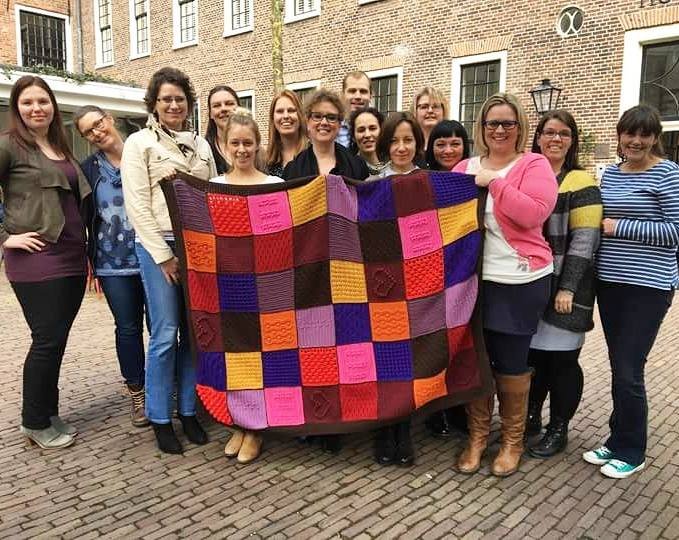 Ook kregen we de deken te zien die we samen hadden ontworpen voor de Scheepjes CAL 2016 – Last Dance on the Beach. Geweldig om hem in het echt te zien! Tot nu toe had ik alleen mijn vierkantje gezien in het echt natuurlijk. Als je goed kijkt zie je op de foto ook 'Mr Scheepjes', de man die dit allemaal mogelijk maakt voor ons 😉 
Het was een geweldig weekend, ik ben nog wel even aan het nagenieten! Ik heb al heel wat leuke ideetjes opgedaan, hopelijk kan ik snel iets laten zien!
We also got to see the blanket we've been designing for the Scheepjes CAL 2016 – Last Dance on the Beach. It was amazing to see it for real! I had only seen my own square beforehand. If you pay attention to the picture you can spot "Mr Scheepjes", the man who has made this all possible for us 😉 
It was a great weekend, my head is still spinning with excitement and ideas! Hopefully I'll be able to show you something soon 🙂 
Support me by sharing with friends!