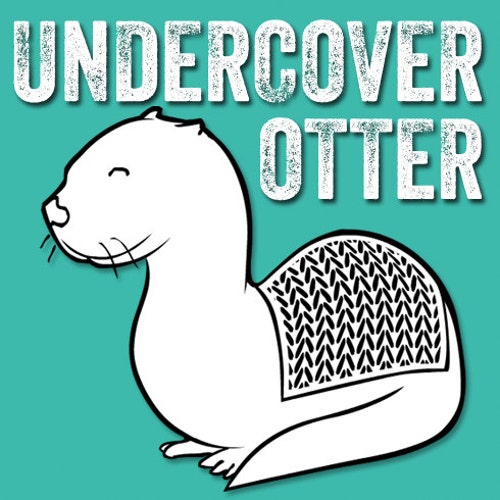 Undercover Otter is een Nederlands wolmerk waar ik pas zeer recent op stuitte via Instagram, leuk hoe dat soort ontdekkingen soms gaan! De vrouw achter het merk is Petra Sielias, ze is vanaf 2014 bezig met het verven van garens en andere vezels, en ze komt uit Amsterdam. Een deel van haar garens is verkrijgbaar via Stephen & Penelope in dezelfde stad, maar we zetten natuurlijk haar eigen online shop in het winterse zonnetje vandaag.
Undercover Otter is a Dutch yarn company which I only recently discovered via Instagram. I love finding new indie dyers, and this one is no exception! Petra Sielias is the dyer behind Undercover Otter, dyeing yarn and other crafty fibers since early 2014 in Amsterdam. Some of her yarns are sold at Stephen & Penelope in the same city, but for today we'll focus on her online shop.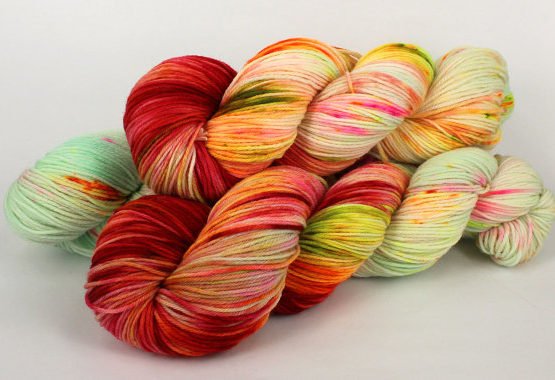 Undercover Otter heeft in principe twee garensoorten: Squirm Sock en Slasher Sock. Ze hebben soms voorraad van andere garensoorten, maar die zijn niet vast in het assortiment. De Squirm Sock is samengesteld van 80% fijne merino en 20% nylon. Dit garen leent zich niet alleen goed voor sokken, maar ook voor sjaals en truien bijvoorbeeld. De Slasher Sock is gemaakt van 75% wol en 25% nylon, en is perfect voor kledingstukken of accessoires die veel worden gedragen en gewassen. Beide garens kunnen overigens in de machinewas tot 40 graden Celcius. 
Undercover Otter basically has two yarn bases: Squirm Sock and Slasher Sock. They sometimes have stock of other bases, but this might not be a returning base. Squirm Sock is a 80% fine merino and 20% nylon base, which is not only great for socks but also shawls and garments. Slasher Sock is made of 75% virgin wool and 25% nylon, perfect for those items that get a lot of wear and need to be a bit 'sturdier'. Both yarns can be machinewashed up to 40 degrees Celsius. 
Wat ik het leukste vond in Petra's webshop zijn de 'yarn centipedes' oftewel de garen duizendpoten. Klinkt een beetje raar, maar het idee is wel leuk: het zijn bundeltjes van 10 grams garenmini's, samen 50 gram. Niet genoeg voor een paar sokken, maar wel leuk om te verwerken samen met ander garen, zodat je streepjessokken – in het Engels wel scrappy socks of 'Frankensocks' genoemd, deze laatste naam vind ik zo leuk! 
What I liked most in Petra's shop were the yarn 'centipedes', like the one pictured above. They are little bundles of 10 gram minis, 50 grams in total. Not enough for a full pair of socks, but they are fun to combine with other socks to make scrappy 'Frankensocks'. 
Prijzen // Prices (100 grams)
Squirm Sock – €19,90
Slasher Sock – €14 – €16
Undercover Otter verkoopt niet alleen garens, maar ook spinvezels, tassen, steekmarkeerders en nog meer! Neem dus zeker een kijkje. De winkel gaat wel tijdens kerst dicht, dus als je nog op zoek bent naar garens, wacht dan niet langer!
Undercover Otter doesn't just sell yarn, but also spinning fibre, project bags, stitch markers and more! Be sure to go over and have a look. Shop is closing during Christmas though, so if you're after some yarny goodies don't wait any longer!
Support me by sharing with friends!