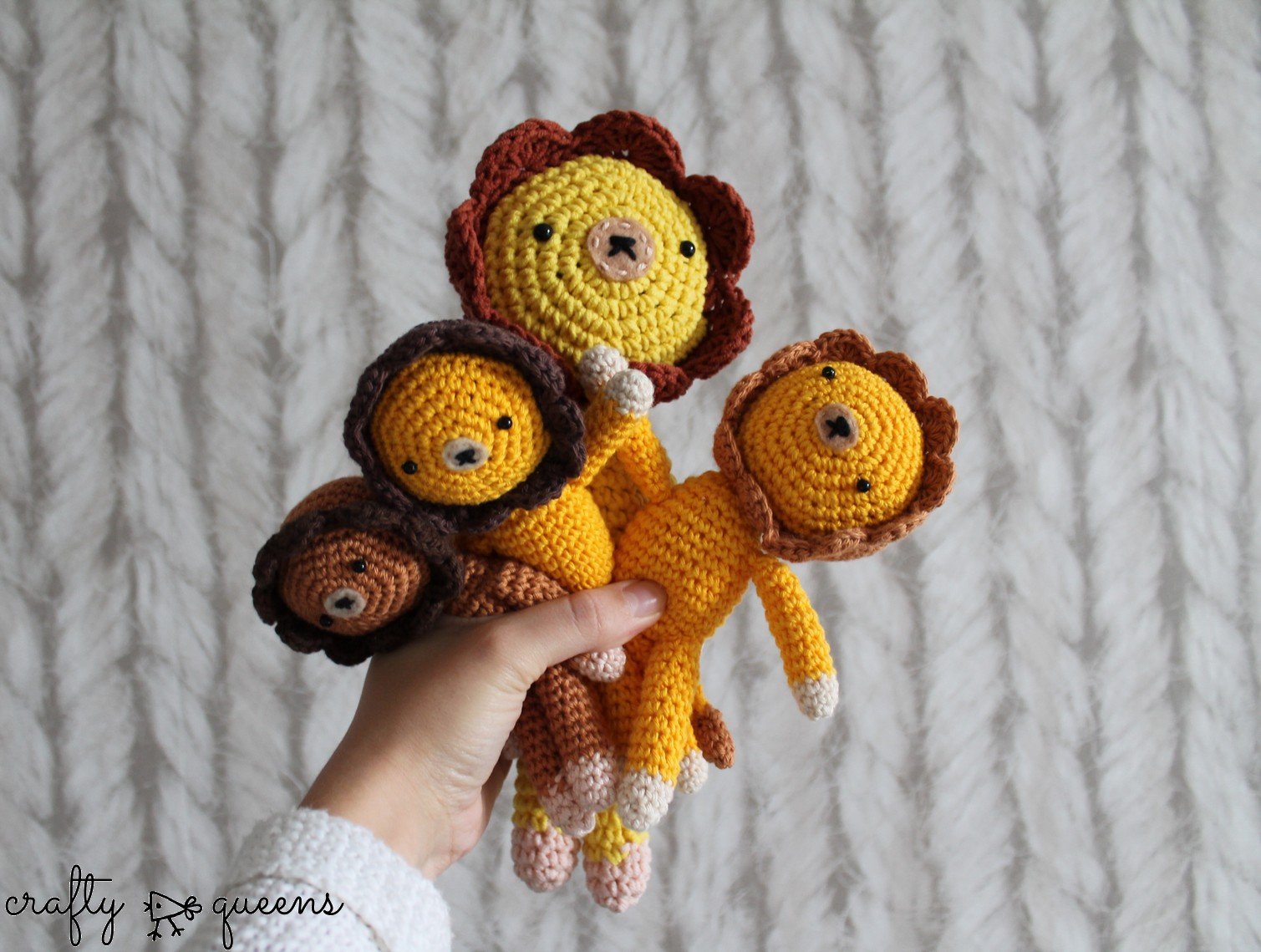 Een nieuw patroon staat klaar om in mijn winkel geplaatst te worden! Ik heb een heleboel patronen die ik nog goed moet uitwerken, en het is best nog een hele klus om de stap-voor-stap foto's te nemen en er een mooi PDF van te maken. Maar voor alle grote klussen is er een begin, en zo begon ik met het uitwerken van het patroon voor dit amigurumi leeuwtje! Ik vind hem zo schattig geworden 🙂 
De meeste patronen die ik schrijf kun je gewoonlijk gratis op mijn blog vinden. En dat wil ik ook heel graag blijven doen! Maar de website heeft nu wat meer onderhoud nodig, en om het een beetje draaiende te houden wil ik toch wat patronen voor de verkoop beschikbaar stellen. Ik hoop dat jullie me op dit punt begrijpen en steunen 🙂 Er komen zeker nog een hoop gratis patronen!
A new pattern is ready to be put in my shop! I have a long list of patterns I have scribbled down somewhere in my notebooks but haven't got around to writing on my laptop. It takes some time to take the step-by-step photos where needed and make a nice PDF. But I had to start somewhere, so I chose the amigurumi Lion pattern to publish first. He turned out so cute! 🙂 
Usually, the patterns I write are available on my blog for free, and I really like providing them for you! But my blog has grown quite a bit these past few years and the truth is I need to publish some paid patterns to keep everything running smoothly. I hope I will have your understanding and support on this 🙂 There will be loads of new free patterns for sure! 
In het patroon vind je twee versies van de leeuw, een met dunner (Scheepjes Cotton8) en een met dikker garen (Scheepjes Softfun). De kleine is ongeveer 18cm lang, de grote ongeveer 26cm. De leeuwtjes zijn bedoeld als speelgoed voor wat oudere kinderen, maar met wat aanpassingen die in het patroon vermeld staan kun je ze ook veilig maken voor jongere kinderen. 
The pattern includes two versions of the lion: one with thinner (Scheepjes Cotton8) and one with bulkier yarn (Scheepjes Softfun). The smaller one is about 18cm/ 7 in tall, the bigger one pictured above is about 26cm/ 10 in tall. The lion you will make is meant as a toy for older kids, but with some adjustments mentioned in the pattern you can also make them safe for smaller children.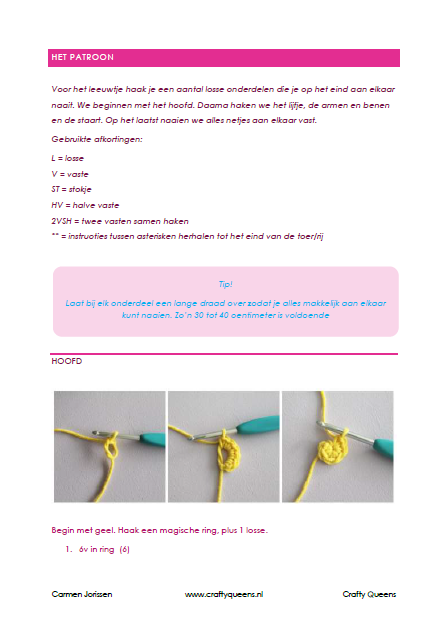 Hierboven zie je een voorproefje van het patroon. Ik heb aparte versies gemaakt voor Engels en Nederlands, en per taal ook nog een versie met foto's en een printervriendelijke versie. 
Op het moment ben ik bezig met het openen van mijn Etsy winkel, waar dit patroon in komt te staan. Dan zal hij €3,95 kosten. Nu, als speciale actie vóórdat mijn Etsy Shop opent, kost hij €2,95. Wil je hem ook bestellen? Stuur me dan een mailtje op: carmenjorissen @ hetnet.nl, en dan zorg ik dat hij naar je toe komt! Over een tijdje komt het patroon ook op Ravelry te staan, waar je je creaties kunt delen! 
In the picture above you can see a preview of the pattern. I made both an English and a Dutch version, and for each language also one version with pictures and one printerfriendly version. 
At the moment I'm preparing to open my Etsy shop, where the pattern will cost €3,95. Now, as a presale, the pattern is available for only €2,95 as long as I haven't published it in my Etsy store. If you would like to buy the pattern, please email me at carmenjorissen @ hetnet.nl and I'll make sure you get it. The pattern will be available on Ravelry too in a short while, where you can share your creations!
Would you like a notification when I publish the next free pattern? Follow my blog on Bloglovin'! 
The yarn for this pattern was kindly provided by Scheepjeswol. It helps me to keep my blog running!
Support me by sharing with friends!