A new hat knitting pattern in the works
I've never been much of a hat knitting person. I love wearing hats, especially while riding my bike in the crisp Dutch winter air, but I've always gravitated towards the store-bought hats in my wardrobe. The hats that I made myself were often too heavy because of bulky yarns or big pompoms which caused them to fall off my head. Others weren't snug enough because I hadn't thought of negative ease. This winter I'm determined to change that! I'm going to design a warm and snug colourwork hat with Scheepjes Metropolis.
Ik ben nooit echt van het mutsen breien geweest. Mutsen draag ik graag en vooral op de fiets, maar ik merk dat ik altijd sneller naar een gekochte muts grijp dan een van mijn eigen handgemaakte. Mijn eerste handgebreide mutsen waren vaak te zwaar doordat ik te dik garen gebruikte of te grote pompoms. Of soms waren ze te los omdat ik ze paste tijdens het breien, en er geen rekening mee hield dat de muts tijdens het wassen nog wat uitrekte. Deze winter wil ik daar verandering in brengen en ga ik met Scheepjes Metropolis een heerlijk warme kleurwerk (fair isle) muts ontwerpen.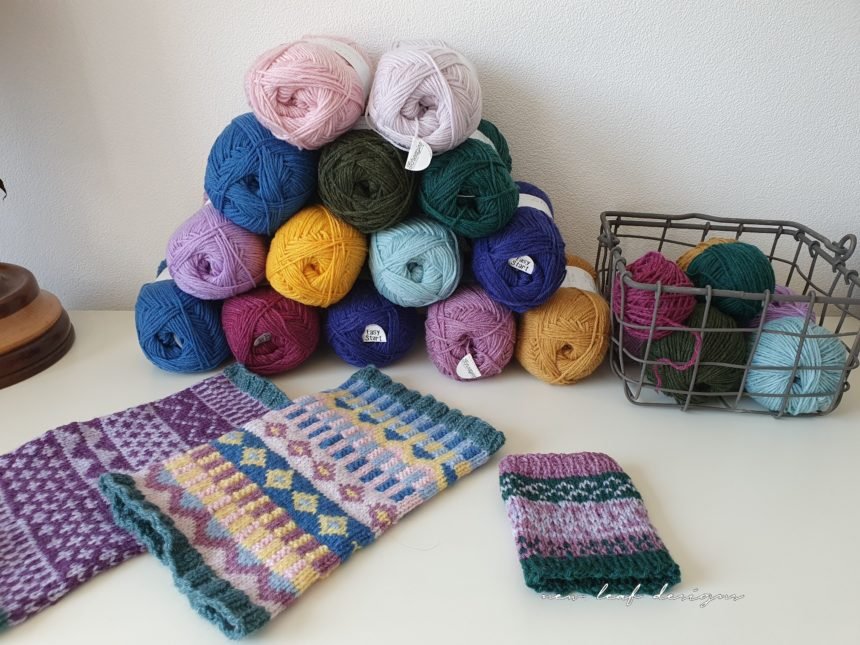 But.. isn't Scheepjes Metropolis a sock yarn?
Scheepjes Metropolis* has quickly become one of my favourite yarns to work with since it launched in March 2019. Sure, it's marketed as a sock yarn – which it's perfect for! – but it has many other uses. I've knit my Around the World Sweater with Scheepjes Metropolis, people have used it for my Cosy Moments Shawl, and now it's proving to be a brilliant yarn for hats too! The wool content makes it nice and warm without it being itchy. On the contrary, it's one of the softest yarns I've ever worked with! Especially after washing, it really softens up.
The nylon content makes it sturdy, which you of course want for socks, but other projects will also benefit from it. Have you ever had a soft winter sweater that pilled after a while? That's often because it doesn't have nylon or polyamide in it, or because it isn't plied tightly enough. Scheepjes Metropolis will make your handmade item last and last.
Scheepjes Metropolis* is sinds de lancering in maart 2019 al snel een van mijn favoriete garens geworden. Maar ehh.. is het geen sokkengaren? Ja klopt, het is perfect voor sokken, maar ook voor veel andere dingen. Mijn Around the World sweater heb ik bijvoorbeeld gebreid met Metropolis, en ik heb ook verschillende varianten van mijn Cosy Moments Shawl erin gezien. En mutsen breien kun je er ook prima mee! De wol in het garen zorgt ervoor dat het lekker warm is zonder kriebelig te zijn. Het is een van de zachtste wollen garens die ik ken, vooral na het wassen.
In Scheepjes Metropolis zit ook nylon wat het heel slijtvast maakt. Dit wil je natuurlijk voor sokken, maar andere breiwerken zullen er ook van profiteren. Heb je wel eens een zachte trui gehad die snel ging pillen? Dat komt vaak doordat er geen nylon of polyamide in het garen zit, of dat het niet strak genoeg gesponnen is. Met Metropolis heb je nog járen plezier van wat je ermee maakt. 
A wide brim for warm ears
Many knitters aren't a big fan of ribbing, but for this project it's a MUST. I'm knitting 38 rounds of ribbing for the hat brim, which you can then fold over. Folding over the brim makes it extra snug and extra warm too! I can't wait to finish this one and wear it.. Hats are really quick projects so I'm planning on making a couple more for holiday gifts.
Veel breiers houden niet zo van boordsteek, maar voor dit patroon is het echt een MUST (hihi, een must voor de muts!). Voor het boord brei ik 38 toeren boordsteek (2 recht, 2 averecht), zodat je deze kunt omslaan. Het kunnen omslaan van het boord maakt écht zoveel verschil voor de pasvorm, die is namelijk dan nét wat strakker. Een ander pluspunt is dat de muts extra warm is voor je oren, heerlijk! Mutsen breien gaat gelukkig erg vlot, dus hoop ik nog een paar mutsen te breien om als cadeautjes te geven deze winter. 
Needle sizes
For this hat I'm using three different needle sizes. You want the brim to be nice and tight, so I recommend 2.25mm (US1) needle for this. For the colourwork, I'm using 3.25mm (US3). For the crown, where I'm no longer knitting any colourwork, I switch to a 3mm (US2.5) needle to keep the stitches nice and even. I use circular needles but you can also use DPNs.
Voor deze muts gebruik ik drie verschillende maten naalden. Je wilt dat het boord niet afzakt, dus gebruiken we daarvoor een 2,25 mm naald. Voor het kleurwerk (fair isle) gebruik ik een 3,25 mm naald. Voor de kruin waar ik geen kleurwerk meer brei, gebruik ik een 3mm naald om de steken fijn netjes te houden. Ikzelf gebruik rondbreinaalden maar je kunt ook dubbelpuntige naalden gebruiken.
When will the pattern be published?
The pattern will be available on my blog for FREE on Thursday November 12th. If you don't want to miss it, subscribe to my newsletter at the top right of this page.
Het patroon komt op donderdag 12 November helemaal GRATIS op mijn blog te staan. Als je het niet wilt missen, abonneer je dan op mijn nieuwsbrief rechts bovenaan op deze pagina. 
*This blogpost contains affiliate webshop links. Purchasing at this webshop within 30 days of clicking this link will mean that the shopkeeper rewards me with a small percentage of your purchase. You will not pay anything extra, win-win!
You might also like
Subtle Sock Collection coming soon!
Support me by sharing with friends!