Now, for something you're not at all expecting from me: a papercraft tutorial! It's been ages since I have made anything out of paper, although I loved papercraft as a kid. Since I discovered felt, and later knitting &  crocheting, making something out of paper just didn't have that much appeal to me anymore. Maybe because I spill drinks a lot, ha! But ever since Mollie Makes started putting in pretty printed paper sheets in their magazines, I've been totally mesmerized with those pretty papers! When the idea sprung to mind to craft some last-minute holiday bunting, I got out my scissors right away and within an hour I had some nice garlands to decorate with. You just can't beat the quick satisfaction papercraft gives!
Nu heb ik toch iets compleet anders voor jullie! Voor mijn laatste handwerkje ben ik namelijk met papier aan de slag gegaan. Met papier knutselen heb ik al heel lang niet meer gedaan, hoewel ik het als kind heel leuk vond. Zodra ik vilt en garen ontdekte trok papier mij gewoon niet meer zoveel aan – misschien omdat ik vaak mijn drinken omstoot, haha! Sinds een tijdje voegt de Mollie Makes leuk geprinte papieren vellen toe in hun tijdschrift, en merkte ik toch dat ik er elke maand weer enthousiast van werd. Toen ik opeens het idee had voor een last-minute kerstknutsel met papier, greep ik meteen de schaar erbij en binnen een uur had ik leuke kerstslingers. Zo'n snel resultaat is toch wel heel leuk als afwisseling van het breien en haken!
What do you need?
some nice printed paper

some cardboard or a cup 

pen to trace outlines

scissors

twine

tape 
Wat heb je nodig?
mooi papier
wat karton of een beker
pen of potlood 
schaar
draad
plakband 
Step 1: Cut a pennant shape from cardboard
Stap 1: Knip een vlaggetjesvorm uit dik karton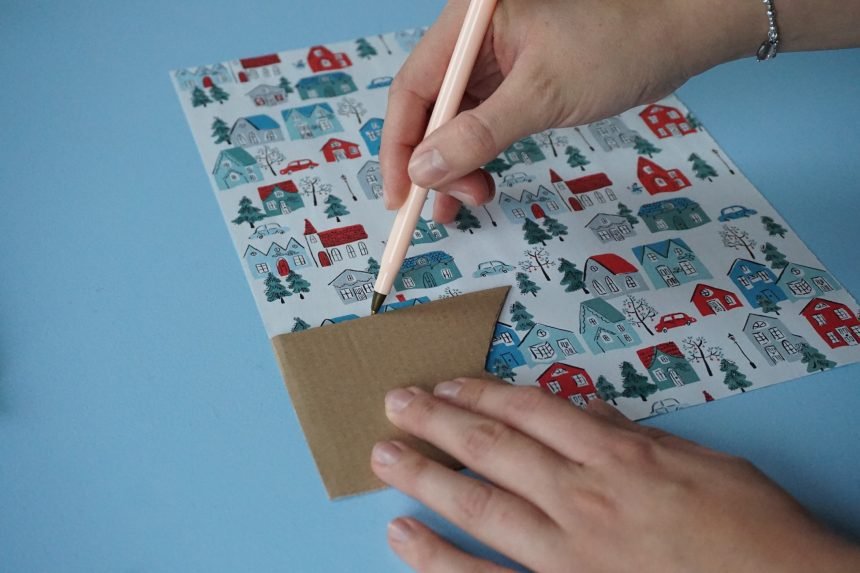 Step 2: Trace however many pennants you need from the paper
Stap 2: Trek de vorm over op het papier, maak zoveel vlaggetjes als je nodig hebt
Step 3: Cut out all traced shapes
Stap 3: Knip alle vlaggen uit
Tip: you can also use a cup for a different shape of bunting
Tip: je kan ook een beker gebruiken om een andere vorm te krijgen
Step 4: Attach the cut out shapes to twine by 1) using washi-tape or 2) using a needle to string the shapes onto the twine.
Stap 4: Bevestig de papieren vormen aan wat draad door ze 1) eraan te plakken met washi tape of 2) ze eraan te rijgen met een naald. 
Tip: If you're using needle and thread, make sure to place some washi tape over the thread on the backside of the pennants so the pennants don't lose their place on the twine.
Tip: Als je ze bevestigt met naald en draad, plak dan de draad vast aan de achterkant van de papieren vormpjes zodat ze niet heen en weer kunnen schuiven. 
And you're done! Tie the bunting in place or use washi tape (my favourite trick!)
En je bent klaar! Knoop de slinger vast met de touweindjes of gebruik washi tape om het direct aan de muur te kleven (mijn favoriete truc!)
Support me by sharing with friends!