In deze editie van de handgeverfde garens serie stel ik jullie aan een garenmerk voor dat mij de laatste tijd heel vaak is aangeraden! Ook zag ik het op Instagram en op verschillende podcasts voorbijkomen. Het is Baerenwolle, geverfd door Viktoria Behr (Vicky) uit Duitsland. Vicky heeft een uitstekend oog voor kleur, wat te zien is op haar Instagram pagina. Ze verft voor ieder wat wils. Zachte pastels kan ze goed, maar je vindt er ook prachtige felle kleuren en gespikkelde wolletjes.
Today's indie dyer is a dyer who has been recommended to me frequently. I've also seen her yarn on Instagram and on various podcasts. It's Viktoria Behr (Vicky) from Germany, the dyer behind Baerenwolle. Vicky has a real eye for colour, which is very obvious from her beautiful IG feed. Her yarns vary from soft pastels to beautiful bright colours, to moody speckles, she can do it all!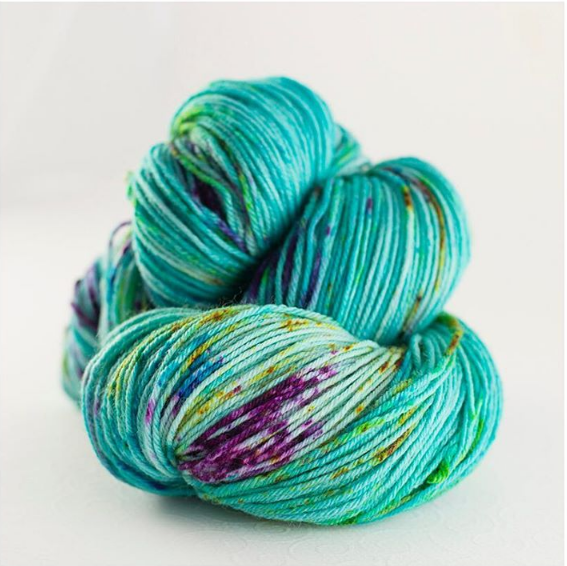 Vicky's Instagram is werkelijk een bron van inspiratie. Ze laat niet alleen de garens zien, maar ook wat ze ermee maakt, zodat je al een voorstelling kunt maken hoe het garen er gebreid uitziet. Zelf breit ze het liefst sokken, met haar BAERfoot sokkengaren.
Vicky's Instagram is such a source of inspiration! Alongside pictures of her yarn, she also posts pics of her works in progress with her own yarn, giving you a chance to see how the yarn knits up. It seems that knitting socks is her favourite, with her BAERfoot sockyarn.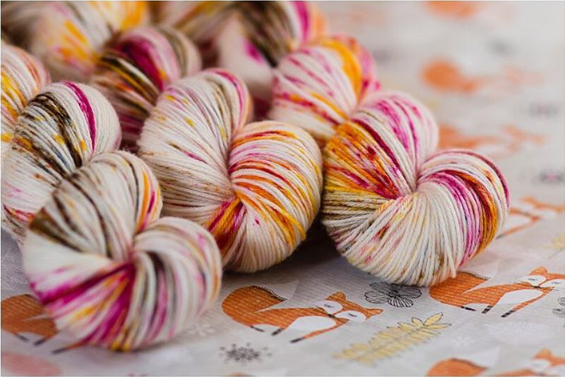 Op haar website is er ook een schema te vinden wanneer weer een shop update komt, dat is handig! Voor nu ziet het ernaar uit dat ze elke vrijdag nieuwe garens in haar winkel plaatst. Op het moment zijn ze allemaal op, ik vermoed dan ook dat deze garens vrij snel uitverkopen. Dat betekent: komende vrijdag om 20:00 uur in de startblokken!
She has a handy schedule on her website with announced shop updates, which is great! For now it looks like she updates every Friday at 8pm (Berlin time). There is no yarn in the shop right now, so I'm not sure how fast these sell out. Could be really quick!
Hieronder weer een aantal details van een selectie garens van Baerenwolle. Omdat er op het moment van schrijven geen garens in de shop te vinden is kan ik helaas de prijzen er niet bij zetten. Dit zal ik later nog proberen aan te passen.
Since there is no yarn in the shop right now I can't give you the prices of these yarns, but I can still give you the fiber content of a few of her yarns. 
Garens // Yarns (100g):
BAERfoot Sock – 80% merino, 20% polyamide
Silky BAER Silky BAER – 65% merino, 35% silk
BAERENfluff – 100% ultrafine merino
Haar BAERENfluff garen schijnt superzacht te zijn en eigenlijk meer te lijken op kasjmier dan merino, mmm! Dat lijkt me nog eens fijn garen om een dun gebreid vestje van te maken.
Her BAERENfluff yarn seems to be so soft it is more like cashmere than like merino. Sounds yummy, doesn't it? I would love to make a light knit cardigan with this..
Welk garen van Baerenwolle zou jij het liefst uitproberen?
Which Baerenwolle yarn would you try first?
Support me by sharing with friends!