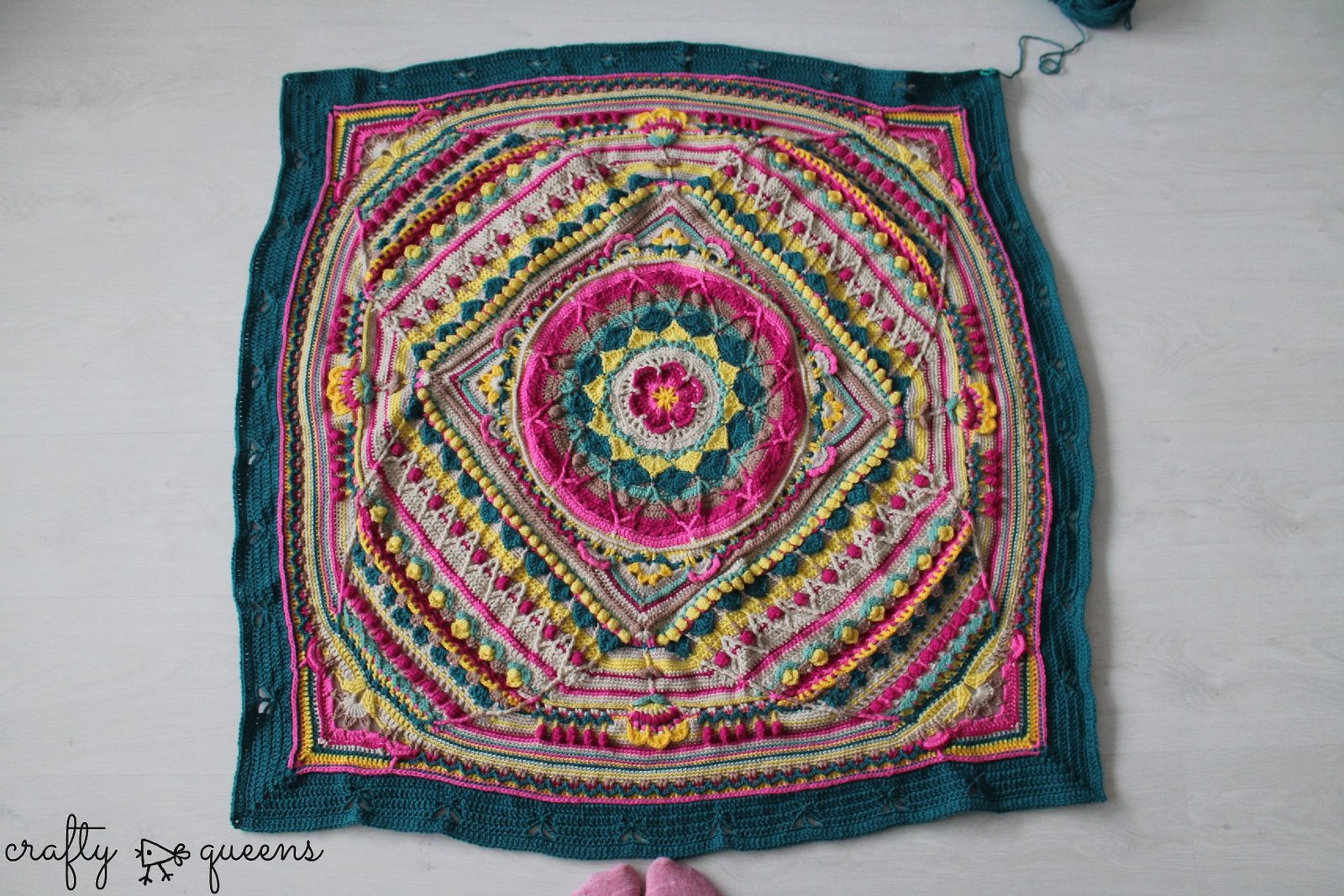 Zoals beloofd zijn hier mijn foto's van Deel 14 van Sophie's Universe! Dit deel heet de 'Butterfly Band' en je kan wel zien waarom, het patroontje lijkt echt op een vlinder! Het was heel leuk om dit deel te doen, om de vlinders te zien groeien. Dat houdt het leuk en motiverend. Zoals ik in het vorige deel al zei ben ik in het echt een stuk verder, maar toch wilde ik jullie deze foto's niet onthouden voordat ik de complete deken deel.
As promised, here are my pictures of Part 14 of Sophie's Universe! This part is all about the butterflies, can you see them around the edge? I simply loved this part, it was so much fun seeing the butterflies emerge, it was really motivating. As I mentioned last time, I'm actually quite a bit further along on my blanket, but I do want to share every step of the way with you before revealing my completed blanket. 
En wat meer gedetailleerde foto's. Ik vind de vlinders zo leuk, en jullie? Ze doen me een beetje denken aan de franse lelie vierkantjes waar ik mijn Catona tas mee maakte afgelopen zomer, het is een soortgelijke techniek. Binnenkort weer meer foto's 🙂 
Some detailed shots here, I am so in love with the butterflies! They kind of remind me of my Catona Bag I made earlier this year, it's kind of the same technique. New update coming soon! 🙂
Patroon // Pattern: Sophie's Universe by Dedri Uys
Garen // Yarn: Scheepjes Colour Crafter :
1062 Dordrecht (mosgroen – mossy green)
1064 Veenendaal (lichtbruin – light brown)
1218 Zandvoort (beige)
1263 Leerdam (lichtgeel – light yellow)
1725 Ameland (licht blauwgroen – light seagreen)
1827 Drachten (felroze – bright pink)
2004 Brussel (felgeel – bright yellow)
2006 Luik (roze – pink)
Support me by sharing with friends!