Oei, nog maar net op tijd! Maar wel heel erg leuk om nog te haken, deze snelle kerstslinger. Toen ik bezig was met deze slinger te haken kreeg ik opeens nog meer ideeën.. Waarom in plaats van cirkeltjes geen gehaakte noppen? 
Only just in time for Christmas! But oh so easy and quick to hook – this bobbly garland is the perfect lastminute gift or decoration. When I was crocheting this simple bunting I had the idea for a new one! Why not crochet bobbles instead of circles? 
Nogmaals gebruikte ik Scheepjes Cotton 8 en Lizzy garen samen voor nét dat beetje extra feestelijkheid!
Again, I used one strand of Scheepjes Cotton 8 and one strand of Lizzy for just that hint of festivity!
(1) Om te beginnen neem je je garen en haak je 3 lossen. Op de foto was ik al wat verder met de slinger, maar jij hebt maar 3 lossen op je naald. (2) Haak dan in de 3e losse vanaf de naald 5 ONafgemaakte dubbele stokjes. Dit betekent dat je ze haakt tot voor de laatste omslag en doorhaal. Op het laatste (als je 6 lussen op je naald hebt staan) sla je nog een keer om en haal je de draad door alle lussen. (3) Om de nop nog ietsje meer rond te maken i.p.v. uitgerekt, haak je nog een stokje in dezelfde losse. Doordat deze steek korter is, doet hij de nop een beetje in elkaar krimpen. 
(1) To start, grab your two strands of yarn and chain 3. In the pictures I was already further along the garland, just imagine for a moment there are only 3 chain stitches. (2) In the 3rd chain from the hook, crochet 5 UNfinished treble crochets (US terms). Then, yarn over and pull though all 6 loops on hook. (3) To make the bobble a bit shorter, crochet 1 double crochet in the same chain space. Using a shorter stitch than the previous treble crochets, it 'pulls' the bobble together a bit more.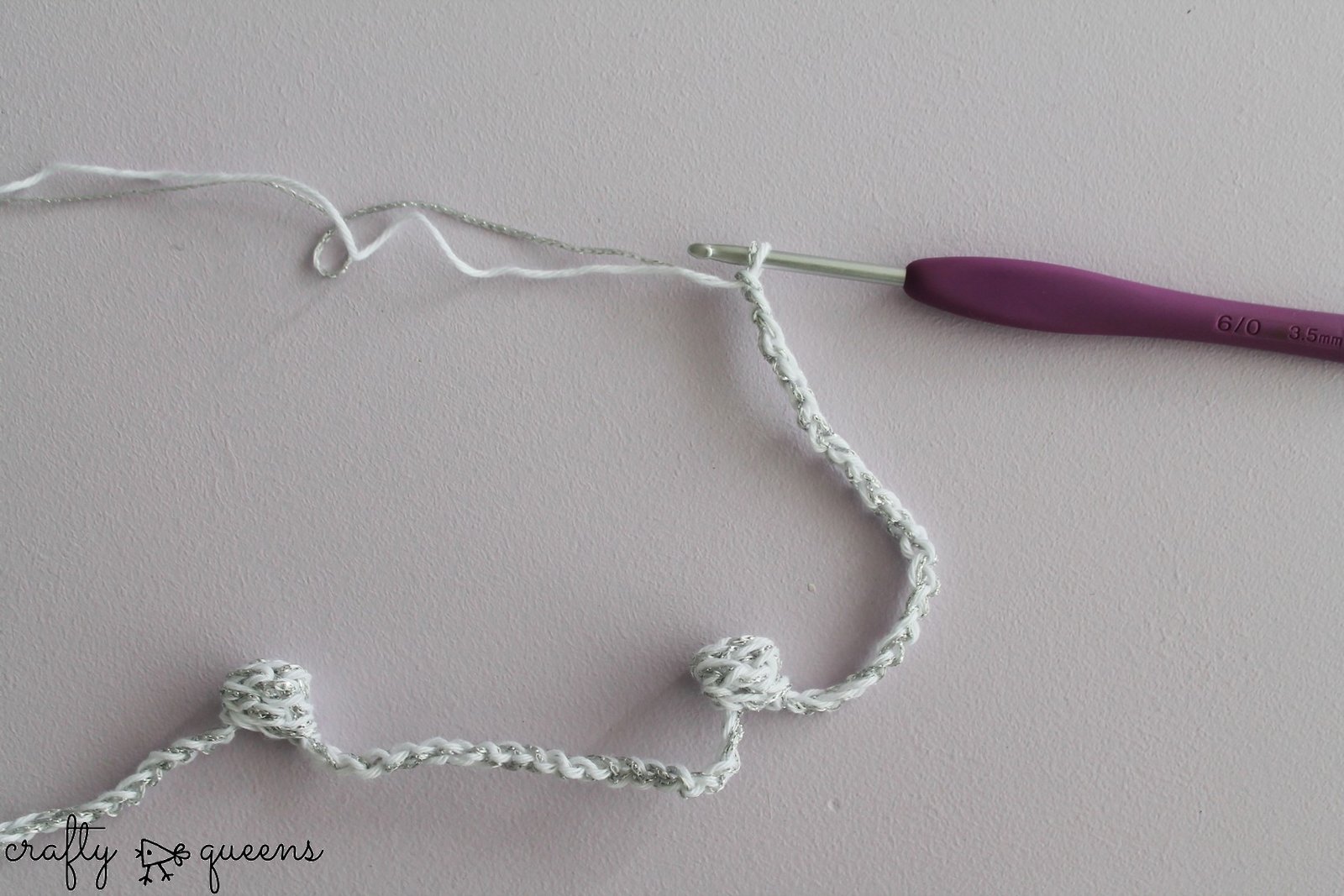 Haak verder met lossen, ongeveer zo'n 10 tot 15 centimeter, voordat je weer een nop haakt. Haak deze op precies dezelfde manier als de nop hierboven beschreven. 
Crochet chains for about 4 to 6 inches, then crochet another bobble in the very same way shown above. 
Haak net zo lang door tot jij hem lang genoeg vindt. Ik maak ze meestal zo'n 2 meter lang. 
Crochet on until you think it's long enough. I made them about 2 meters long. 
Heel veel haakplezier met dit mini-patroontje en natuurlijk hele fijne kerstdagen!!
I wish you all lots of crochet fun with this mini pattern and of course happy holidays!!
Support me by sharing with friends!