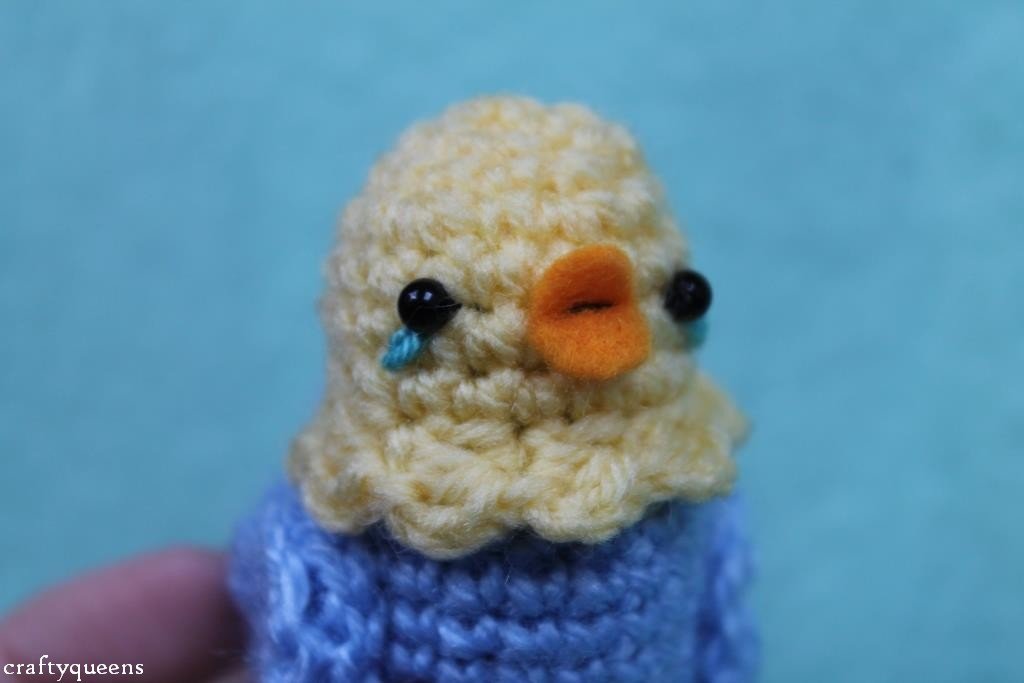 Piep! Dit lieve vogeltje haakte ik gisteravond, uit een Japans amigurumi-boek dat ik eerder in Düsseldorf heb gekocht. Ik zat naar de film 'V for Vendetta' te kijken en ik kan tegenwoordig gewoon geen tv meer kijken zonder iets in mijn handen te hebben. Dus zocht ik naar iets om te haken. Ik had even geen zin om aan de granny-deken te werken, en ik had allang geen amigurumi meer gemaakt. Ik had alle kleuren voor dit vogeltje, dus de keuze was snel gemaakt! Ik had eigenlijk niet verwacht dat ik hem meteen ook af zou maken, maar het was een vrij lange film, haha.
Yesterday I crocheted this cute little bird! The pattern is from a Japanese amigurumi book I bought a while ago in Düsseldorf. I was watching the movie 'V for Vendetta', and nowadays I simply can't watch any television empty handed anymore. I had to make something! I didn't expect to finish the bird the same evening, but it was kind of a long film. Don't you love how he turned out? He's a bit big for a keychain, so now he's sitting comfortably on my desk. 
Ik vind hem zo schattig! Ik heb het patroon wel een beetje aangepast (as usual), want hij werd me een beetje te groot. Nu vind ik hem alsnog best groot, in ieder geval voor een sleutelhanger. Dus op het moment zit hij gezellig op mijn bureau.
Ook heb ik het hoofdje van de bordercollie afgemaakt. Hij is inderdaad wat leuker geworden nu ik het neusje en de oortjes erop heb genaaid, al zijn de oortjes wat groot uitgevallen. Nu het lijfje nog, daar komt gelukkig wat minder wisselen van kleuren bij kijken. En wat hangt er bij jullie aan de brei-/haaknaald?
I also finished crocheting the head of the border collie. The ears are a bit big but I still think he's cute. Now all there's left to do is crochet the body.. It's gonna take me some time though (and lots of motivation!). What's on your needles these days?
Support me by sharing with friends!