The Year of Using what I have
I've decided that for me, 2023 will be the Year of Using what I have. When I look around in my studio (and our living room, and our attic), there are so many craft supplies that it just overwhelms me. Of course it brings me joy too, but a part of me looks at the item and thinks "oh right, that's one thing I still *have to* do". And even though all of the yarns, fabrics, painting canvases and pretty papers inspire me too, that little 'nudge' somewhere in my brain means that I'm constantly thinking about all the things I want to do. Which makes it pretty difficult to focus on anything. Not that I'm any good at focusing on stuff to begin with, but hey!
Combine that with a longing to be more sustainable and a hefty dose of climate dread, and there you have it: the need to make as many things as I can by myself. Over the past year I've made some good progress with finding out my own style. A helpful way of finding this out is looking at all the -handmade or not- clothes that you have, and how often you wear them. See if they have anything in common, such as colours you seem to wear a lot, or that you tend to avoid. Or perhaps you love an item, but have difficulty pairing it with other things in your closet.
So. The 'Year of Using what I have', what's all that about? Well, mainly it's going to be about 'using what I have' (wow, shocking). So generally, buying less and using more. This can apply to many aspects of my life, such as buying furniture, shoes, appliances or even spice jars. Because let's face it, we've all tried loads of recipes where you need to buy some spices for, and then you suddenly have jars full of cloves, cardamom and some kind of barbecue marinade that frankly, I don't use often enough. But I digress! Because I will be focusing mostly on the making aspect of things.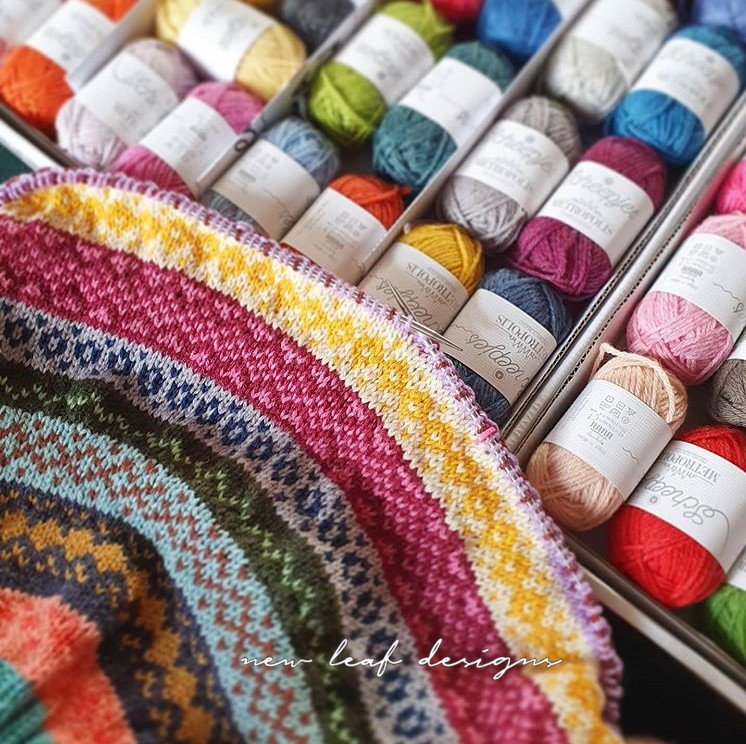 What are my plans?
What is the goal? Well, obviously the goal is 'using what I have', but it's not simply that. If it were ONLY about that, I could arm-knit a giant blanket using 30 strands of yarn together. That would certainly use up my yarn stash quickly. But will I do that? Of course not! Because the second aspect of this year, this theme, this 'challenge', is to make items that I will actually USE. And not just use once or twice. My ultimate goal is to create items that I gravitate towards, that I pull out of my closet again and again.
My big plan for 2023 is to use up as many of my stashed yarn and fabric as I can. This of course is a very big undertaking, so I'll be dividing it into smaller steps and themes. I also want to look at items I already have – storebought or handmade – and see whether I can extend its life by customizing or embellishing it.
Want to follow along?
Are you thinking of following along with this challenge? Perhaps you've seen or heard people talk about the 'buy nothing new' resolution where they try to go cold-turkey on buying new stuff for a year. While it seems amazing to me, it's also a bit intimidating because I don't think I could do that. I need an easier resolution first. So why not start with trying not to buy anymore new yarn? In the 'Year of Using' I'll also be going through lots of tips and tricks to figure out what colours and styles suit you best, so in the case you do end up buying yarn, chances are you'll be choosing much more suitable colours and fibres.
All of this will be happening over on my Patreon. Subscribe at any level to unlock the Year of Using what I Have videos. Plus, there's already a ton of videos to inspire you in the meantime!
Some of the things I will be discussing in the Year of Using What I Have:
Souvenir Yarn / Precious Yarn – Have a skein of yarn in your stash for YEARS that you just don't know what to do with? Maybe it cost you a fortune so you want to do it justice, or it's a different yarn weight that you normally use. Or perhaps you have a skein of *insert weird fiber* yarn that you don't know what to make with. I'll have lots of tips for this!
Your Colour – What are your colours? Which colours look the best on you? There is some super detailed information if you really want to delve into it, and I just think it's really fascinating. Plus, I love colours! I know that many find colour choosing a difficult part of crafting, so I'll be devoting a whole chapter to this.
Overdyeing – Have some yarn, fabric, or a completed item in the "wrong" colour? Let's see if we can overdye it! I'll make sure to use dye items that are easy to find.
Customizing – Do you have a handmade garment or shawl that you don't wear because of the size or shape? I have lots of experience with customizing things after I have already finished them, and I will show you how.
Embellishing – Perhaps the fit is alright, but it's just not really *you*? Embellishing takes some extra time, but it's so worth it. You will be able to make your garments look truly high-fashion (if that's your thing) with some beads, embroidery, tassels, or other kind of embellishing. Plus it's so fun to do!
Time management – Do you feel like you don't have enough time for making? Let's explore some ways you can sneak some extra knitting, crocheting, sewing or whatever it is you do into your day.
The challenge starts this week, and I will be sharing videos regularly each month on Patreon. Even if you sign up later, you can still go back and look at the previously published content. I hope you join us!
Support me by sharing with friends!