Here they are, the Foot Spa Socks! I made them with Scheepjes Mighty, a cotton and jute blend. And I'll say it again: they are so much softer than I thought they would be! Jute doesn't actually sound like the softest material, but it feels very nice against the skin and especially against my feet.
Hier zijn ze dan, de Foot Spa Socks! Ik maakte ze met Scheepjes Mighty, een blend van katoen en jute. En ik zal het nog eens zeggen: ze zijn zó veel zachter dan ik had gedacht. Je zou niet zeggen dat jute zacht is, maar het voelt heel fijn aan, vooral bij mijn voeten.
Not your everyday socks
The Foot Spa Socks are not meant to be worn for an entire day, although you certainly could! I wear them after taking a shower or having a foot bath, when my feet aren't completely dry yet. Maybe it's just me, but I don't like putting on regular socks yet straight out of the bath since I don't like getting my socks wet. With the Foot Spa Socks, I can put them on straight away. They are nice and thick, meaning you don't soak through them easily. Another reason I like them is the textured pattern, it feels like a foot scrub! It's almost like you continue caring for your feet, even after the bath. With these socks I also like to put on lots of foot balm beforehand, so it can work its magic while I'm wearing the socks.
De Foot Spa Socks zijn niet bedoeld om een hele dag aan te hebben, al zou je dat zeker kunnen doen. Zelf draag ik ze na het nemen van een (voeten)bad of douche, wanneer mijn voeten nog niet helemaal droog zijn. Ik zal vast niet de enige zijn die nog niet direct sokken aantrekt, vooral zo'n dunne sokjes kunnen snel nat worden. De Foot Spa sokken kun je daarentegen wel direct aantrekken omdat deze niet snel doorweekt raken. Het andere voordeel is het textuurpatroon, dat voelt bijna aan als een voetscrub! Het is alsof je door het dragen van deze sokken nog extra goed voor je voeten zorgt. Doe nog lekker wat voetenbalsem op voordat je ze aantrekt, en de crème kan zijn werk doen terwijl je de sokken draagt.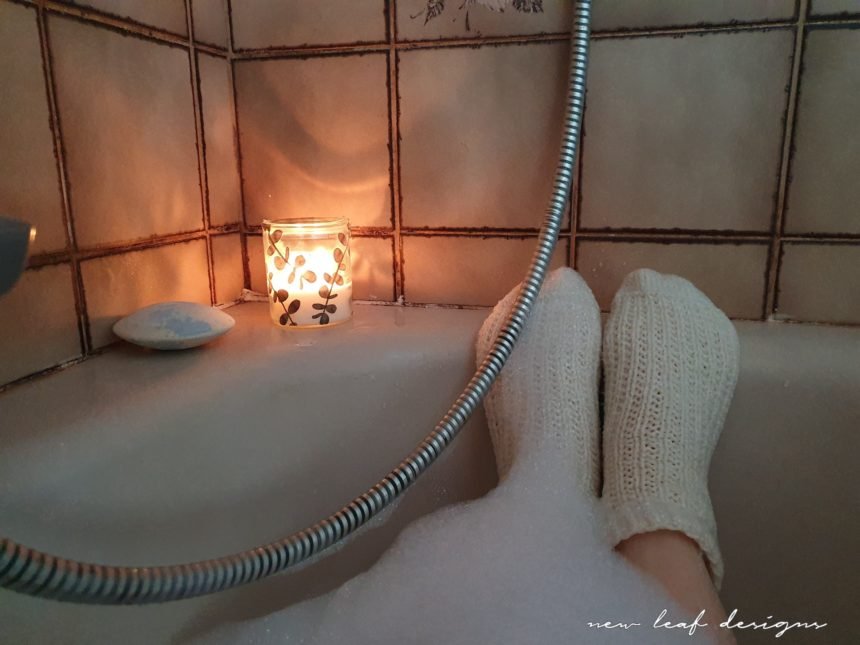 And… here's another fun fact: you can wear them IN the bath! These socks are like wearable washcloths, and after soaking for a couple minutes you can easily scrub your feet with them to remove dead skin. Please do be careful when you stand on them in the bath or shower though, that might be slippery.
Be sure to wash them inside-out after each bath to make them nice and clean again for your next use.
En… je kunt ze zelfs IN het bad dragen! Deze sokken zijn net washandjes voor aan je voeten, en na een paar minuten weken kun je gemakkelijk je voeten ermee scrubben. Ben wel voorzichtig als je in je bad of douche gaat staan, dat kan glad zijn. 
Was ze na elk gebruik binnenstebuiten zodat ze fijn schoon zijn voor je volgende gebruik. 
Yarn
| Garen
The yarn I used for the Foot Spa Socks is Scheepjes Mighty, and you will need 2-3 balls for a pair of adult sized socks. The colourway used for the sample socks is Volcano, but you can make them in any colour you like of course. Find Scheepjes retailers here, or check out the affiliate links for online stores below.
De Foot Spa Socks maak je met Scheepjes Mighty, je hebt 2 tot 3 bollen nodig voor een paar sokken in volwassen maat. De kleur die ik gebruikte voor de sokken op de foto is Volcano, maar je kunt ze natuurlijk in elke kleur maken die je maar wilt. Vind Scheepjes winkels hier, of shop online via de affiliate links hieronder.
Pattern
| Patroon
The pattern will be coming to my website for free next week: November 30th! I'll have it in English and Dutch, for several adult foot sizes. See you then!
Het patroon komt volgende week dinsdag (30 november) op mijn website te staan in het Engels en Nederlands, voor verschillende volwassen voetmaten. Tot dan!
You might also like
Support me by sharing with friends!