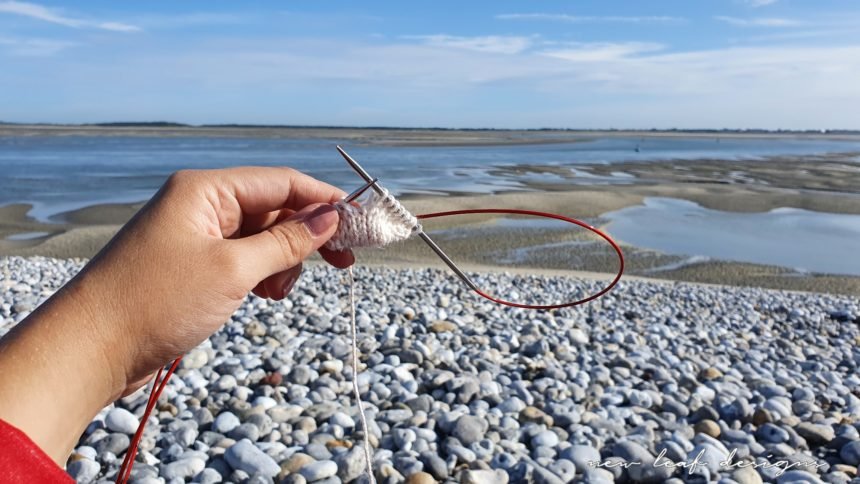 Time for an update on the socks with Scheepjes Mighty! I actually knit these a couple weeks ago, when I was visiting the coast of France for some birdwatching. We also spotted loads of seals which was so cute. As Scheepjes Mighty is a jute and cotton blend, it felt a little bit odd knitting this into socks. As I was knitting the toe, I was going back and forth about whether this was a good idea. But then..
Tijd voor een update over de Scheepjes Mighty sokken! Ik breide deze eigenlijk een paar weken geleden toen ik een weekje weg was naar de Franse kust. We gingen voornamelijk om te vogelspotten, en we zagen ook zeehonden! Scheepjes Mighty is een mix van jute en katoen, dus het voelde wel een beetje raar om hier sokken van te breien. Tijdens het breien van de teen twijfelde ik er steeds aan of dit wel een goed idee was. Maar toen..
As I progressed and knitted through the foot of the sock, I was getting more and more convinced. What an amazing texture, both to the touch and to the eye. Look at that! Also, I had to put on a bird stitchmarker for my birding trip, right? With socks, I always put a stitchmarker on the side that I consider 'the top', so it's easier to keep track of my rounds and that I need to knit the heel on the opposite side.
I'm knitting a very simple but very effective texture pattern. It's just a two round repeat, so it is easy to memorize. A nice purl edge between the toe and the rest of the foot too.
Usually I don't knit a texture pattern on the 'sole' of the sock, but this time I did. These socks are going to be my "Foot Spa Socks", and I need the scrubbing effect on the sole as well. I can't wait to wear these!
Hoe meer ik breide, hoe meer ik overtuigd raakte dat het een goed idee was. Wat een prachtige textuur, zowel om te voelen als om te zien. Kijk nou! En voor de vogeltrip moest ik natuurlijk wel een vogel stekenmarkeerder plaatsen 😉 Als ik sokken brei plaats ik altijd een stekenmarkeerder op de 'voorkant' van de sok, zodat ik sneller weet wanneer ik een toer heb voltooid, en zo weet ik ook dat de hiel op de andere kant moet komen. 
Het textuurpatroon is heel simpel, maar twee toeren dus gemakkelijk te onthouden. Het randje averechte steken tussen de teen en de rest van de voet maakt het echt af, vind ik.
Meestal brei ik op de zool geen textuurpatroon, maar deze keer wel. Deze sokken worden namelijk mijn 'Foot Spa Socks', dus wilde ik het scrubbende effect helemaal rondom hebben. Ik kan niet wachten om ze aan te doen!
Yarn amounts and needles
For the socks, I am using just under 1 ball of Scheepjes Mighty per sock. I have a small shoe size though, so bigger sizes might need 3 balls to complete a pair. I am knitting them on size 3 mm needles, 80cm circular needle length. The brand is Chiaogoo, which is my absolute fave!
Voor de sokken gebruik ik net iets minder dan 1 bol Scheepjes Mighty per sok. Ik heb zelf best kleine voeten, dus het kan zijn dat je straks 3 bollen nodig hebt voor een compleet paar sokken. Ik brei ze op 3mm rondbreinaalden van 80cm lengte, en ze zijn van het merk Chiaogoo (mijn favoriet!). 
With the blue colourway I showed you last week, I'm knitting up a bonus pattern. The same texture pattern, but knit flat this time. Looking forward to finishing this as it will be fun! I am using a slightly bigger needle for this: 3.25mm needles. Mostly because all of my 3mm needles were already being used, gauge or size isn't too important for this bonus pattern so feel free to use anywhere from 3-3.5mm needles for this.
Both patterns coming soon! I'll hopefully be able to show you a finished pair of socks next week. See you then! Subscribe to my newsletter at the top right of this page to stay updated, or follow my blog via Bloglovin.
Met de blauwe kleur die ik je vorige week liet zien ben ik een bonuspatroontje aan het maken. Hetzelfde textuurpatroon, maar dan heen en weer gebreid in plaats van in het rond. Deze wordt ook leuk! Ik gebruik een iets grotere naald, namelijk 3,25 mm naalden. Dit was vooral omdat al mijn 3mm naalden al in gebruik waren, maar voor dit patroon maakt het ook niet zoveel uit hoe groot je steken zijn, je kunt 3mm gebruiken maar ook 3.5mm. 
Beide patronen vind je snel op mijn website! Volgende week heb ik waarschijnlijk het paar sokken af zodat ik ze kan laten zien. Tot dan! Rechtsboven op deze pagina kun je je inschrijven voor mijn nieuwsbrief, en je kunt je ook abonneren op mijn website via Bloglovin zodat je altijd op de hoogte blijft. 
Support me by sharing with friends!