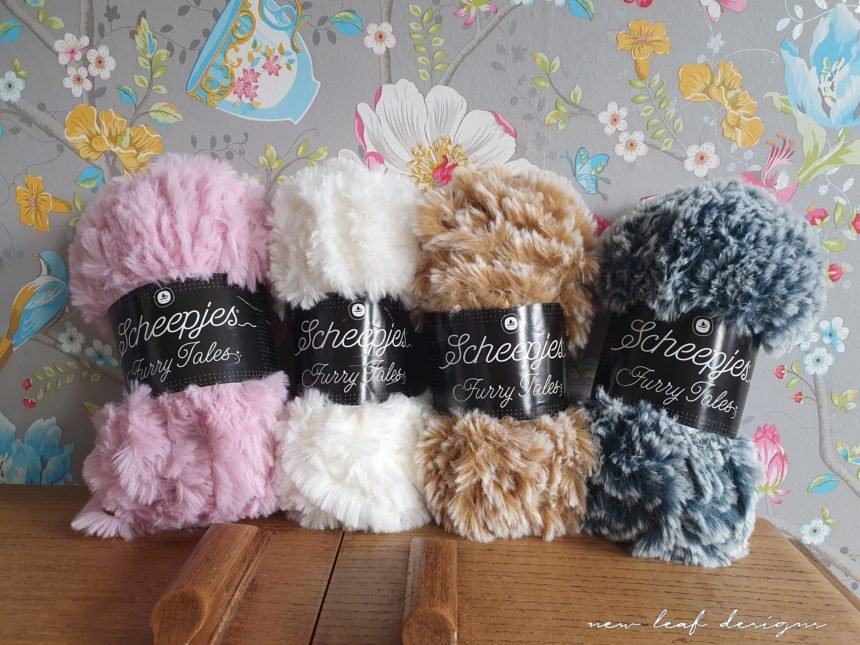 Hello Cosy Season
I always think September marks the start of the 'cosy season', do you agree? Snuggly sweaters, handknit socks, cups of hot chocolate, and many rainy days. As the weather is cooling down, I'm feeling the urge to work with supersoft and fluffy yarns. Time to bring back one of my faves from last winter: Scheepjes Furry Tales!
September is voor mij altijd het begin van het 'gezellige seizoen', vind je ook niet? Lekker zachte truien, handgebreide sokken, warme chocolademelk, en veel regenachtige dagen. Nu het weer begint af te koelen merk ik dat ik sneller naar dikkere en fluffy garens grijp. Tijd om mijn favoriet van de vorige winter terug te brengen: Scheepjes Furry Tales!
Scheepjes Furry Tales
Scheepjes Furry Tales is a beautiful fluffy yarn which you can use for plushies, wintery accessories, pillows, blankets, and even garments. It is 100% polyester and has around 57 meters per 100 grams.
Scheepjes Furry Tales is een mooi en fluffy garen dat je kan gebruiken voor knuffels, winterse accessoires, kussens, dekens, en zelfs kledingstukken. Het bestaat voor 100% uit polyester en heeft ongeveer 57 meter per 100 gram. 
My first design with this yarn was this cute polar bear plushy that was published in Scheepjes YARN bookazine issue 10, the Colour Issue. Although it was a challenge at times, I loved designing this little bear and his pair of dungarees.
Mijn eerste ontwerp met dit garen was deze lieve ijsbeer. Je vindt het patroon in nummer 10 van Scheepjes YARN bookazine, het 'Colour Issue'. Hoewel het uitdagend was met dit garen te werken, vond ik het superleuk deze beer te ontwerpen. 
If you're still a bit hesitant about working with this yarn, I recommend the Friendly Fox plushy as a first project. The largest part of the fox is made with Scheepjes Catona which is a joy to work with. The tail is made with Furry Tales, and it's a very forgiving project. If you add or miss a few stitches, the tail will simply have a different shape. No big deal! You can find the free pattern here.
Als je nog nooit met dit garen hebt gewerkt, raad ik de Friendly Fox plushy aan als een eerste project. Het grootste deel haak je met Scheepjes Catona, dat natuurlijk superfijn is om mee te haken. Alleen de staart haak je met Furry Tales, en daarbij maakt het echt niet zoveel uit als je een keer een steek te veel of te weinig hebt. Dan ziet de staart er gewoon een beetje anders uit, prima toch? Je vindt het gratis patroon hier.
This Yeti Plushy might be my favourite thing so far that I've made using Scheepjes Furry Tales. It's so cute! This pattern was first published in an issue of Inside Crochet. As the copyright was returned to me, I will be publishing this pattern as a PDF in my shop very soon.
Deze Yeti knuffel vind ik misschien wel het leukste wat ik tot nu toe met Scheepjes Furry Tales heb gemaakt, hij is zo schattig! Dit patroon stond eind vorig jaar in een Engels tijdschrift, Inside Crochet. Het copyright heb ik nu terug ontvangen, wat betekent dat ik dit patroon snel uit ga brengen in mijn winkel.
New design
For my newest design, I have chosen the 'Tinkerbell' shade of Scheepjes Furry Tales, which is number 983. I am pairing it with Scheepjes Stone Washed XL in the Fosterite colour, number 866. Since these two yarns have different weights, I'm using different sizes crochet hooks for them: 4mm for Stone Washed XL, and 5mm for Furry Tales.
That's all I can tell you for now, check back next Monday for progress on this design!
Voor mijn nieuwste ontwerp heb ik de kleur 'Tinkerbell' gekozen, nummer 983. Het is een hele mooie combi met Scheepjes Stone Washed XL Fosterite, nummer 866. Deze twee garens verschillen van elkaar qua dikte, dus gebruik ik voor de Stone Washed XL een 4mm haaknaald, en voor Furry Tales een 5mm haaknaald. 
Voor nu is dat alles wat ik je kan vertellen, volgende maandag zal ik een update plaatsen!
Support me by sharing with friends!